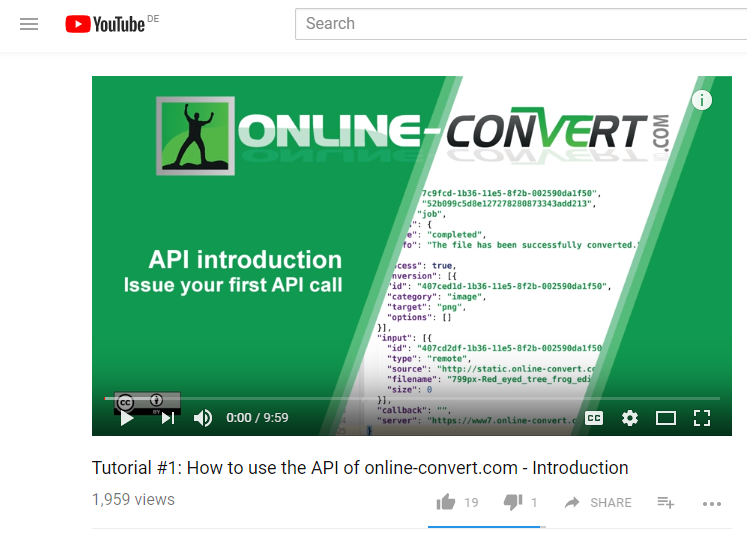 YouTube is, without a doubt, the most popular video sharing platform in the world. On an average, the website has about 30 million visitors who watch about 5 billion videos each day. That's quite a number. No wonder that many people take to YouTube for generating income. Even people working in the more traditional media TV are shifting part of their attention to the platform, especially due to its appeal to younger people.
So, what is stopping you from becoming part of this community as well? If you want to upload videos to YouTube as well, we are here to help you!
All you need: Convert Videos For YouTube
Upload Your Videos To YouTube
In an earlier article, we have already reported what you can do when you get a video format error on YouTube. This article also touched on all the technical specifications that are needed for a video to be successfully uploaded to the website.
With this, you should have been able to prevent this kind of error. However, there is an even easier and more convenient way to optimize your video for uploading to YouTube. Check out the three-step tutorial below.
How To Get Your Video Ready For YouTube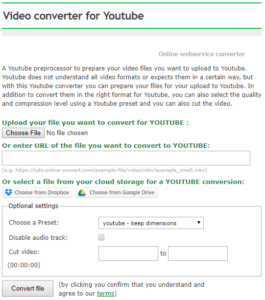 Our new webservice converters give you the chance to easily and quickly optimize videos for social media, other often used websites, and even messaging apps. Of course, we also provide one for avid and upcoming YouTubers:
Upload your file
Browse your hard drive or device, enter a link or take a file from Google Drive or Dropbox
Use the optional settings if needed
They are explained below
Click on "Convert file"
Yes, that's it! Three steps and your video is ready for uploading. That is after your video is converted and you downloaded it.
Optional Settings
It is very simple to optimize your video for YouTube, but you can customize it even more. For this, you can use the optional settings provided in the YouTube Converter. Below, they are explained in more detail.
Presets
To make quick changes with regards to quality, screen resolution and frame rate of your video, we added a number of presets. Check out the following list to see which are available.
Quality
Screen Resolution
Frame Rate
Dimensions Retained
HQ
1920×1080
23.976p
25p
30p
1280×720
23.976p
25p
30p
4k
23.976p
25p
30p
2k
23.976p
25p
30p
480p
23.976p
25p
30p
360p
23.976p
25p
30p
MQ
1920×1080
23.976p
25p
30p
1280×720
23.976p
25p
30p
4k
23.976p
25p
30p
2k
23.976p
25p
30p
480p
23.976p
25p
30p
360p
23.976p
25p
30p
Disable Audio Track
By default, this option is unchecked. This means the audio data of your video remains untouched. Checking the box will remove the audio from your video.
Cut Video
If your video is too long or includes content at the beginning or end that you do not want to upload, you can easily cut it. No, you don't need video editing skills or another program for it, just use this optional setting.
In the respective fields, simply state the starting and ending point. The following format is used for that: HH:MM:SS
What About Downloading?
On Online-Convert.com, you can not download videos from YouTube. That doesn't mean that there is no way to do it though!
Take, for example, Skysoft. They developed a software called iTube Studio that allows you to download videos from 1000+ websites. This includes YouTube, of course. But that's not all. The program also enables you to convert the currently downloading video into any format you need as well.
---
Other Articles You Might Be Interested In
Tips & tricks for using YouTube: