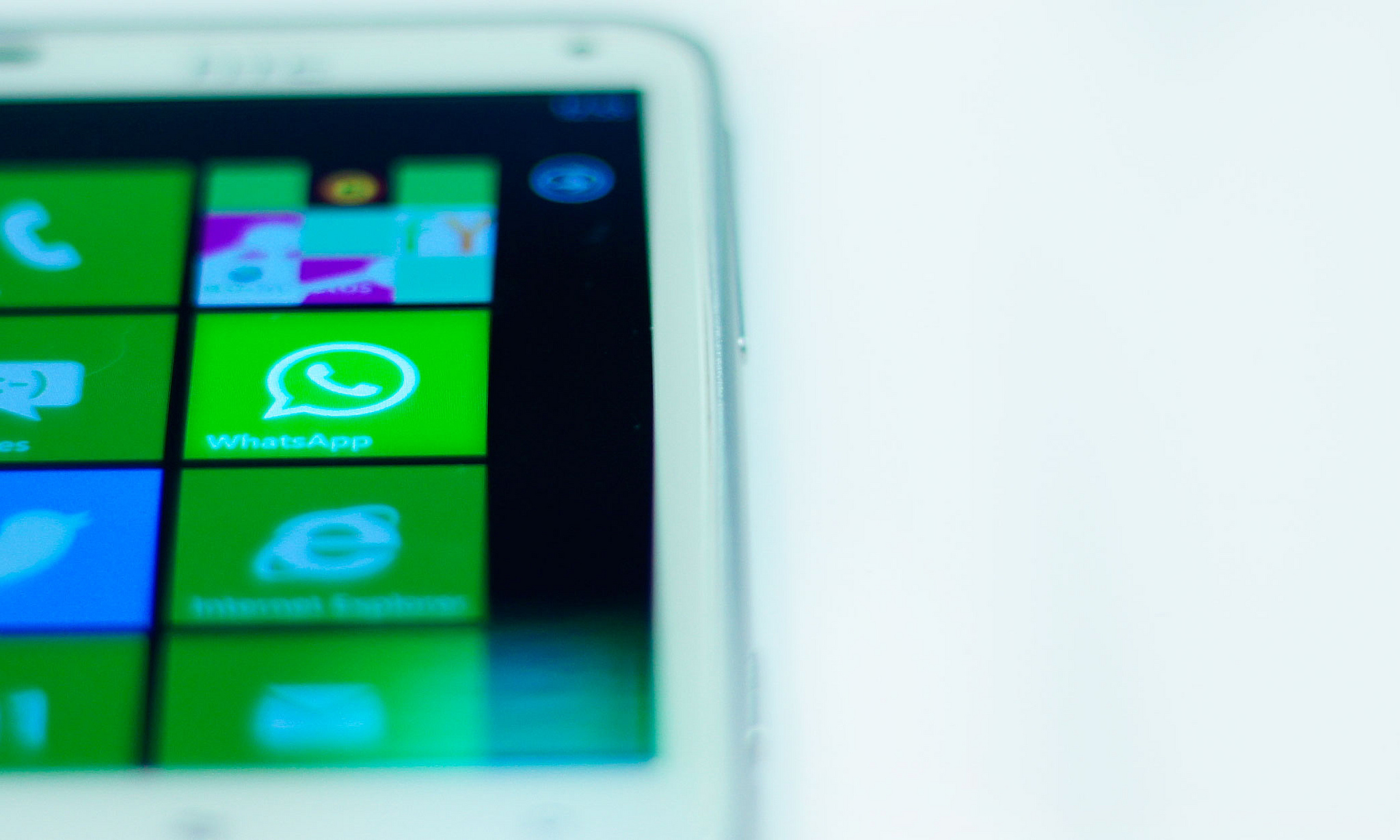 When you text your friends and family, chances are that you are using WhatsApp for that. According to various sources, the app has over 1.3 billion users every month. Together, they create over 100 million voice calls, over 55 million video calls and 55 billion WhatsApp messages a day.
Next to calls and simple text messages, you can send images and various other files using the app. As of July 2017, the app has been updated to support almost any file format to share with friends and family. Among them are various video files. Yet, not all videos are fit to be displayed using WhatsApp without having to download and locate them on your phone or tablet. This is where we can help you out! With Online-Convert.com, you can easily optimize your videos for WhatsApp.
All you need: Convert Videos For WhatsApp
Send Your Videos Via WhatsApp
In the past, we have already tried to help you as much as possible when it comes to sharing your videos. Among others, we introduced a way to compress videos for WhatsApp and how to correctly prepare your video to send it over the messaging app.
With the information of these articles, you were able to optimize your videos for sending and sharing them on WhatsApp. The only downside was, that you had to manually enter the settings needed (frame rate, bit rate, etc.) when using a video converter. Thankfully, we have developed a fast and easy way to do this now!
How To Get Your Video Ready For WhatsApp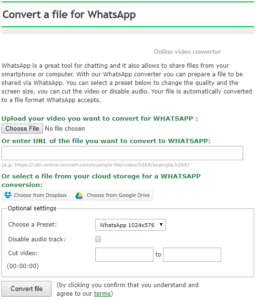 Our new webservice converters allow you to quickly optimize your videos to share them with people all over the internet using different kinds of social media platforms or messaging services. The one we will introduce today will help your videos to meet all the technical requirements WhatsApp has for their video upload:
Here's how it works.
Upload your file
Either browse your hard drive, enter a link or upload from a cloud service like Dropbox & GDrive
Use the optional settings as needed
More information below
Click on "Convert file"
And that's all you have to do! Your video will be automatically converted so you only have to download it, all ready for WhatsApp.
Optional Settings For Your Video
It takes only three simple steps to get your video ready to send it via WhatsApp. And yet, there is more you can do in case you need to. The optional settings that you have at your disposal are explained below.
Presets
Presets are a simple and easy way to quickly optimize your video with only one selection. The presets will, mainly, affect the screen size of your video. Check out the following list:
File Format
Screen Resolution
MP4
1280×720
1024×576
640×360
480×270
Disable Audio Track
If this option is unchecked, the audio track of the video remains untouched. However, by checking the box, you can remove the audio from it.
This comes in handy if the background sounds or conversations in the video would only distract from the visual content. Plus, that way your friends can open a video without fearing it blaring out sound when being in public (and their phone is not on mute).
Cut Video
Your video is too long or contains content you do not want to share? It takes too long until the real action started? Easy, just cut it. That way, you can make long videos shorter and concentrate on the important parts.
It's easy, just state the starting and ending point in the following format: HH:MM:SS
---
Other Articles You Might Be Interested In
You don't like WhatsApp?
Use WhatsApp on your Computer | Tips & Tricks You Need To Know About WhatsApp