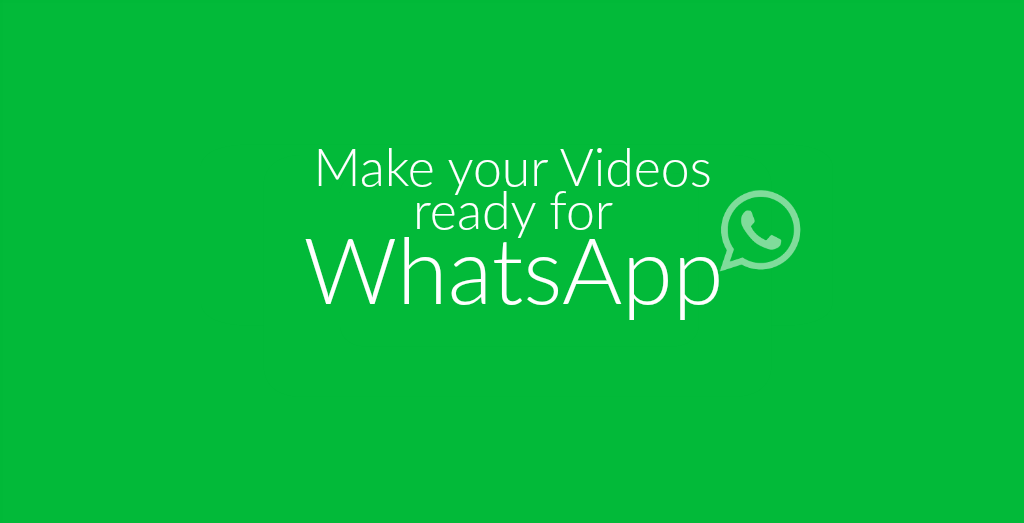 Social Media is a great way to share your videos with your friends, family, and colleagues – and with the world. What we post on social media is, depending on the privacy settings of our profiles, visible for everyone. Everyone can see our pictures, read our statuses, watch our videos. Hence why some things should better not be shared on social media.
Want to share them on Facebook, Instagram, and Twitter still? Check out how to upload videos to social media.
Luckily, there is another easy and convenient way to share photos and videos with other people – without putting it out there for "everyone" to see: WhatsApp. WhatsApp is more than just a tool to send text messages to one another. It allows us to share images, videos, even animated GIFs with single people and even a whole group of friends.
Today, we want to have a look at how you can get your videos ready and perfect to send and share them using WhatsApp.
What you need:
A video
WhatsApp on your phone or WhatsApp Web
A free online video converter
Edit:
It's even easier now! Check out how you can prepare your videos using the free and online WhatsApp converter.
How To Get Your Video Ready For WhatsApp
Before we can get our video ready for sending it over WhatsApp, we have to know the specifications of videos allowed to be uploaded and sent using the app. The following table will give a short overview of what is known about videos that can best be sent, received and watched using WhatsApp:
Max. File Size
Max. Length
File Formats
Specifications
16 MB
ca. 3 Minutes
recommended:

other:

H264 or MPEG4 video codec
AAC or AC3 audio codec
Both MP4 and AVI are video container formats that can contain different codecs for both audio and video streams. This could cause trouble when trying to watch a video you received via WhatsApp. If your phone or device does not support the codec used in the sent video, you can not view it. However, if you convert your video and optimize it as best as possible for WhatsApp, you increase the chance of everyone you send the video to being able to watch it.
Let's see how you can do that. Of course, you need your video. We are using a file with a 3GP format.
The advantage of using such an online version in comparison to a program or app is that you can always use it from everywhere. There is no need to install anything, simply follow the link.
2. Upload your file
There are different options for you to upload your video:
Directly from your phone or hard drive
By entering a link
Uploading it from your cloud storage (Dropbox or Google Drive)
3. Use the optional settings
As the name suggests, these options are optional. However, they can be important when looking at the specifications of videos for WhatsApp. Two settings in particular are vital for that:
Since WhatsApp restricts the video size in two ways, file size and length, you can use those settings to cut your video and make it smaller so WhatsApp can process them.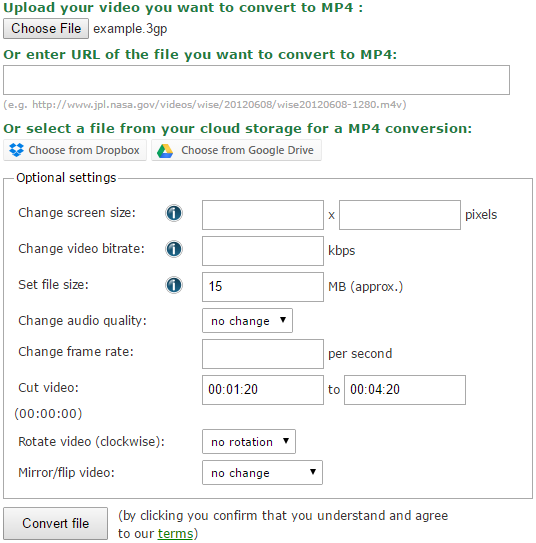 4. Even more optional settings
As you can see on the screenshot above, there are more settings you can use to alter and optimize your video. Especially for videos recorded on a phone, the last two options can be interesting. If your video is upside-down or tilted to the side, you can easily rotate it so other people can view it correctly. Furthermore, you can mirror or flip the video as well.
5. Convert and upload
Once you did or did not set your optional settings, you can click on "Convert file". On the next page, you can then download the MP4 file. Depending on the size of your video, it might take a while to upload and process it. But once this is done, you can go ahead and share it on WhatsApp with your friends and family!
---