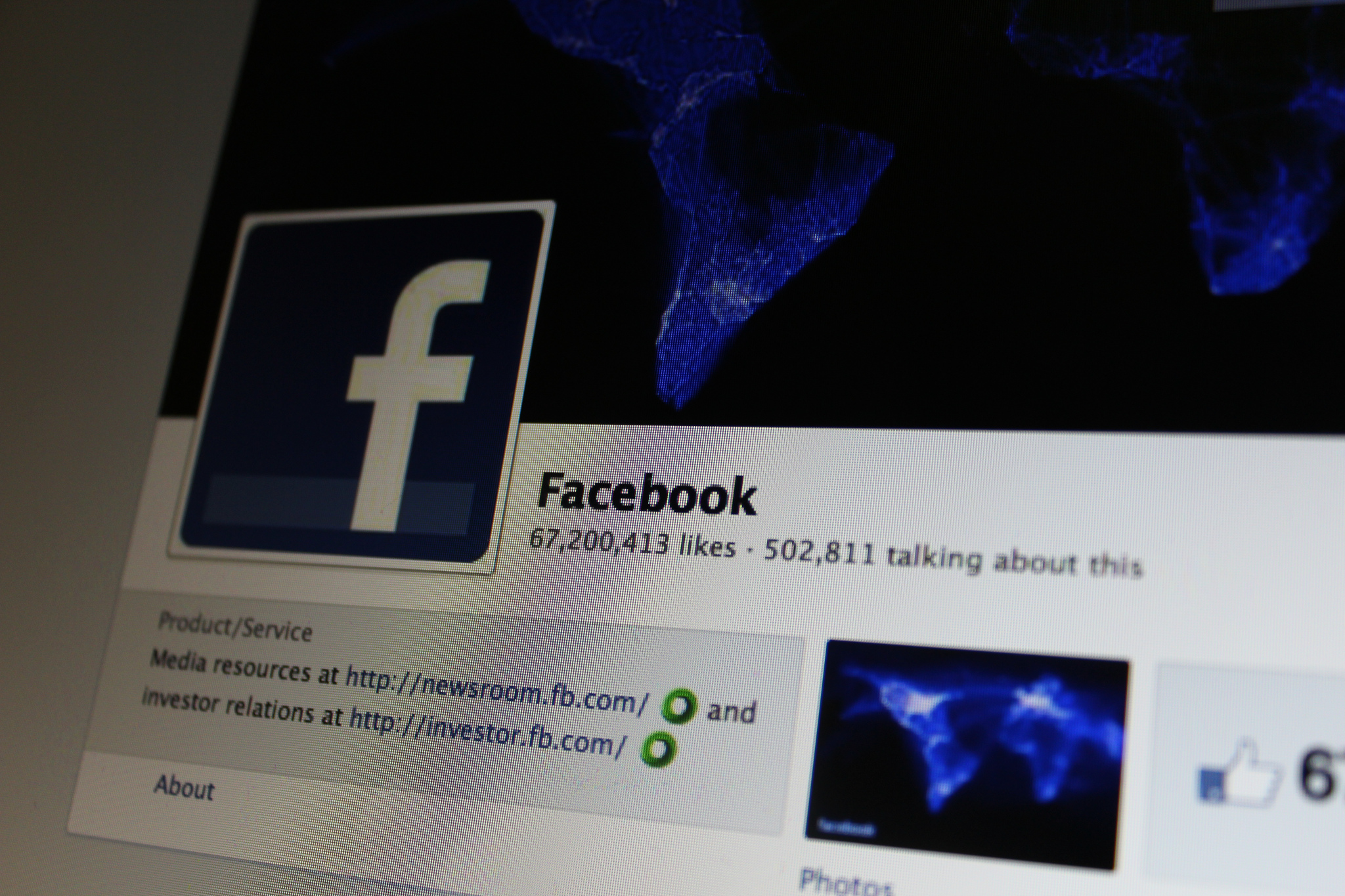 Facebook is the most popular social networking platform as well as the most used social media app in 2017. This claim can both be backed up by data collected by social media researcher Vincenzo Cosenza in January 2017 as well as Business Insider in July of the same year.
People post about their daily lives in text updates, using photos, and by posting and sharing videos. This is where we want to help you! If you want to post an end of the year video collage or just share a funny clip with your friends and family, Online-Convert.com will help you to get your video online!
All you need: Convert Videos For Facebook
Upload Your Videos To Facebook
In past articles, we have already provided helpful hints on how to optimize videos to upload them to different social media platforms. There, we analyzed what you have to consider when uploading a video to, e.g., Facebook. This includes length and file size, file format and specifications like bit rate, frame rate or codecs.
With the help of this information, you were perfectly prepared to optimize your video for uploading to Facebook or other social media sites. However, you still had to manually add the information or restraints when, e.g., using a video converter. Now, there is an easier and much faster way!
How To Get Your Video Ready For Facebook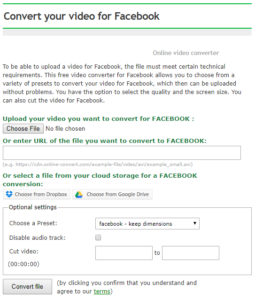 With the new webservice converters, you can quickly optimize your video for many different social networking and video platforms. One of them provides a quick way to meet the technical requirements of the Facebook video upload:
And this is how it works.
Upload your file
This works by browsing your hard drive, providing a link or using a cloud service like Dropbox & GDrive
Use the optional settings as needed
For more information see below
Click on "Convert file"
And that's it! Afterwards, your video will be converted and you can download it all ready for Facebook.
Customize Your Optimized Video
With the three steps above, you can already optimize your video for Facebook upload. However, you can choose from different optional settings to customize your video even further!
Presets
The easiest way to change your video is to use a Facebook-optimized preset. These presets apply different changes with regard to screen size, quality, and frame rate. The following chart lists all possible presets.
Quality
Screen Resolution
Frame Rate
HQ
1280×720
23.976
25
30
1920×1080
23.976
25
30
2K
23.976
25
30
4K
23.976
25
30
360p
23.976
25
30
480p
23.976
25
30
MQ
1280×720
23.976
25
30
1920×1080
23.976
25
30
2K
23.976
25
30
4K
23.976
25
30
360p
23.976
25
30
480p
23.976
25
30
Disable Audio Track
By default, this option is unchecked. By checking it, you can remove the audio from a video.
This can be quite handy since many people don't know how to disable auto play for videos in their Facebook settings. Thus, when scrolling past a video in your timeline, they just start playing and blaring sounds or music. If your video works well without the audio, all you need is one click to remove it.
Cut Video
If you only want to upload part of a video and not the whole clip, you can also easily cut the part out of a longer video.
Simply state the starting point and endpoint of your clip in the following format: HH:MM:SS
---
Other Articles You Might Be Interested In
World Map Of Social Networks | Facebook Dominates Most Popular Social Media Apps Chart 2017