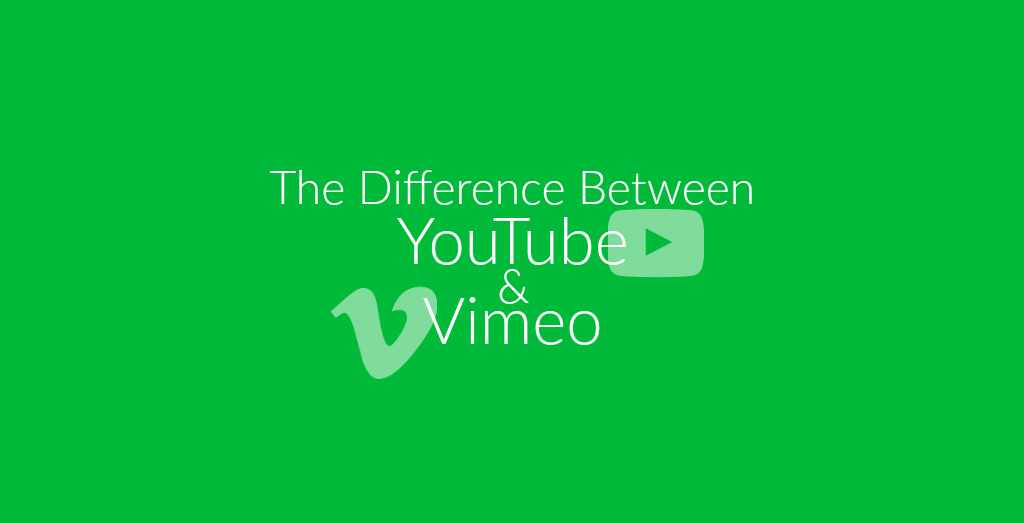 YouTube is undoubtedly the number one video platform today, nearly unrivaled. And yet, there are other platforms out there in the web that offer the possibility to watch, upload and earn money with videos.
Which platform is the best for you to market you videos or find the right ones to watch? With this comparison of YouTube and probably its biggest rival, Vimeo, we will shed some light on this. Maybe it is worth to stray from the obvious choice of YouTube and consider Vimeo instead.
You might also be interested in:
YouTube Or Vimeo – What's The Difference?
Before we dive into the differences between the two platforms, lets have a look at what makes them similar.
The Similarities
Both websites have a big archive of videos that are free to view. Even though Vimeo came to life a few months before YouTube, the latter has a way larger archive and selection though. Viewing the videos is fairly easy on both websites and no account is needed to view the publicly available videos other users uploaded to the platforms.
To upload your own videos, however, you need to register for a free account. Then, you can upload your videos either publicly or privately and share the link to it with your friends as well as embed the videos on any html page.
The Differences
The basic idea and functions of both platforms are, more or less, the same. The differences can be found in the details, however.
While Vimeo allows videos up to a size of 500 MB to be uploaded, YouTube lets you upload videos as big as 20GB. However, Vimeo offers its users different premium packages that come with a higher weekly and annual disk space.
Both platforms do not have a limitation for the video length, however high quality, length and resolution usually result in videos of a higher size. Furthermore, YouTube allows for a better quality of videos, namely HD, HDR, 4K and 8K. Compared to that, Vimeo allows the upload of videos up to 720p only. YouTube also supports 3D and 360° videos which Vimeo doesn't.
When it comes to monetizing via a video platform, YouTube and Vimeo differ a lot as well. On YouTube, the main way to earn money is via YouTube ads. Of course, a higher number f subscribers and views is helpful to get more money via ad revenue. When the numbers are high, however, other ways of making money can be considered, like collaborations with other YouTubers and brands. Vimeo comes with a different approach. The main feature here is Vimeos own video on demand service "Vimeo on Demand" (VoD). Users of some of the premium packages can upload videos that can only be viewed after a user pays to do so.
While YouTube thus enables private persons and individual people to easily make a few bucks, Vimeo's focus lies on companies and film makers that provide their shows, taping and movies via VoD.
Overview
To sum the previous up, here's an overview if the similarities and differences of the two platforms.
YouTube
Vimeo
Founded
February 2005
November 2004
Video viewing
yes
yes
Video uploading
yes
yes
File size limit
20 GB
500 MB
Video quality
HD up to 1080p
HDR
4K
8K
HD up to 720p
3D
yes
no
Video on demand
planned
Vimeo On Demand
Amount of videos
~ half a Billion
~ 1 Million
Which One Should I Use?
Knowing about all these differences between YouTube and Vimeo, we can now have a look at which platform should be the best for you.
When it comes to uploading videos, YouTube provides you with bigger file sizes and higher resolutions for the uploaded videos as well as the possibility to upload 3D videos.
If you want to reach a bigger and more diverse audience, you should upload your videos to YouTube. However, to get the best of it, you should consider uploading your video to both platforms.
When it comes to earning money with your videos, there are two different approaches.

On YouTube, you can monetize using ads. High numbers of views and subscribers help to gain more. → perfect for all kinds of people
On Vimeo, you can make your videos available only for people that pay a certain fee to view them. → perfect for film makers and sports or film companies