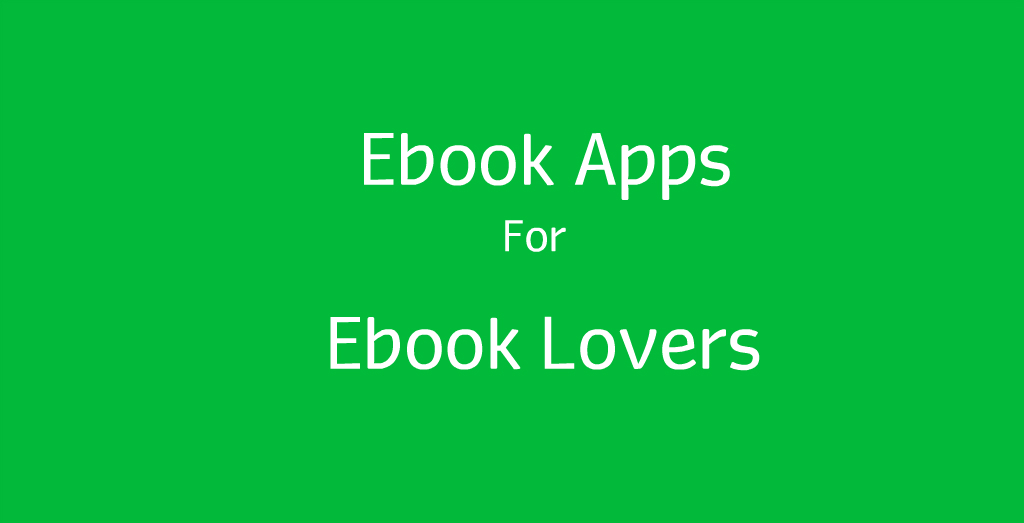 Let's face it, Ebooks are here to stay. While there are those who don't like to use them and rather stick to paper copies, others prefer the digital versions. No matter what, the truth is that ebooks are now a great big part of the book industry. These ten great ebook apps for ebook lovers will help make your reading experience that much better. One of the best things about ebooks is that you don't even have to have a dedicated e-reader device. You can use tablets, smartphones and other means to read them. Below, are some of the best apps available for you to do so and many of them are totally free.
EBookDroid – (Android)
The EBookDroid app is an awesome eReader to use. It is especially designed for DJVU and PDF files. You can even use it as a document reader as well. Some of the features include annotations, text notes, text selection and an external dictionary support. There is a free version and a paid version for $2.99.
You may also want to check out How To Find The Best E-Book Reader For You
Kindle – (iOS, Android)
The Amazon Kindle is one of the most popular ebook readers on the market today. The Kindle app is a great way to have some of what a Kindle offers, without buying one. Some of the features include library management, font size customization, brightness and a marketplace reader. You can view free classics and the hottest bestsellers available at the kindle store. Best of all, the app is free.
Overdrive Media Console – (Android, iOS)
If you don't want to spend a lot of money on ebooks,  you should download the Overdrive Media Console app. This great application lets users borrow both audiobooks and ebooks from libraries. The participating libraries that have digital collections will let you borrow them without any hassle. The best part is that you don't have to worry about returning the ebooks and audiobooks with complications or trouble. It is also free.
Aldiko Book Reader – (iOS, Android)
The Aldiko Book Reader app is an awesome ebook reader that lets users discover tons of free books. The app features global text search and support for Adobe DRM, EPUB and PDF encrypted ebooks. You also get support for any digital copies that you rent from public libraries. There's a free version and a $3.79 paid version.
Bookari – (Android, iOS)
Once called Mantano Reader, the Bookari ebook reading app is a must have for ebook lovers. The app offers features such as text search, night mode, reader themes and annotation. For quick and easy jumping between pages, bookmarks and chapters, there is a pinable navigation panel feature. Bookari offers support for Adobe DRM, EPUB and PDF formats. There's a free version and $4.99 paid version.
AlReader – (Android)
For those who need an app with tons of features and support of many common ebook formats, then AlReader is the one. You can use it on RTF, MOBI, PRC and other formats. It also supports EPUB but not DRM. Some of the cool features are page turning animations, alignment, viewing modes, scrolling and even several colorful profiles. There are 3 paid versions – $.99/$2.67and $9.72 as well as free version.
Scribd (Android, iOS)
If you want an app that offers unlimited access program for books then Scribd delivers. Often compared to the "Netflix app for books," Scribd has a huge library for its users. There are over half a million books to choose from. They include a great selection of genres from more than 900 publishers. The curated editorial collections and customizable display are just two of the many features. Although the app is free to download, you have to pay a $8.99 a month subscription.
Cool Reader – (Android)
With tons of support for many different formats, the Cool Reader ebook app is very popular. There is LitRes, Doc, OPDS, HTML, PML, RTF, EPUB and FB2, support. The Cool Reader app has been around longer than most as well. Although the user interface may be a bit antiquated, it is still very easy to use. Best of all, it is totally free!
Bluefire – (iOS, Android)
The Bluefire ebook reading app has plenty of handy features to let you enjoy reading your favorite digital copies. There is a night mode, bookmarks, annotations and themes. You can also choose the margin widths and text size you want. The Bluefire app offers Adobe Content Server DRM, PDF and EPUB files support. For iOS users, if you want to switch to another reading device without losing your spot, then Bluefire has a reading location synch feature just for that. The app is free to download.
Don't miss these awesome Tips For Selling Your Ebook
FB Reader (Android)
Offering multiple format support, the FB Reader app delivers users a great reading experience. There is HTML, RTF, DOC, MOBI, EPUB and many other format support. Some of the handy features FB Reader has are margin, external dictionary support, page animations and text colors. The app also lets you play around with the font sizes and backgrounds as well as other features. It is only available for Android though and it is totally free.
---