2020 starts with many new and improved features at Online-Convert.com! One of them we already introduced two weeks ago, namely the new XLSX converter that allows you to create spreadsheets for Microsoft Excel from your documents.
Today, we can introduce a whole new category of converters: Software Converters.
Online Software Converter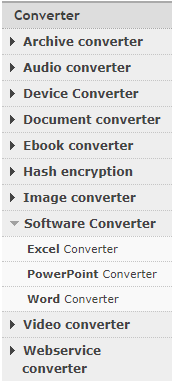 For the start, Online Convert introduced three different converters, that convert files specifically for these programs. This means that any file you upload will be converted into a format that is native to the specific software.
The three programs are:
Microsoft Excel
Microsoft PowerPoint
Microsoft Word
All three belong to the Microsoft Office suite. They are quite popular and their native file formats are typically almost synonymous with the file format in general. Let's have a look at them in detail.
Microsoft Excel is a spreadsheet processing program that allows its users to create tables with calculations, formatting and to generate graphs from data. The file formats most commonly associated with Excel are XLSX and XLS.
The most popular and well-known presentation program is for sure Microsoft PowerPoint. It allows its users to create presentations consisting of sheets with text, images, graphs, transition effects and the like. The files come in the formats PPTX and PPT.
Microsoft Word is the word processing or writing program from the Microsoft Office suite. The documents can contain images, tables, indexes, graphs, images, and – of course – text. Its most common file formats are DOCX and DOC.
How To Convert For Software?
It's very easy to create software-native or specific files from the documents, presentations, tables, scans or images you have. You can find them all here: Software Converter
Check out the following three steps.
Upload your file.
Click on "Start conversion"
Download your file
And that's it. Literally.
Of course, you can also profit from optional settings, especially OCR. What is OCR? It stands for Optical Character Recognition and allows you to extract text and other information from scanned pages or even images.
Give it a try, it's completely for free!
---