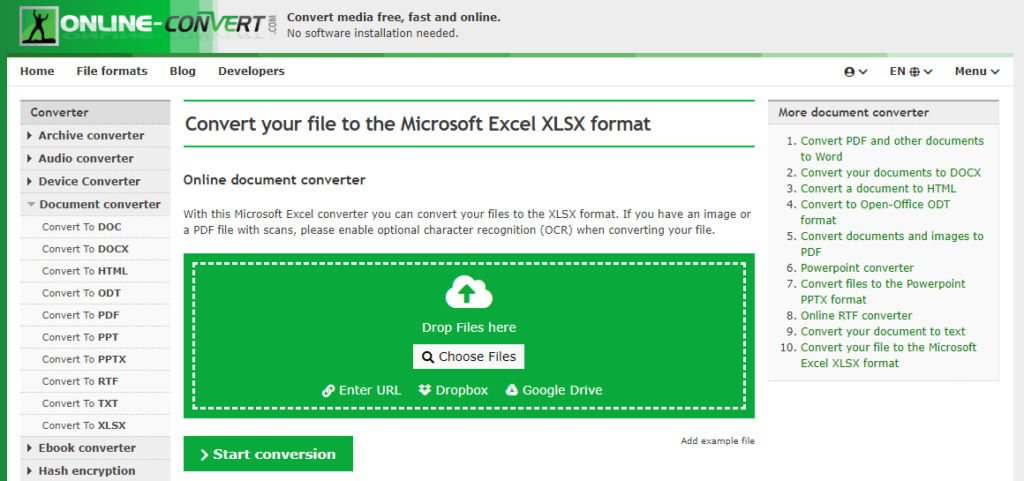 At Online Convert, we constantly work on improving our service for you! Improved conversions, faster speed, more files to convert at once, and – of course – new conversions!
In 2020 we proudly present a new conversion we added to our service: Convert to Microsoft Excel. Convert your documents, scans, images or tables into the most common Microsoft Excel spreadsheet file XLSX.
More Information about XLSX files
What is Microsoft Excel?
Excel is part of the Microsoft Office suite, being one of the more popular programs alongside Microsoft Word and PowerPoint.
It is a spreadsheet processing software that allows users to create files that contain tables with complex calculations, formatting, graphs, and more. The usage of these spreadsheet files is vast and diverse. They are widely used both professionally and privately. For example for:
accounting
controlling
budgeting
overviews
scheduling
Why Convert To XLSX?
Most spreadsheets you come across on a daily basis are saved in the PDF format. This is because they are easy to spread and can hardly be changed or manipulated that way. Plus, every browser – mobile or desktop – and many other programs can easily open a PDF.
Yet, there are limitations to this file format that Excel files do not have: they can be edited. Values inside a table can be changed, rows and columns can be added, and graphs can easily be created on the basis of the data.
Thus, in order to further work with the information from a spreadsheet, converting it (back) to XLSX is a must. And it's fairly easy!
How To Convert To XLSX?
All you need is your document or other file and Online Convert's new XLSX converter.
Upload your file by dropping it into the big upload field or uploading it via cloud storage, browsing or a link. Afterward, all you need to do is click on "Start conversion". The conversion will take a few moments, depending on the size of your file, and you can download it on the next page.
Optionally, you can also use OCR. What is this? OCR stands for Optical Character Recognition and it helps you to extract tables from images or scans by interpreting the visible information of your file to create a table from it.
---