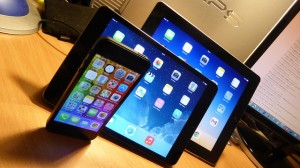 Users of Apple devices like Mac desktop computers, MacBooks, iPhones, or iPads are already familiar with them: the native Apple Inc. file formats. Users of other platforms and operating systems like Windows and Linux however can face difficulties with those formats because they, sometimes, have never heard of them.
This could become a problem for Apple users as well when they try to send assignments, essays or other documents, videos, or audio files from their device to someone working with a Windows computer or an Android phone.
Knowing about this problem is the first step to the solution. Either users of Apple devices or the recipients of those Apple native files can convert their files into a format supported by the operating system and device in question. Yet, before you can attempt a conversion, you will have to know which file formats are exclusive or native for Apple devices.
Thus, we listed some of the most common native Apple file formats for you.
Document Files
KEY
Keynote Presentation File – Files with the KEY extension are created with Apple's Keynote Presentation program. Keynote can create playback presentations containing images, slide animations, set time frames, videos, etc. KEY files can be compared to Microsoft's PowerPoint presentation files.
PAGES
Pages Document File – When using Apple's word processing program Pages, your files – including pictures, formatting, layout and the like – will be saved with a PAGES extension. They work like Microsoft Word files like DOC or OpenOffice Writer text files.
Audio Files
AIF/AIFF
Audio Interchage File Format – AIF or AIFF files are lossless and uncompressed audio files developed by Apple. These files are popular among professional musicians since they can store their music with very high quality using these file types. Converting your files to AIFF can thus be important if you wish to work with your audio files on a more professional level. The compressed versions of the AIF/AIFF files feature an AIFC extension.
CAF
Apple Core Audio Format – One advantage of CAF files is that these containers can hold several types of audio and additional metadata. With these new features, it quickly replaced the AIF format since it doesn't have the same limitations. It can also hold audio data that exceeds the size of 4 GB.
M4A
MPEG-4 Audio File – M4A is the common file format used on Apple iTunes. In addition to audio track, M4A files also store additional data like images. What sets these files apart from other audio files is that lossless compression is available for M4A files as well. There's also the possibility to convert your audio files to M4A.
M4P
MPEG-4 iTunes Music Store Audio File – Similar to M4A files, M4P files can be found on Apple iTunes. In addition to the features of the M4A files, M4P files are protected using Apple's DRM copy protection.
M4R
MPEG-4 iPhone Ringtone File – M4R audio files are part of Apple iTunes as well. They are not meant to be "real" music tracks though, but serve the purpose of being ringtones for the iPhone. They have undergone lossy compression.
Video Files
M4V
MPEG-4 iTunes Video File – M4V files are very similar to the well known MP4 format. When downloading a video from iTunes, it usually comes in the M4V format and can – but doesn't necessarily have to – be protected with Apple's DRM copy protection.
MOV
QuickTime Movie File – Nowadays, MOV files are not exclusively usable on Apple devises anymore, but can be opened on Windows operating systems as well. It's a video file format originally developed for the Apple QuickTime Player, and converting your videos to MOV can be a useful feature.
Other Files
DMG
MAC OS X Disk Image File – DMG files usually serve the purpose of installing programs on a Mac computer, contain encrypted and compressed data. Mac computers treat DMG files like hard copy disks.
IPA
iOS Application File – Files with an IPA extension are essential for anything downloaded from iTunes, may it be games, programs, or utilities. They contain information necessary for the iOS device to open and/or run the programs they are linked to.
PICT
Apple QuickDraw Picture File – PICT files are created when using the Apple QuickDraw program. They can contain vector graphics as well as bitmap images with a big variety of colors. Yet, PICT images are raster images, which means that they are not scalable without loss in quality.