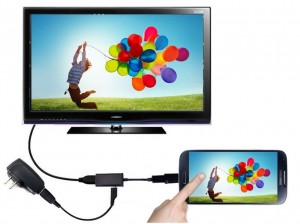 Remember the days when Televisions ruled the world? Okay, well according to statistics, that's still the case. The average American person watches over 35 hours of television per week. The same can be said for people using their smartphones. More people are using their cellphones these days to watch videos, chat, play games and more than ever before.
So what if you could combined both of the things you watch and use the most into one? Well, in a way you can. Below is a guide showing you how to watch videos on your TV from your smartphone. That's right. You can easily watch on your television all of movies you stream from your phone. Also, the games you play on your cell, you can do so on your TV and even share photos as well. The same applies if you have a tablet.
Go From The Little Screen To Big
Smartphones are the best. We can do so much more these days than just make phone calls (which was what they were originally intended for). From watching your favorite videos to playing some of the hottest games, our cell phones open up so many gateways to fun each day. It is no wonder so many people have a hard time putting their cell phones down. But while being able to watch videos on your tablet or cell is great, the smaller screen is not the same as our big screen Televisions. Luckily, technology has advanced so much on both smartphones and TV's that now you can watch videos from your phone on your Television sets. There's a few cool and easy ways to do so. Here are some of the easiest and best ways to look at your photos, games and videos from your cell on your Television.
You may also want to read How to copy a video file and MP3 to your mobile phone
Connect Via HDMI
Just about every tablet or smartphone now allows you to plug into your Television via an HDMI cable. This is providing that your TV is HDMI-ready. All you need to do is plug one end of the cable to your smartphone and the other to the HDMI ports found on your Television. The minute you connect them, you will be able to see and show on your TV, whatever you display on your phone. This means that those cool photos you took at the party can now be seen on your huge screen TV. Also, all the latest and hottest videos and apps you play (yes the games) can now be transferred to your big screen TV. It is like having a projector (well, actually, it is). Everything you project on your smartphone, its now visible on your TV set.
The only problem you may have is that most HDMI cables are relatively short (about 6 to 12 feet long). However, there are some available which are much longer for you to use them from a further distance. That means you can lay down on your couch and bed while you play, watch and see all the stuff from your phone on your TV.
Wireless Connection
Some people don't really care much for wires or simply want the freedom of going wireless. In the event that you are one of those people, then you can also connect your TV to your smartphone this way. This option may be a bit more expensive since you have to purchase a separate device such as the Roku Streaming Stick, Google Chromecast, the Amazon Fire TV, or the Apple TV or  to do so. But it is so much easier and better because of the freedom it allows you to have. The possibilities are endless as far as where you can play and watch your cell phone display from. By connecting any of the devices, you simply enable screen mirroring and click on the appropriate icon that pops up on your cellular phone or tablet. After that, you can easily begin to watch it all on your big screen.
There are also devices which let you stream all of your contents on your phone via the Wi-Fi at home. For those with an iOS device, they can use AirPlay to easily beam photos, videos and music wirelessly. (Note that you will need Apple TV to use this).
Get A Smart TV
In case you have a really new smartphone, but your Television is an older model, consider getting a smarter Television. Those TV's which allow you to connect with tablets or cellphones are well worth it. Especially once you see just how much you can do with them combined and connected together. Be sure that the Television you purchase is DLNA-certified (Digital Living Network Alliance).
See also How To Use Your Cellular Phone As A Wi-Fi Hotspot
Nothing compares to being able to watch your photos in 1080p, big screen resolution. The same can be said for the videos and games you play on your phone and watch them on your TV. Being able to combine two of the things we use the most makes this pretty awesome!