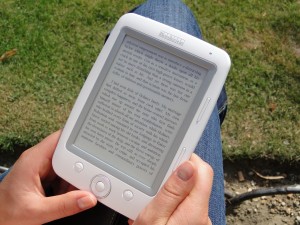 E-books are the (not too) new, convenient way to read. But did you know that there are many reasons to write an e-book yourself as well?
Writing the book itself is, of course, the major part of getting your e-book ready or publishing. Instead of having to install a plethora of programs, however, you can easily edit your e-book and get it ready for publishing with some very handy online services and pages.
Check out these web services that are just great for e-book editing:
Cover Design
For a book, the cover is one of the biggest selling factors. E-books do not differ that much in this respect, hence why it's advised to put some thought into the book cover as well.
When publishing with Amazon, you can use Amazon's Direct Publishing Cover Creator that allows you to upload images and choose layouts, design and font.
A nice alternative is the O RLY Cover Generator. User manuals and scientific work usually have rather simple book covers and that is what the O RLY Cover Generator relies on.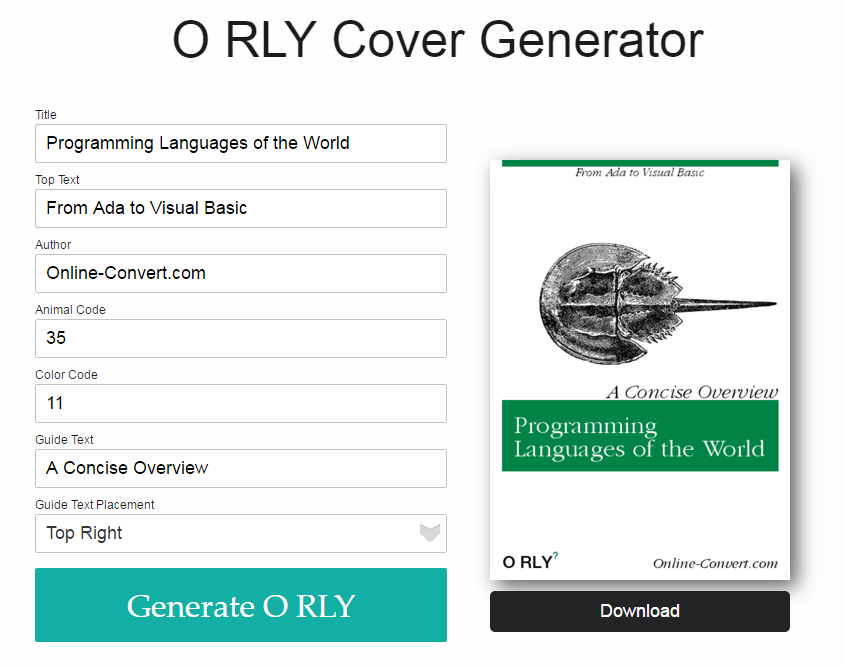 Clicking on "Download" saves the finished PNG file on the hard drive.
Publishing to Amazon, for example, requires you to provide a cover image in another format, however. Don't worry, you can easily convert your PNG cover from O RLY to JPG with a free online image converer.
Customization
Depending on the word processing software used for the writing part, it's possible to denote author and title of your work already. Note that the title differs from the file name you specify when saving your DOCX, ODT or PDF document!
If you couldn't add these information to your book, there is still a convenient online method to add title and author to your book. How to do so using an online converter is described here: E-Book Customization & Conversion
Conversion
Now, you have your book almost ready, but it's just a DOCX or PDF…
Don't worry! This free e-book converter allows you to convert your document into the most common e-book formats:
AZW (for Amazon Kindle)
EPUB
FB2
MOBI
PDF
and more!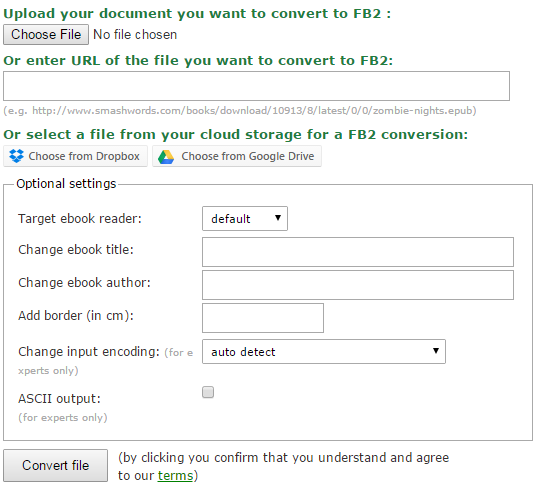 All you have to do is upload your file and click on "Convert file". The conversion will run and you can start the download of your converted e-book once it's done.
Checking
Once your e-book is "ready", you should not be too fast to click on "Publish" though! Double-Checking is a practice you should incorporate to your routine with everything you plan on sharing with people, especially online.
Next to checking the content, it's also important to check the layout and formatting of your e-book once you converted it. You can, of course, upload it to your own reading device – or you use one of many EPUB readers that are available online.
How To Read E-Books on Chrome & Firefox – In this article, you will find chrome extensions and Firefox add-ons that allow you to read e-books saved in the popular EPUB format, as well as web services that display your book just as it would look like on a e-book reading device or tablet.
Sharing
In order to promote your writing, you should always consider the possibility of sharing your content online for free. Whether you decide to publish your article, first book, or only a few chapters for free, such giveaways always draw in people that are interested in the topic you wrote about.
One popular and versatile sharing platform is Issuu. Issuu is used by many independent and professional writers to publish magazines, manuals and other kinds of writing with the world wide web. Signing up for Issuu's basic plan allows you to upload your book, article or chapter in a way that is optimized for mobile viewing as well.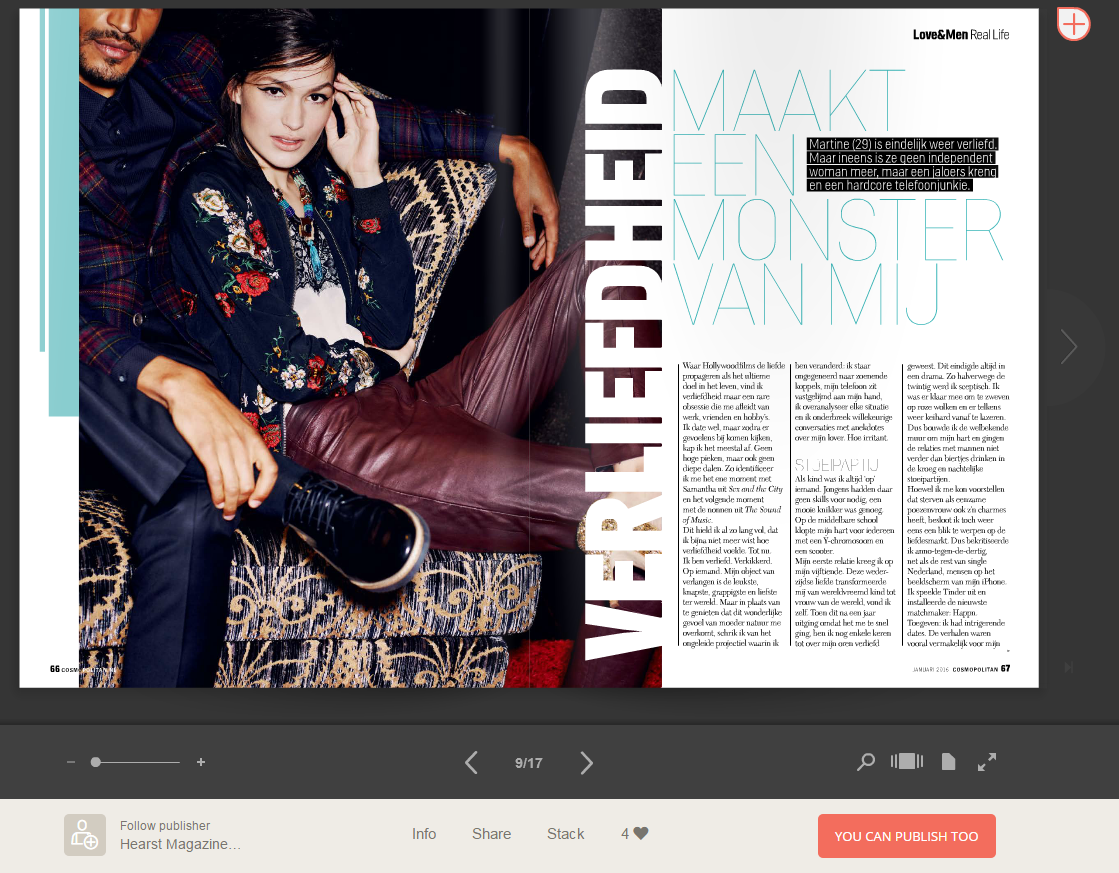 The upload format for publications on Issuu is PDF, so make sure to convert your e-book to PDF if you don't have an PDF copy anyway.
Publishing
If you decide to not only offer your e-book for free or as a download in your own store on your website, you can publish using the biggest book retailer there is: Amazon. Thanks to Amazon Direct Publishing, getting your book out there for other people to purchase and enjoy is as easy as never before.
How does it work?
Sign in on kdp.amazon.com with your Amazon account
Enter your tax information
Go to "Bookshelf" and click on "Add new title"
Fill out the form
Upload your book cover (JPG file)
Upload your book
Double-Check your book with the online viewer
Click on "Save and continue", you will advance to the "Rights and Pricing" page now
Choose the right, royalty rate and price
Click on "Save and publish"
Once your book is ready, you will receive an e-mail by Amazon. Now, you can start promoting your book!