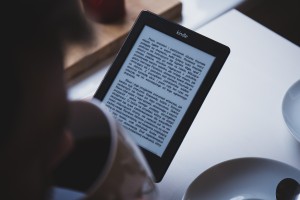 In the past, we have provided quite some information about e-book files, e-book writing and the conversion of files like EPUB, MOBI and AZW.
An overview of the articles on the topic can be found here.
Today, we want to tell you about the special (and optional) options you have when converting from PDF to EPUB or from EPUB to AZW provided by Online-Convert.com .
Customization Of E-Book Files
What users have often times praised and picked out as a reason why they use the e-book converters of Online-Convert.com is, next to the quality of the conversion, the options they can set.
Many e-book readers out there do not sort files according to the file name, but according to the author and title meta tags of the e-book files. These information may be given when converting from one e-book file to the other, but they are often missing when your target file is a PDF.
These issues along with some other are treated by our free e-book converters. Lets have a look at those optional settings!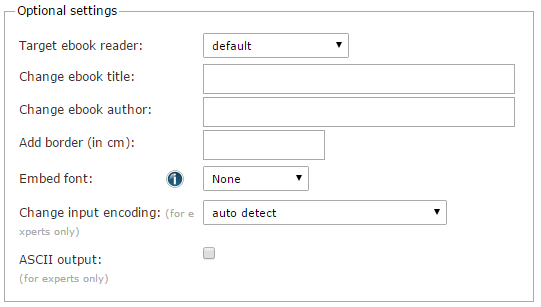 Target ebook reader
Of course you can simply convert your file to EPUB or MOBI and "hope for the best". However, if you want to convert your document into a file specified for your e-book reader, you can do so with the "Target ebook reader" option.
The list contains settings that optimize conversion for different reading devices including:
Amazon Kindle, Kindle DX, Kindle Fire
Apple iPad
Kobo
Mobipocket
Nook, Nook color
Change ebook title/author
As mentioned above, some e-book reading devices sort the files according to the meta data of the files. By specifying these information in the according fields, you can add them to the meta data of the ebook and thus add extra information to the file you have converted.
Add border
Converting in between e-book formats may, sometimes, result in alterations when it comes to borders. Furthermore, you may have gotten hold of a badly formatted document or PDF. If that'S the case, you can specify the size of your pages' border manually.
Be careful tho: Instead of inches, the input has to be measured in centimeters (cm).
Embed font
A problem that may sometimes occur especially when converting a PDF to e-book is that the font used is not one typically supported or seen in e-books. If that's the case, you can specify an embed font that is used instead of the not-supported (or not very nicely supported) font.
If you open your converted e-book and it shows strange characters, it is also advised to try setting a font from the list and re-attempt the conversion.
Expert Settings
The settings above are easy to understand and can not cause any major mayhem in your file. The following settings, however, can drastically interfere with the conversion of your file and are thus advised to be used by experts only.
Firstly, you can change the coding standard of your file by selecting different standards like UTF8, EUC-JP, ISO8859_13 or Cp1251. By default, the encoding is detected automatically.
Secondly, you can decide whether you want the output of your file in the ASCII standard. This means all kinds of non-ASCII characters (e.g. Cyrillic letters) are converted into ASCII and thus Latin characters.
Other E-Book Customizations
What other kind of customization options would you like to see added to our converter? Adding a cover image? Or an index page?
Let us know!
---
Convert to AZW (for Kindle) | Convert to EPUB | Convert to FB2 | All e-book converter