E-book readers have gained more and more popularity in recent years. However, not everyone wants to buy an Amazon Kindle or Sony E-Book Reader. That doesn't mean that you have to relinquish reading e-books!
Apps for your Android tablet or smartphone, iPad or iPhone enable you to read electronic books with mobile devices as well. And there are just as many programs you can download to read e-books on your computer or laptop. What if you don't want to install a CPU and memory space wasting program to your computer?
For all of you that don't want to clutter their PC or Mac with programs, we have gathered 8 extensions and apps for Google Chrome and Firefox that allow you to read EPUB files stored on your hard drive. EPUb is one of the best and most common e-book files and thus ideally suited for this purpose.
EPUB Reader Extensions & Apps for Chrome
If you install a new app to Google Chrome, you can access them by typing chrome://apps into the URL field of the browser. That way, you will open a page with all your installed Chrome apps. Just click on the one you want to open.
To find the apps and extensions mentioned, just go to the Google Chrome Webstore.
1. Simple EPUB Reader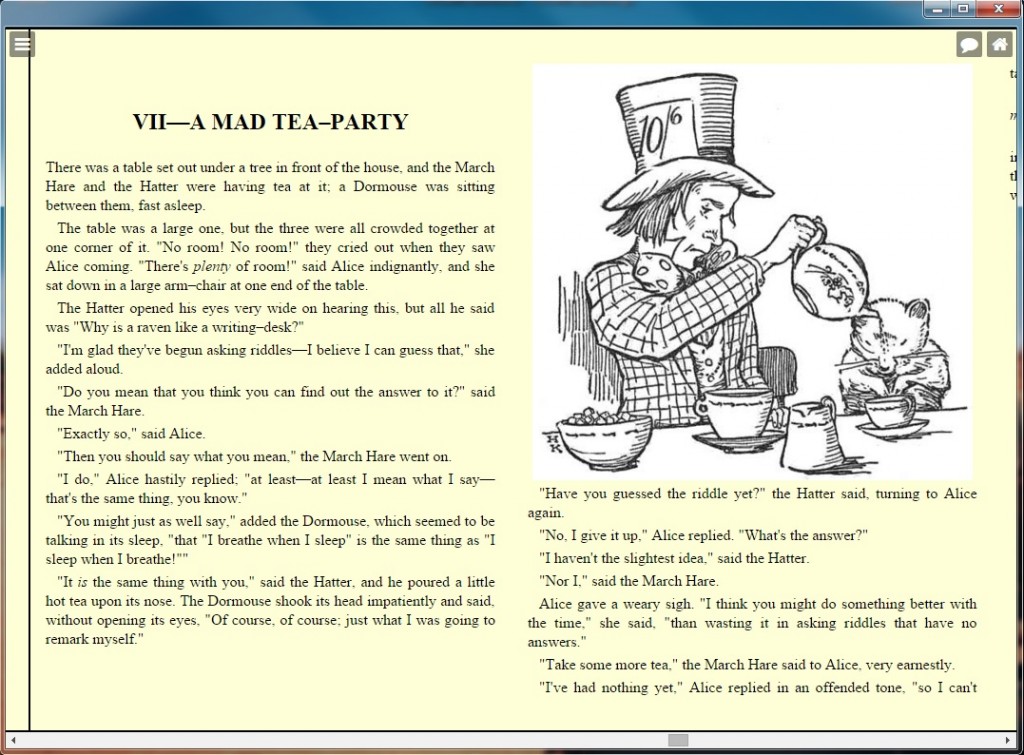 Simple EPUB Reader is a Google Chrome app that works offline as well, meaning that no internet connection is necessary to use the app for reading.
The app has a library function in which you can load and store several books. The app also features a backup for recently read books and keyboard shortcuts to browse the pages. Clicking on the button on the upper left side opens a list of chapters for the opened book.
Text size and color as well as the background color for reading are customizable. Thus, it's possible to choose a darker background when reading in the night.
The downside of the app lies within two of it's features. One is "Text to Speech" which can be activated clicking the speech bubble icon on the upper right side. However, this feature doesn't seem to work or requires additional installations because we couldn't make it work at all.
The Text and "Text to EPUB Converter" and the "Image to EPUB converter" are, in theory, nice and useful features. However, there are several problems when trying to convert from PDF to EPUB with the app, resulting in an unreadable document. Thus, we do not recommend using the app for conversion. This should be a task for a reliable EPUB converter.
2. Cloud ePub Reader with Drive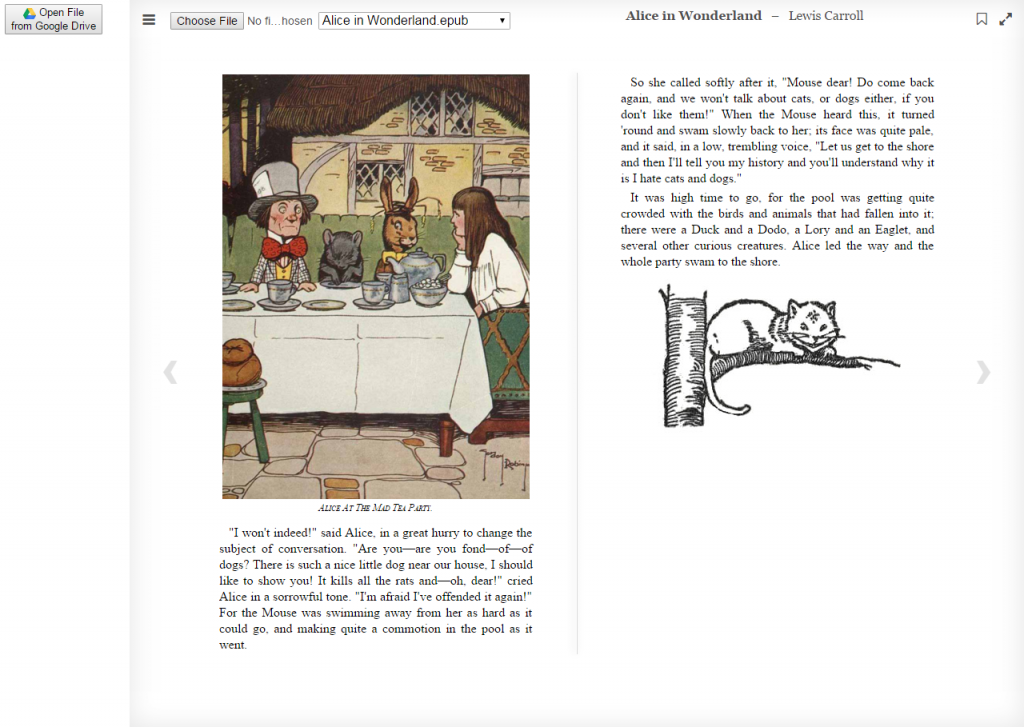 The Cloud ePub Reader with Drive app has one striking disadvantage compared to the other ones in this list: it requires an internet connection to work. However, the app still offers some great features like a fullscreen mode and the possibility to browse a book by chapters.
The best feature, however, is the possibility to load EPUB files from Google Drive after allowing the app access to Google's Cloud service.
3. Readiator EPUB Reader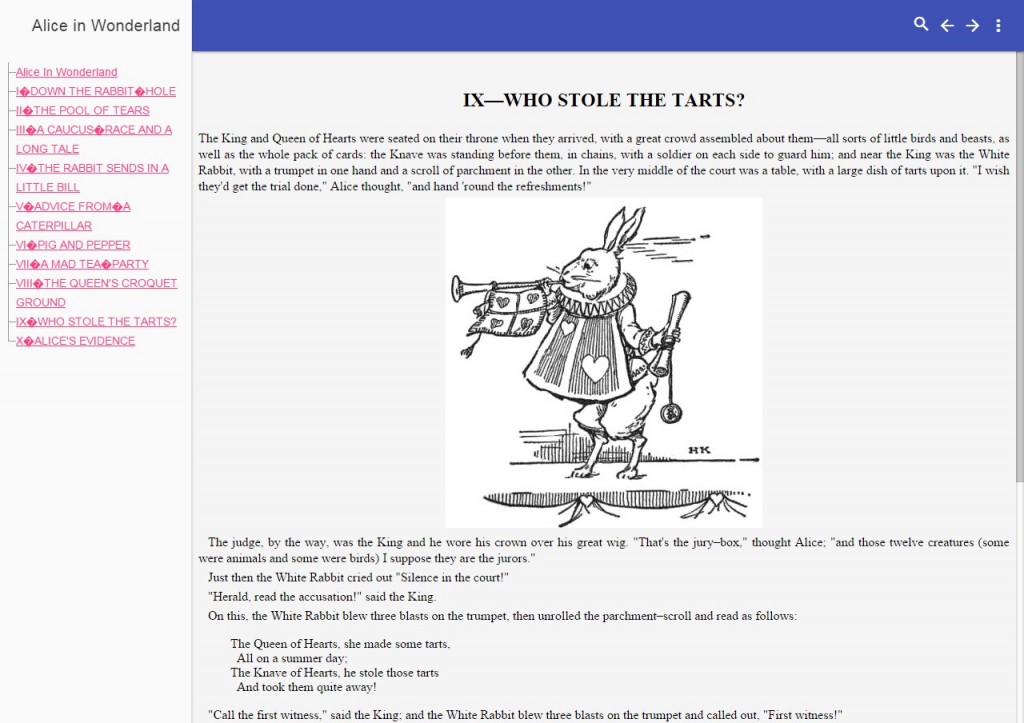 Another Chrome app that works offline is Readiator EPUB Reader. In the app specifications, you can specify if you want the app to open in a new tab or browser.
The app comes with a library feature to store and save books in. The search function makes it easy to search for specific books in a large library.
Books can be browsed by chapter once in the "Viewer". Of course, there's also the possibility to change the font size of the currently read book.
However, instead of page flipping, the app only allows for vertical scrolling, and thus it can' be operated using the keyboard.
4. MagicScroll Web Reader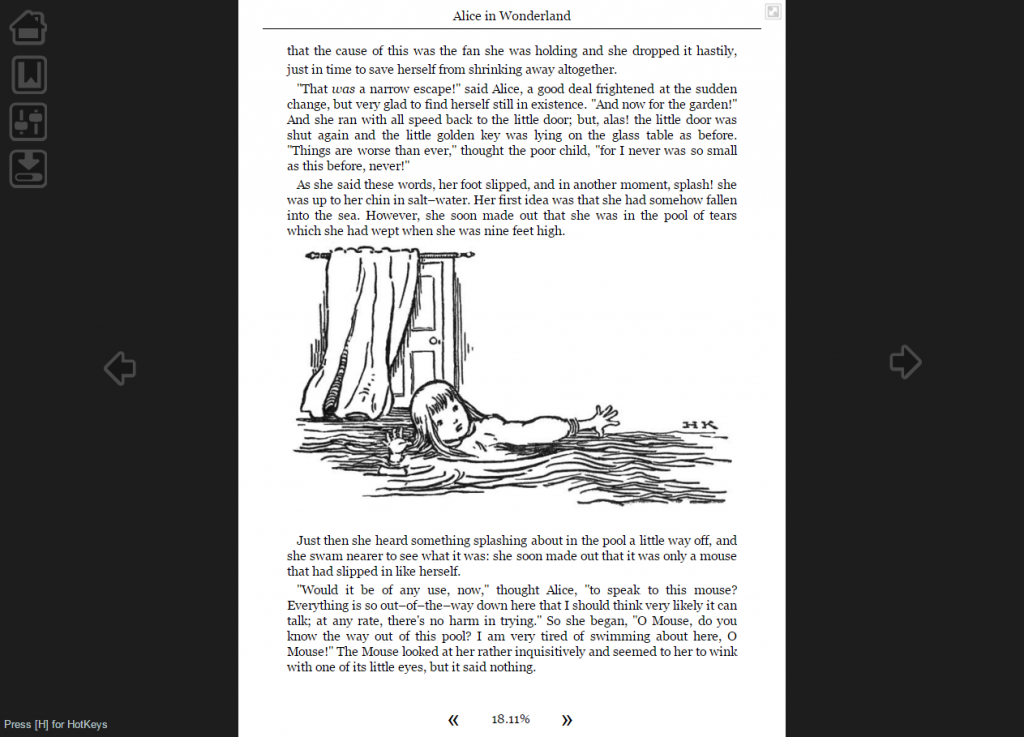 What sets MagicScroll Web Reader apart from the aforementioned apps is that it is a Chrome extension rather than an app. Thus, it can only be used when there's an internet connection. What sets MagicScroll apart from the other apps in this article is that it has two functions that are accessible in different ways.
Toolbar Icon:
The extension allows you to turn websites and articles into an easier readable format. Clicking on the toolbar icon turns the currently opened tab into some kind of temporary e-book.
magicscroll.net:
Whether you have the extension added to Chrome or not, visiting MagicScroll.net allows you to read e-books online as well. Simply add books from a file or link to the library and open them using the web service. A list of chapters as well as a fullscreen mode are available.
Both versions of MagicScroll provide a number of customizable options. Font size as well as choosing one of four reader themes make reading easier with MagicScroll. A list of keyboard shortcuts for the handling of the extension and web service can be accessed when pressing H in an opened book. Furthermore, MagicScroll offers an autoscroll option with adjustable speed.
A nice little treat: on the bottom of the page you will see your reading progress in percent.
5. Readium
Readium is a Chrome app that works offline, without an internet connection, as well. The app is very easy to handle and provides the user with a library that can switch between list and thumbnail view.
Just like any decent e-book app, Readium allows you to change the font size for better readability as well as choosing from five different background color templates.
Additionally to a big list of keyboard shortcuts you can freely set yourself, Readium offers a largely customizable layout where you can choose between scroll mode, page format, page flipping effect and margin size.
6. EBook Offline Reader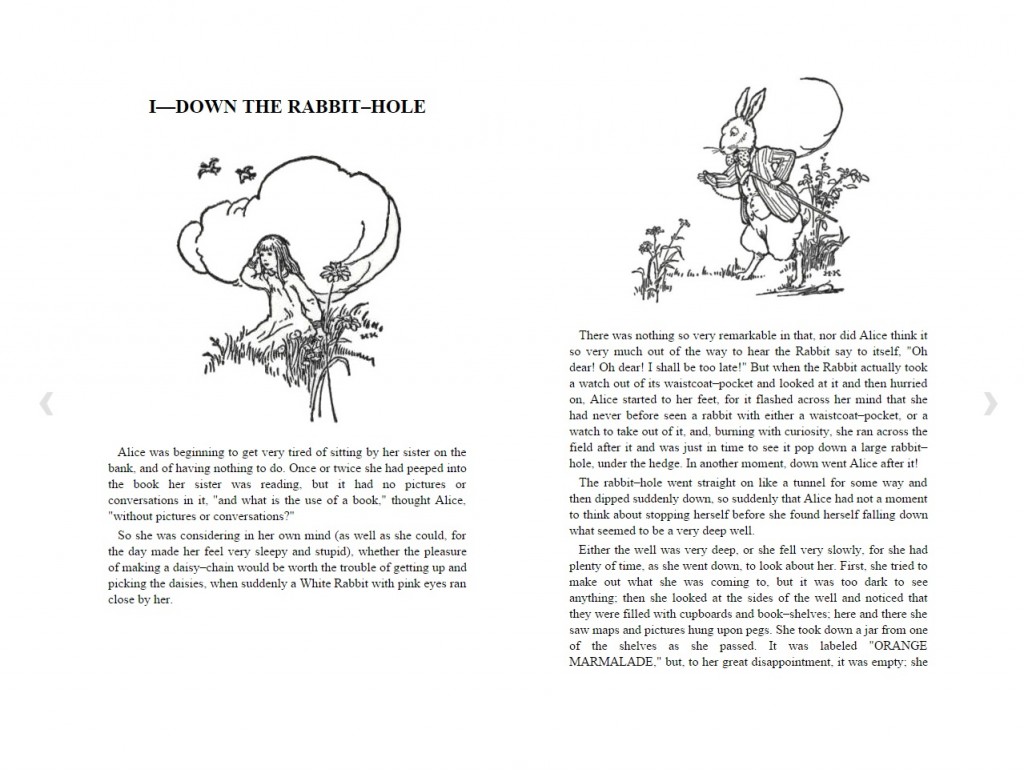 The EBook Offline Reader app for Chrome does exactly what the name entails: it allows you to read e-books without the need of an internet connection. And that's it.
Simply open an EPUB file in the application and use the arrow keys of your keyboard to navigate. Yes, it can be that easy!
7. Livemargin Reader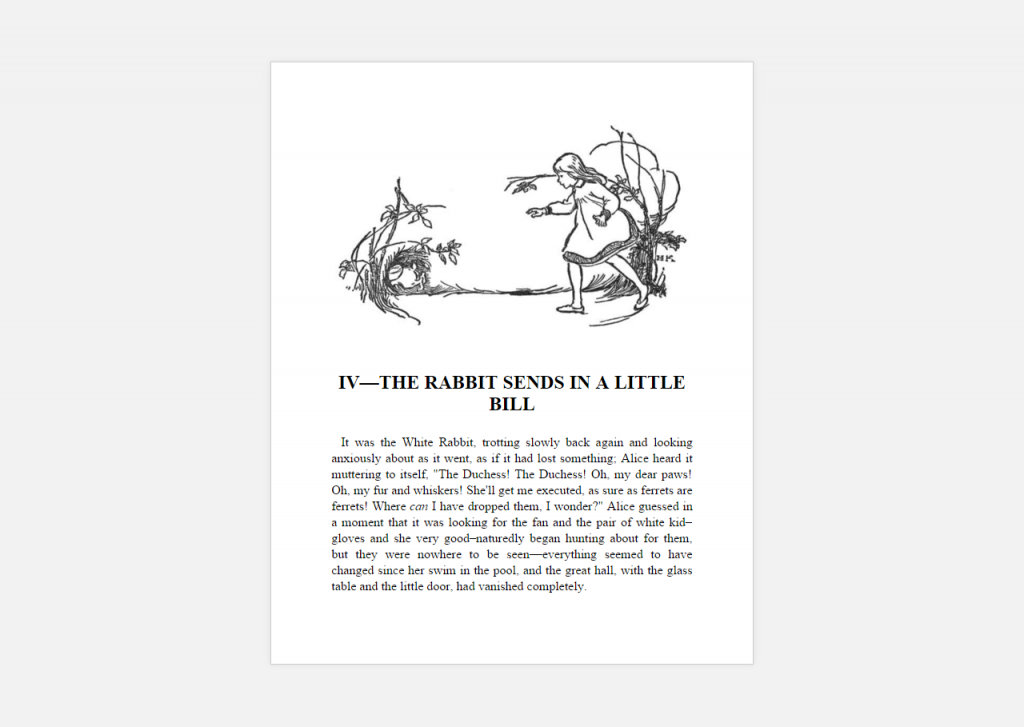 The first thing to notice when installing and running the Livemargin Reader app for the first time is that you are required to allow the app to access your Google account data. For some that may be a reason to not further consider this app, but for those willing to allow access, Livemarging offers an easy to use e-book reading app for Chrome users.
The library of the app comes with different sorting options and an easy and intuitive import of EPUB files from your computer.
Once you opened a book, you can browse by chapter. A progress bar both in reading mode as well as in the library shows your progress in the book. Font size and background color are customizable (with limitations) and you even have the option to share the book you are reading on several social media platforms and via e-mail.
The biggest advantage of Livemargin, however, is that it allows you to synchronize  settings and reading progress across platforms. For this purpose, Livemargin provides an Android as well as an Windows app.
EPUB Reader Extensions & Apps for Firefox
Add-ons and plugins for Firefox can be found here. Search for the add-on's name or a keyword there and install the plugin or add-on to your browser.
1. EPUBReader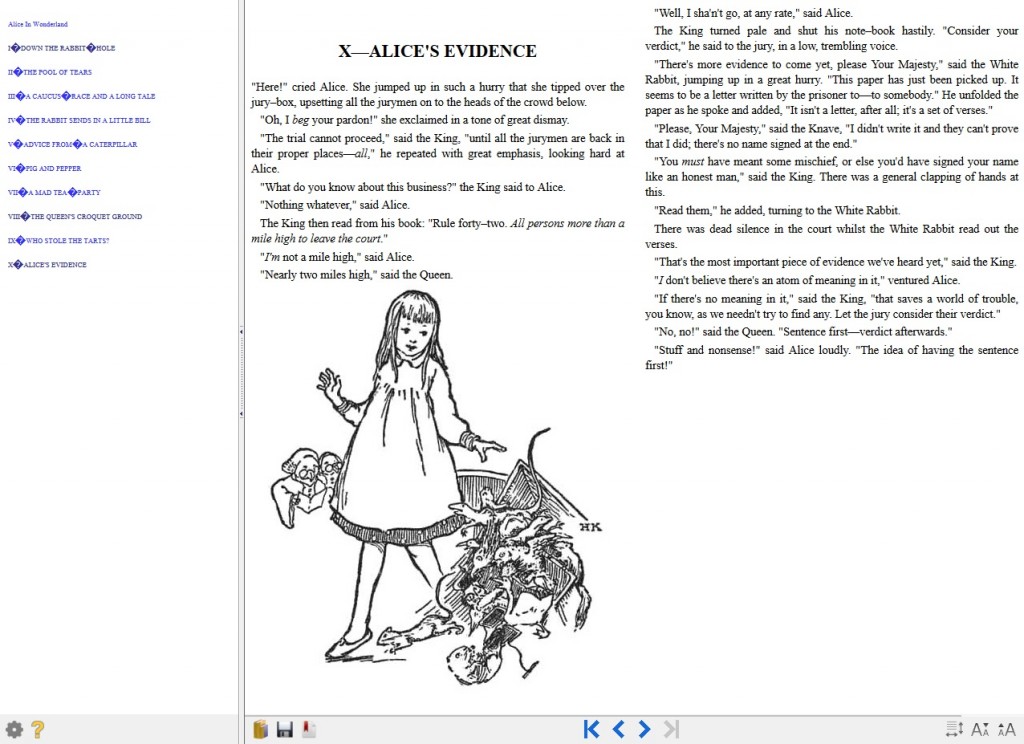 EPUBReader is the Mozilla add-on that allows you to read e-books using your Firefox browser, even in offline mode. It is launched from the Firefox toolbar and opens to a catalog of your uploaded EPUB files.
From the catalog, you have direct access to books from archive.org and gutenberg.org (you need to be connected to the internet to access those, of course). You can grab books from there or import them from your hard drive. All EPUB links opened in Firefox will automatically be opened in a readable format by the add-on as well. Exporting the whole catalog or library to your computer is possible as well.
When opening a book, you have access to the list of chapters. You can set bookmarks and save copies of the book you are reading. Furthermore, the add-on provides some customizations with regard to font-size, face and color, margin, and the appearance of links and the table of contents.
Convert Documents & E-Books to EPUB
All these extensions, add-ons, and apps have one thing in common though: they are optimized for EPUB e-book files.
Thus, if you want to read a MOBI, Amazon Kindle e-book (AZW), or other kind of document with one of these apps, you need to convert them to EPUB first.