Imagine bracing high winds to get that once-in-a-lifetime video of your favorite outdoor adventure, but when you upload it to YouTube for the world to see, the video quality isn't as good as it should be. That just makes you want to spit out some colorful words, right?
This is a real issue. Some folks complain about YouTube playing their videos at worse quality than what they see when they play the video on their computer.
Why Your YouTube Videos Look Terrible
There are a number of reasons as to why your YouTube videos look terrible. Let's talk about them one by one, shall we?
It Could Be Your Computer
If you're watching the YouTube video on your computer, first check if your computer's CPU is not hogged by some malicious software. Open Task Manager and click on the Processes tab then sort by CPU usage. If you see something there other than your browser that's eating the CPU, terminate it. Fire up the antivirus and run a complete scan on your system. There could be other suspicious software in your system hogging the resources.
Improper Video Encoding Prior To Upload
If you encode your video as 480p, YouTube will not and cannot perk it up to 720p or 1080p. You need to provide the highest resolution possible if you want that video looks good on YouTube.
It's the same thing with bitrate. Videos with high bitrate look much smoother than the one with low bit rate.
Excessive Compression
If the video that you upload is the result of a conversion from other video formats (i.e. from WMV to MP4) then it's possible that the compression ratio leaned towards saving bandwidth by making the file size as small as possible.
Let's take the online video conversion tool we have here as an example.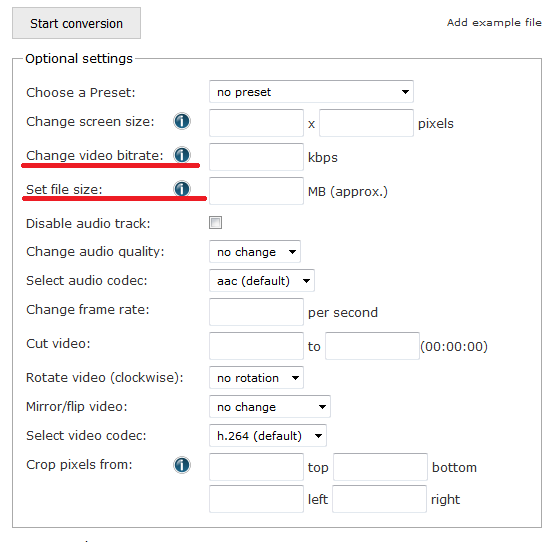 On the Optional settings, you can set the file size and the program will try its best to achieve the limit as close as possible. When the size you set is too small compared to the original file size, the compression can be too much and the video loses much detail.
It's the same thing if you set the video bitrate to a smaller number than what the original video has.
For uploading to YouTube, it's best if you leave those two settings alone. Let the tool decide the optimal bitrate so you get the same quality after conversion as the source.
It's YouTube's Fault
YouTube automatically compresses all video. The engineers can update the compression algorithm whenever they see fit. Though the compression algorithm they use does a great job most of the times, there's always a chance that it doesn't well for your video.
In the past, there have been numerous cases where content creators were uploading 1080p videos and YouTube only delivers 480p max. It drove content creators mad. Some say it was a glitch or that converting high-res video just take longer than converting the low-res ones.
That said, YouTube has the liberty to use whatever algorithm they want. If it goes against what content creators prefer, then we just have to adapt or look for different video site to put our creative work.
---
Want to get in touch with us? Hit us up on our social media channels!