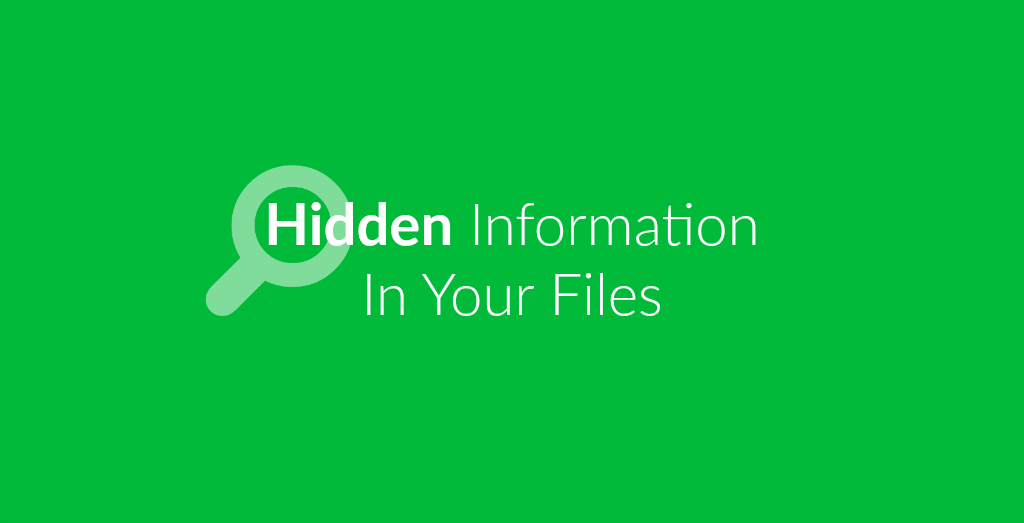 All files (yes, all of them) contain hidden information that you are probably not aware about. These information can not be seen when opening the file. Some of them are already revealed when you right-click on a file, yet they are by far not complete.
However, with the right tools, these information are available for anyone to see. This thought might range from indifferent to scary to you. Especially those that are anxious about what information they send together with their images, videos, documents and more, should thus check their files before uploading and sending them over the web. But also for you people that are just curious, lets check out why you should check your files for hidden metadata information.
What you need:
A file
A metadata information service like
Hidden Data In Your Files
The hidden information we are talking about here is also known as metadata. This data is created by the program, software or app that was used to create, edit or save the file in question. Some information can also be added or created by the operating system, hardware device or even a user themselves.
The fact that not all information is actively added by the user (such as content and file name), already indicates that a check is necessary. Especially the metadata information that can not be viewed by opening or checking the file in your file browser can contain sensitive information that you are not willing to share. However, metadata can give you more valuable information about your files. We have gathered the top reasons for why a metadata check of your documents, images, videos, audio files or e-books might be interesting.
Camera Settings
Image sharing services like flickr already provide metadata information about many of the uploaded photos. For professional or leisure photographers, it might be interesting which settings, lens and camera another photographer has used to create a certain effect and mood in a picture.
You don't have to gather inspiration from flickr, however. Any camera raw image as well as the derivated JPG and PNG files contain valuable information about aperture, auto focus, active d-lighting, balance, brightness and more. That way, when checking a photo you find especially enticing, you can mimic the respective camera settings for your own pictures.
Coordinates & Location
Images, in addition to the method they were taken in, can also contain information about the location where they have been taken. This can be valuable in many ways. That way, the last location of a missing person could be determined by checking the last pictures taken with a camera or phone, for example. Likewise, it can create great travel ideas if you find a random image online from a beautiful place you want to visit. The possibilities here are limited by what you might need a specific image location information for.
Version Control
Sometimes, it might happen that you have one document in more than one places. And over time, you forget which version was the newest and latest one. Thanks to metadata information, you can check a file that you have stored on your computer and a USB stick, for example. Comparing creation date as well as the date of last edition can give you valuable hints of which version is the one you wanted to work with.
Further File Information
Of course, metadata gives you more information about your file than just it's name and content. This can become especially handy when dealing with e-books and music. These files can contain information about artist, album, producer or band when it comes to audio files, as well as title and author when checking an e-book file.
Authenticity
In times of e-mail and file sharing, there's the possibility of many false information or even viruses and malware being spread using different kinds of files. files with an extension of .exe and .zip were highly popular to infect another system with a virus. But usually harmless documents like TXT and DOC have also been targeted by criminals that use them for spying and phishing.
Checking the metadata of files can give you valuable information about the creator as well as other information that can determine the authenticity and thus safety of a file before you even open it. For example, differences between the alleged creator of a file and the actual name in the metadata of the file (author, creator, last modified by) can indicate fraud or ill intentions.
Security
One of the most important factors is sharing information you might not want to share. In short: security of your data. Documents save information about the program used to create the document as well as the author. Images contain information about the program or camera used to create them.
This data can be sensitive and contain business secrets that you wouldn't want to share with everyone. Thus, before you upload a file to the internet, make sure to check it for information you do not want to share.
How To Check Metadata Of A File
In an earlier blog article, we have already shown how you can check metadata using our API and Postman.
For people that are less tech-savvy or want a quick and lean solution, you can try services like Get-Metadata.com. After uploading a file to the service, you are presented with a full list of meta information contained in your file or link.
---