Knowing how to use HTML code is something that is very useful to web developers. This is the language they use to create web pages that use a great deal of formatting so it look fantastic. However, in most cases, unless you have the ability to understand and write using HTML code, you are much more limited in how your document looks.  That is why it's beneficial to know how to convert Word to HTML.
Reasons to Convert Word to HTML code
Online Submissions
Many online processes only accept documents that are done with HTML code. This might be for submitting articles online somewhere to get them published, saving bookmarks or even updating your profile on social networks. If you know HTML code, you can use fancy formatting tricks for these types of items to make your submissions get noticed because they stand out and include the special HTML formatting.
Website Pages
Another big reason to convert Word to HTML is for a web page. Since the new tools make it so easy to start a website, it seems like most people have their own website.  This is a much more common need than in the past, but if you can use HTML code, your website can look even better.
Most people are familiar with Word in some manner. It gives you the ability to quickly and easily change the color of the text, adjust the fonts, alter the size of the words and much more. These are formatting changes we take for granted when we're working in Word because we've done them so many times and they are so easy to do. However, if you don't know HTML coding, your completed document would just be a page of standard text, with no formatting at all.  That is very unappealing to read and it makes it difficult for you to highlight sections of the page that you want to draw the readers attention to.
However, now you can easily convert Word to HTML. You can use your existing knowledge of Word to create a document that looks fantastic using any of the formatting options available in Word. Then, all you need to do use a doc to HTML converter and copy and paste the HTML code into your web page.
How to Covert a Word Doc to HTML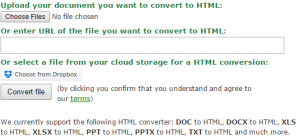 If you need to convert Word to HTML, the great news is that it is very simple to do. Not only do you not need HTML coding skills, but you don't even need advanced computer skills.
When you use a good online Word to HTML converter, getting your Word document converted is as simple as selecting the document on your computer.
In the example shown above, you just need to use the "Choose File" option to convert Word to HTML.  Then you go to the document you want converted and select it.  Then you just click "Convert File".
The tool will then handle the conversion for you and will provide you with a link to retrieve and download the converted file.
Now that you know how to convert Word to HTML, the formatting limitations on websites or online profiles, etc have been lifted!