There are a few ongoing battles in the world of (digital) media.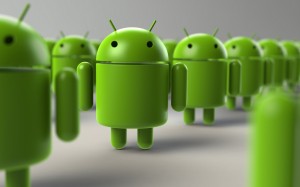 In the gaming world, there had been Sega vs. Nintendo, and now it's PlayStation vs XBox. Which is better? Which features the better games, the better graphics? Which is more user friendly? Which has the better price? And so on, and so on… Both sides always come up with striking arguments why to buy the PlayStation 4 or the XBox One, and at the same time, both sides provide even better arguments why to NOT by the opposition's product.
The very same happens in the world of computers and smartphones, but with respect to either hardware or operating systems. In an earlier blog post, we have talked about native file formats for Apple computers. This time, we dive deeper into the topic of mobile operating systems. Precisely, we'll check out which file formats are supported by your phone if you have an Android based device!
Audio Files
Depending on the codecs used, Android phones can support and play several audio file types. It may be that a music file won't play on your phone even though the file type is supported though. This is due to the codecs used to compress the audio file in question. If your phone doesn't play a specific file, you may want to convert it into another audio file format that is more likely to be supported.
The most commonly used codecs supported by Android devices include AAC, AMR, FLAC, MIDI, MP3, PCM/WAVE, and Vorbis. The following audio file types using the codecs mentioned can thus be played on your Android phone:
3GP
ACC (raw data)
FLAC
OGG
M4A
MID
MP3
XMF
WAV
Video Files
The very same that has been true for audio files applies to video files in terms of codecs. Depending on the codec used to compress the video container format, it may still not play on your Android phone even though it generally is supported. To watch your videos still, you can convert the video into another format or choose an Android compatible conversion right away.
The codecs supported by Android phones are H.263, H.264, MPEG-4, and V8. This leads to the following video container formats to be supported by Android devices:
Image Files
Contrary to video and audio files, image files can not be generated using different codecs. This means that if a format is supported by an Android phone, it will be able to open all files with this extension (unless they are corrupt). The following rater image files are supported:
Acknowledgement
This article has been written on the basis of knowledge at the time Android 5.0 Lollipop was the newest version available.