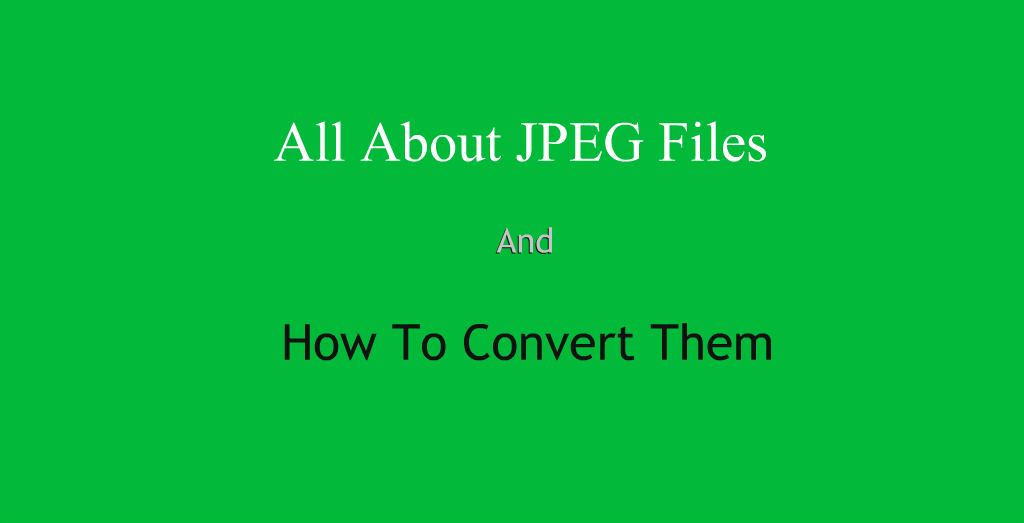 Have you ever asked yourself what are JPEG files? Perhaps you want to know how to convert them to another format. This article guide shows you how to easily convert them in a few simple steps without the need for any programs or software. The truth is that one of the most popular and widely used file formats for images is JPEG or JPG. Pronounced "jay-peg," JPEG stands for Joint Photographic Experts Group. That committee are the ones who created and wrote the original standard by which those extensions are applied. The JPEG files or JPG, are a standardized compression technique for images. They are also an extension of a lossy graphics file.
JPG files are very useful since they compress gray-scale digital images or full color ones. Comprised of two sub-formats – JPG/Exif – the files mostly derive from photographic equipment or digital cameras. On the other hand, JFIF and JPG, are more widely used on the internet. In total, there are 4 file extensions to the JPEG family. Those are JFIF, JPG, JPE and JPEG. Still, the most recognized and widely used out of all of them is the JPG extension.
The Friendly Image Extension Of the World Wide Web
JPEG is often considered and lauded for being the friendly image extension of the world wide web. That's because before JPEG files came along, everyone on the internet who wanted to used or share photos, had a harder time doing so. Before JPG files, the images were too large to either upload, download and share on the web. That made it more difficult for internet users in every aspect. However, with the creation of the JPEG format, sharing images became more simpler and easier. Plus, it saves everyone a ton of space since the images are much smaller.
Here is another article you may want to read – Convert JPG to PDF
How To Convert Photos To JPEG
Since most of the people and their equipment that uses images rely on the JPEG format, having photos in that extension is essential. However, there are countless of other image formats out there such as GIF, BMP. PNG, EPS, TGA, TIFF, WBMP and several others. If you have any of those formats and want to know how to convert them to JPEG or JPG, then it is very easy to do so.
Don't miss checking out The Differences Between Lossless And Lossy Compression
Although there are several different ways to convert your images to JPEG files, we will not cover all of them in this guide. For one, there are many default images editing software you can use to do so. There are also countless of apps, software and programs. However, the easiest, fastest and most convenient way to convert your images to JPEG is by using our free and easy tool.
Our Online image converter tool allows you to convert any image files. Not just to JPEG or JPG, but to over 10 others different formats as well. You don't need to download any software, use any special programs or pay any money. It is all free, quick and very easy to do. Just follow the link, upload your images and choose the format you want to convert the images to. Remember, you can also use any of our other conversion tools for Audio, Video, Archives, Documents, Ebooks and Hash Encryption as well.
---