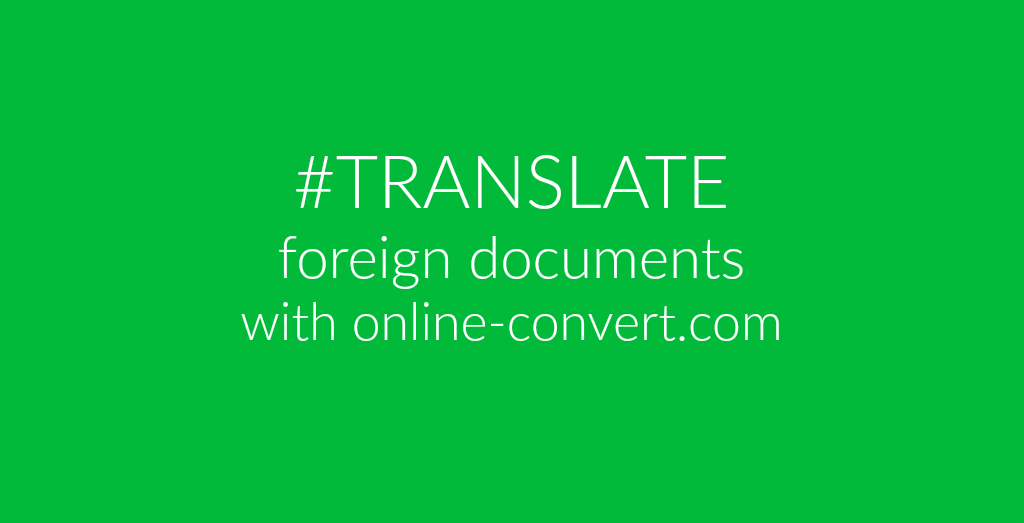 Living abroad, in a country where you don't speak the language, comes with many difficulties. One of those is certainly official correspondence since the public authorities tend to operate in the native language of the country. Only in very rare cases, you will get notifications, invoices and other official mail in English. In most cases, the documents arrive in the native language of the country and now you have to make sense of it.
Following, you will find a tutorial that will help you do exactly this. Make the process of understanding foreign forms and letters easier by translating them online. And yes, this works with any physical mail you got as well!
What you need:
A camera or scanner
A computer or smartphone
These two websites:
Translate Foreign Documents Online
As you have seen above, we suggest using Google Translate for translating your foreign documents. Of course, you can use another online translation tool as we understand that some people do not completely trust Google Translate when it comes to (syntactically) correct translations. However, to get a first idea what your document or form is about, this kind of translation is more than enough.
Furthermore, you do not need to install anything else. The conversion service of online-convert.com only requires you to download your converted text file. This means you can easily do this from your smartphone or a tablet!
How To Translate Your Documents
Let's jump right into how to get your documents translated into your native language or language of choice!
1. Make a digital copy
There are two ways to do that. The easiest way is to scan the document and receive a PDF document with the scanned content. Since many people don't have a scanner, however, you can also use your digital camera or smartphone to take a picture of the document.
It doesn't matter if the digital copy of your document is an image like JPG or PNG, or a PDF.
2. Convert your scan or image to text
Now that you have your digital copy, you need to extract the text. This can easily be done with the Online-Convert.com document converter and the OCR function available under "Optional settings".
Of course you can choose another document converter, for example the ODT converter for OpenOffice or LibreOffice documents.
If you are working from a mobile phone, we suggest converting to TXT instead. Most phones have an app installed that will allow you to open and view TXT files. And if not, you can open the file using Google Drive which also allows you to copy the text out of the document.
2.2 Upload your scan or image and check the box next to "Use OCR"
This will make sure that the document you will receive will not just contain the image you uploaded or an image of the scan. It will extract the text visible on the image.
2.3. Click on "Convert file"
It will take a little while until your document is ready for download.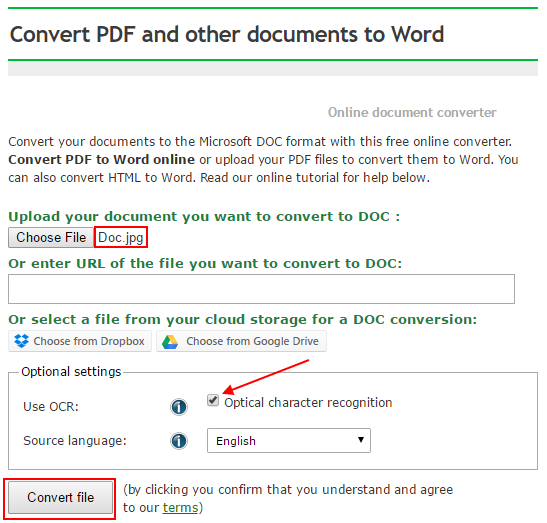 3. Check the new document
While the OCR function is very good, it's outcome always depends on the quality of your scan or image. Open the document and compare it to the original. It might be that you have to improve or copy some words from the original into your new document.
4. Translate your new text
Now, head over to Google Translate and copy & paste your new text into the left field. You can either set the language or trust google and use the "Detect language" option. As a target, choose your native language or English. Then, let Google do the work for you.
Google Translate translations are not perfect, but they still serve the purpose of understanding the mail you got.

---