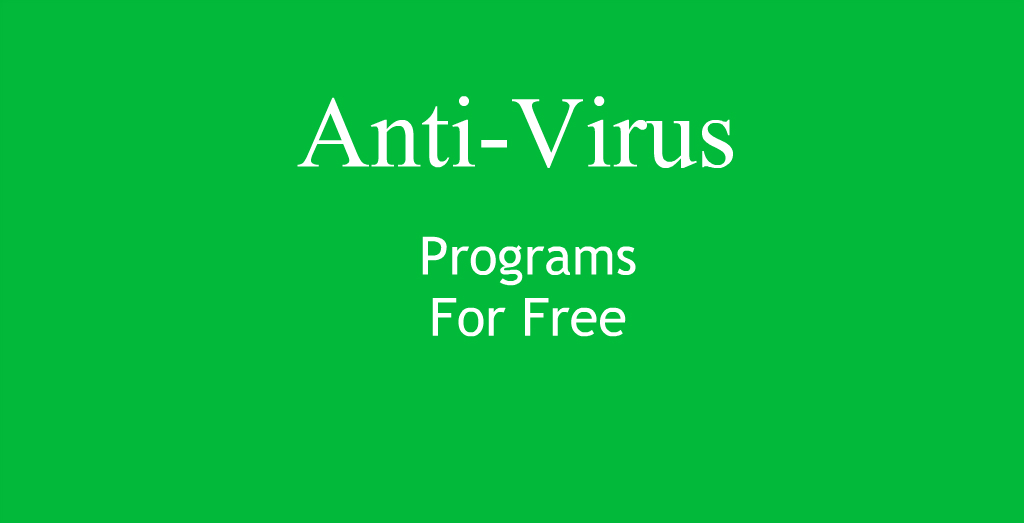 Let's face it. In this day and age of hackers running rampant on the web it is essential for everyone to do the best to protect themselves and their computers. Surfing the internet without an anti-virus or any kind of protection is not only crazy, it is outright dangerous. In fact, doing so can be compared to you leaving your home or apartment doors wide open – without any locks – and then going to work or on vacation.
Still, anti-virus programs can be expensive to purchase. This is even more so if you have several computers or devices to protect. Luckily, there are many companies out there offering internet protection for no charge at all. These 7 top anti-virus programs for free are some of the very best out there. And they won't cost you a dime to use on your device.
Free Comes With A Price
As we all know, there is hardly ever anything free in this world without any strings attached; especially programs such as anti-virus and computer protection. So what do these free anti-virus companies really mean then? Well in truth, all of them are in fact trying to make money. After all, that is what businesses and services are in the game for. The companies which give out free anti-virus and protection do so with a few strings attached. For one, most of them will constantly send you notices or messages about the benefits of upgrading. These messages will likely come via emails or pop-ups.
Don't miss reading these 12 Things To Do To Avoid Messing Up Your Computer
Other programs will ask you to install browser extensions and free toolbars. However, they are both not recommended and you should avoid doing so. For one, most anti-virus extensions never really offer any additional functions that you don't already have. Secondly, the browser toolbars only serve to collect your personal information. In turn, the advertiser will sell that info to others. Lastly, these extensions and toolbars can end up slowing down your devices. Keep that in mind since this is the price you pay for something free.  
Avast – Mac, Windows
With an easy to use interface and several useful tools to help you protect yourself from hackers, Avast is a great free anti-virus program to install. You can use for it either Windows or Mac. Avast Antivirus only uses a small level of system resources as well. This is very important since it will not slow down your PC, computer or laptop. Avast Antivirus also has a 99.6% protection rate which is pretty high for a free anti-virus program.
Zone Alarm – Windows
The ZoneAlarm Free Antivirus software comes with many of the features found on most paid programs. It also has a basic free firewall as extra protection. ZoneAlarm has been around for many years now helping deter hackers and other internet intruders from stealing your info. Unfortunately for Mac users, ZoneAlarm only works for Windows OS. ZoneAlarm Free Antivirus also has identity protection to help you protect your personal data. Although it is rather basic, it is still good to have.  
Avira – Windows, Mac
Avira antivirus software has one of the highest protection rates on the market for most Anti-virus programs. At 99.9%, Avira antivirus program offers users solid and complete protection. However, those results came from the pro version of Avira. Still, the free version still delivers a great amount of firepower and protection. You can do scans on your devices to check if any virus or malware has infiltrated your computer.
Lavasoft Ad-Aware Free – Windows
Another solid performer in the world of internet protection is the Lavasoft Ad-Aware Free antivirus program. In the pro version testing, Lavasoft's pro version scored 99.3%. It is only available for Windows users though. Lavasoft is primarily focused on protection from anti-spyware and anti-adware. If you are one of those that detest both of those, then Lavasoft is great option.
Bitdefender – Windows
With its anti-fraud and anti-phishing features to keep you safe on the web, Bitdefender is a great tool in the fight against hackers and malware. The pro version of Bitdefender garnished a 99.9% rate of protection. While the free version may not do as well, it is pretty impressive for a tool that won't cost you a dime. Plus, the interface is user friendly and easy to use.
AVG – Mac, Windows
Although AVG antivirus has a few extra features you can do without, it still a great tool to add in the fight against malware. The pro version of AVG scored a 99.6% rate which is very impressive. It also only uses a very minimal amount of system resources. The mobile antivirus and system cleanup are some of the extras you can do without. The same goes for some annoying pop-ups asking you to upgrade. Nonetheless, it is a small price to pay – no pun intended – for a free antivirus such as AVG.
You may also want to check out the Dangers Of Downloading Free Files From The Internet
Malwarebytes Anti-Malware – Windows, Mac
For surfers of the internet who hate malware – and who doesn't? – the Malwarebytes Anti-Malware program is a must have. Malwarebytes has been around for many years now helping users defeat web annoying malware. The main focus of the program is getting rid of any adware you may have on your computer. One downside is that you will only get manual capabilities and no real time protection from Malwarebytes unless you upgrade. Yet they do offer you a free 14 day trial to see and use all of those extra functions.
---