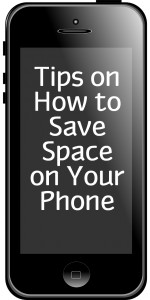 The vast majority of users on the Internet are now looking for useful information on saving space on their mobile devices. Online Convert has put together some helpful tips on how to save space on your phone. A few years ago most of us used to always worry about saving space on our computers, PC's or laptops. However, the worldwide explosion of mobile usage by so many has changed even what most people are searching for these days. Cleaning up your phone of space is not only a great way to save space, but also essential in keeping your device from lagging and running slower.
Unsure about which phone to buy or get? Read about  Windows Phone And Android – What's The Difference?
Delete Old Messages
One of the most common problems mobile users have when it comes to saving space on their phones is not knowing the default settings on their phones. Most mobile phones such as the iPhone come with preset factory settings which keep and save your text messages forever. That means that if you text constantly (who doesn't?) then you can end up taking a large chunk of your device's memory on old text messages alone. To make sure you stop your cellphone from storing and saving text messages forever follow these steps.
Go to Settings app and hit 'Messages'

Scroll down all the way until you find 'Message History'

Change forever to 1 year or 30 days, depending on your preference.
Doing this will allow you to save not only space, but also let your phone work faster. Most users send tons of videos and photos so this only adds to the amount of space used up and what can be freed up.
Clean Your Phone
Between browsing history and various apps running in the background, there are numerous things which can clog up your phone. One of the best ways to keep your phone from lagging or freezing is to clean your browsing history. Just like a computer, each page you visit is saved on your mobile device via cookies. In a matter of weeks (Depending on how much you surf) you can ramp up quite a few MB of browsing data. For those that want an even better way to keep their phone clean and running smoother we recommend an app called "Clean Master". This app does everything from cleaning your device's browsing history, deleting junk files and much more. You can also use it to clean texting apps such as Whatsapp and others. The reason Clean Master is useful for those that use texting apps is that most of them keep a history of all the photos, files and videos you send and receive. This means that in a few weeks you can end up with a duplicate photo or file on your phone for each instance you send it out. Clean Master also comes with a security scanner which is very essential in protecting your mobile device.
Use Alternate Data Storage
Cell phones which have SD card slots are a great way to let users be able to store data on them and save them elsewhere. These SD cards are very useful for moving videos, pictures and music you may have on your cellular phone. Most cell phones take up quite a large amount of space for photos and videos. This is because most phones now have HD capacity and a much higher quality format for pictures and videos. For those who have devices with no SD card slots capacity there is always Cloud services. These cloud services are not only great for saving space on your phone, they also act as a back-up to your files in case your device is ever lost, damaged or stolen. Most cell phone carriers have sync services which automatically back up your data each day. You can choose the frequency which the device does so, although daily backup is recommended.
Want to keep your mobile device safe? Read about the Best Ways To Protect Your Mobile Devices From Malware
Another way to clear up space on your device is to delete all the unnecessary apps which usually come bundled with the phone. There are numerous apps which are pre-installed which most of users will actually never use. However, be sure that other apps are not Dependant on any of the applications you delete since it may cause instability on your phone or cause it to fail or malfunction.  Lastly, you can use sites such as Online Convert to change the format and file extensions of large files on your device. That 4 GB video can be easily converted to a mere few MB in an instant using our free and easy tools to convert them.