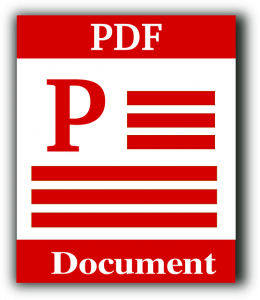 The following article delves into the advantages of a PDF conversion tool and why it can be so useful. One of the greatest development of file formats from the past decades was the innovative creation of PDF (Portable Document Format). The useful document reader was created and introduced to the public by Adobe. Within a short time, it spread all over and millions of users around the world embraced it. PDF quickly became one of the most popular and used file formats available. PDF files are usually read with the free Adobe Acrobat Reader. However, there are also several other programs which can be used to do so as well. Best of all, most of these programs can work on various different operating systems.
Why PDF Files Are So Popular
The PDF file format is very popular because of several reasons. For one, it offers many advantages over others. One of the those conveniences is being able to basically read them on any computer. Secondly, Adobe Acrobat Reader is free for anyone to use. PDF files are also quite significantly smaller than a similar sized Word or other documents. For anyone who has to share documents with many different people, PDF makes a huge difference. Unlike Word or other programs that have so many versions, PDF has one. That's of course assuming you have the latest version of the program. Yet the same cannot be said about Word or other programs. It is more than likely that when you have to send a document to multiple users, not all of them will have the same version of Word. That means that the document which reads fine on your system, will not read the same way on others. It also means that since PDF can be converted to other different formats, the possibilities are endless.
You should also take a look at how to Convert Your Blog Article To PDF For A Greater Reach
Why Convert To PDF?
Besides the numerous benefits to which we already pointed out about PDF, there are others. One of the most important factors is that other documents formats use different fonts. What this means is that if you create a Word document using a fancy font, the other person you send it or share it, may not have it. If they do not have the same font installed on their computer, the document will not be readable. Because fonts are embedded into PDF files, that issue is never a problem. In addition, PDF files offer great security. For anyone who doesn't want someone stealing or modifying their work, PDF files are a must have. Once a file is converted into PDF format, it cannot be modified. You can even protect them with 128 bits of encryption and a password as well.
Don't miss reading Why You Should Convert Your Job Application To PDF
Easily Convert To PDF For Free
Now that the benefits of PDF formats has been established, there will still be a need to convert your work to PDF. This is where the advantages of a PDF conversion tool  come in handy. There are many programs and software out there which help can help you convert them. However, many of them are expensive and not free to use. In addition, some can be difficult to use as well. Luckily, Online Convert offers an easy to use and Free online document converter here. Simply follow the instructions and convert them to PDF. To make matters even better, you can reverse the conversion as well. This means that if you have a PDF document, you can easily convert it to word or other formats too.