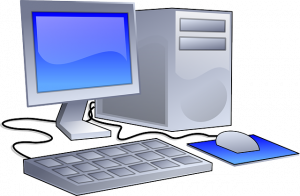 There may come a time when you will have to reformat or erase your PC, laptop or tablet. The reasons for this can be your PC being too slow or lagging. Perhaps you may have a virus or spyware on it from some program or something you downloaded or installed. Some users who may want to sell or donate their computer, will also look into erasing it completely before doing so. However, there are a few tips to follow before wiping your computer or a similar gadget. No matter the reason, be sure to follow these tips before you make that move.
Save Your Files –
One of the first things you should do before reformatting your hard drive, is saving your files. Although this may sound as something most people do automatically, some may not. Take a look at your computer and be sure to save all of your videos, music files and documents. Make sure you check all of your document folders and don't miss anything you may need later.
Be sure to also read 12 Things To Do To Avoid Messing Up Your Computer
Copy Your Drivers –
One of the biggest mistakes people make when erasing their laptop or computer is not saving the drivers. Without them, your computer is virtually useless. Finding each driver one by one can take a long time. Some, you may not even be able to find depending on your computer model. That's why it is imperative to save all of your hardware drivers such as keyboard and mouse. You will also need to save a copy of the graphics and audio drivers. There are several programs that can do this task for you and save all of them easily.
De-authorize or Deactivate Your Software –
Every computer has a number or name on it which makes it unique. That means each time you log on the internet, that number is stored on sites you visit. The same goes for software you install. Because of that, it is important that you deactivate or deauthorize your old computer before doing so. Software manufacturers are strict when it comes to paid programs. They want to make sure you have paid for a program you are using. If you are transferring your files to another computer, then this is very important. Doing this can allow you to use your old programs and software without having to pay for it again.
Copy Your Browser Settings –
We all spend a long time visiting many sites. Most of us, save those sites we visit via bookmarks. In addition, many of these sites require passwords. By making a copy of your browser settings, you can save yourself a lot of work. You will be able to have all of your favorite sites, passwords and browser settings once you have it up and running again. There are a few programs to help you do this such as Transmute and FavBackup.
Copy Your Operating System –
If you don't have a copy of the original operating system, then you need to get one before doing a wipe. That's because without an operating system in place, any gadget is obsolete and unable to run. Be sure your OS is saved and that you have a backup of it.
Save Your Product Key –
Even if you make a copy or have the original operating system disc, you will still need the product key. Without it, the OS will not work and Windows will consider your copy a pirated version. That means you will not have access to updates and many other features. You can find your product key easily by right clicking on your "My Computer" icon. Once there, you can see the product key. Be sure to copy the numbers and add them later when you run the install.
Save All Your Serial Keys –
Your serial keys are just as important as your Operating system product key. These are usually found on paid software. Most software or programs give you a limited version. You will need your serial keys in order to access their full version though. Be sure to use a program such as Product Key Explorer. It can help you gather all of your important and needed serial keys easily.
Here's another article you may enjoy – Why You Should Always Backup Your Computer Files
Run CCleaner –
Depending on the reason you may want to clean or wipe your computer, doing it should be a last resort. If you are looking to do a reformat based on the computer running slow or a virus, there are other options. Before doing the formatting, try using a program called CCleaner. This program will remove all of the browser history, junk files and much more. It may all you need and it could be you don't really have to wipe your hard drive. Remember, once you wipe it clean, everything will be completely gone forever.