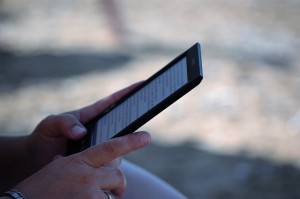 Nowadays it is easy to carry your documents around without having to print them on paper. You can read them from everywhere, share them online or via email, and distribute them to a wide variety of people. Same goes for books that can be published easier and faster thanks to the growing e-book popularity.
For each purpose, there seems to be a dominant file format most people use to save, store, distribute, share, send, and download their documents and books in. The most common ones (if no further editing of the documents or manuscripts is needed) are PDF and EPUB. Both formats are supported by many mobile device, either natively or via cost-free apps. But what are the differences between those too? And which format should I choose for myself? Lets find out.
PDF vs. EPUB
Before we concentrate on the differences, lets have a look at the similarities of the two formats.
Both can contain text as well as images, complex formatting, and even clickable links (depending on the device you open them with).
PDF as well as EPUB files can be opened by most e-book readers. Here you can see what files your e-book reader supports.
Both formats are supported by e-reader apps for your tablet, smartphone, or other mobile device.
PDF and EPUB are open standard formats and can both be protected using DRM.
From a first glance, the two files do not seem too different. Yet, there are striking differences that you need to consider when you decide whether you want to save your file as a PDF or an EPUB.
EPUB
PDF

Text is resizable, the page content is reflowable
Has to be created with a special program or converter
Supports XML data and CSS styling
Optimized for reading on a small screen
Special programs or an e-book reader is needed to read/open the files

Rigid (fixed) format
Can be generated by Microsoft Word, OpenOffice, LibreOffice, and more
Contains formatting of the original document
Optimized for printing
PDF reader for computer or mobile devices needed to read/open the files
What To Use?
Now that the similarities and differences have been laid out, it's pretty obvious which format is the best to use for which purpose.
EPUB: Create or convert to EPUB if you want to read your document on a small screen where you can change the font size and the page flows with the size of your screen.
PDF: Create or convert to PDF if you want to read your document on a computer screen and maintain the formatting for printing and sending your files.