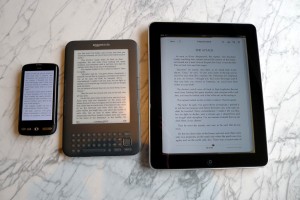 eBook readers have a lot advantages over books in a printed paper-form. They are lighter, multiple books can be stored on one device, you don't need any bookmarks because the reader remembers the page you read last, and so on. Yet, once you decided that you want to buy an eBook reader, you have quite the variety to choose from.
Following, we have listed some of the most popular eBook readers and the different file formats they support. Whether your can open and view PDF documents, MOBI files, or even PNG images on your mobile reading device can help you to choose the right one for you.
Amazon Kindle
The most well-known of all eBook readers isthe Amazon Kindle, as well as the Kindle Touch and Kindle Paperwhite versions. The one file extension most commonly associated with the Kindle is the eBook format AZW3 (or AZW for earlier versions). Other files the Kindle can open and display are:
eBook Files: AZW and AZW3; MOBI and PRC (unprotected)
Document Files: TXT and PDF
Other files are supported by the Kindle as well, made usable on the device through conversion:
Document Files: HTML, DOC, and DOCX
Image Files:  JPEG, GIF, PNG, and BMP
Audio Files: AA, AAX, and MP3 (Kindle Touch)
Unfortunately, not all eBook file types can be opened with Amazon's Kindle devices. The very common EPUB file, which is used by many other eBook readers, is not supported.
Barnes & Noble Nook
The Nook series of eBook readers was developed by and for the American company and book retailer Barnes & Noble. The e-reading devices are based on Android technology, and B&N even offers a service where you can read a Nook Store book for free for one hour per day when connected with the wi-fi connection in the B&N stores.
eBook Files: EPUB and PDB; CBZ (Nook Tablet)
Document Files: PDF; DOC and DOCX (Nook Color and Nook Tablet)
Image Files: JPEG, GIF, PNG, and BMP
Audio Files: MP3, AAC, and OGG (Nook 1st gen and Nook Color)
Video Files: MP4, 3GP, MKV, WEBM, and more (Nook Tablet)
The Nook does not support Amazon's AZW3 and books stored in the MOBI file format.
ECTACO jetBook
The jetBook is ECTACO's mobile reading device which was introduced to the market in 2008. Files supported by the jetBook include:
eBook Files: EPUB, FB2, MOBI, and PRC
Document Files: PDF, TXT, RTF, and HTML
Image Files: JPEG, PNG, GIF, and BMP
Audio Files: MP3
The built-in MP3 player enables users of the jetBook to listen to music directly on the device while reading.
Amazon's AZW and AZW3 files are not supported by ECTACO's jetBook.
Kobo eReader
The Kobo (the name is an anagram to the word "book") was developed by Kobo Inc. in Toronto, but later on bought by the Japanese company Rakuten. The following files are supported by the Kobo reader:
eBook Files: EPUB, MOBI, PRC, and CBZ
Document Files: PDF, TXT, and HTML
The Kobo Reader does not support Amazon's AZW and AZW3 files.
PocketBook
Thee is a huge list of mobile reading devices developed and going under the name of PocketBook. The brand also produces tablet computers with an Android operating system.
eBook Files: EPUB, MOBI, FB2, and DJVU
Document Files: TXT, PDF, and HTML
Amazon's AZW and AZW3 files are not supported by PocketBook devices.
Now that you read about the file formats supported by the most popular eBook reading devices, it should be a lot easier to make a choice. But even if you encounter an eBook you can not open with the reader you bought, you can still convert your eBook files into a supported file format.