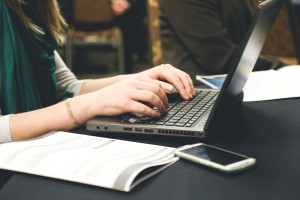 Sharing the written word has never been as easy as in the online world. Contracts, books, letters, thoughts, poems, notes… Whatever you want to write down, you can easily spread, send and share it over the internet. This is fairly easy, because most people are able to open, view, read or even edit the documents you send them. However, since there are many different kinds of documents, there may be some complications as well.
Sometimes, it may be important to convert a document file into another format to be able to open it. Or, you may want to convert the document before sending and sharing it so your friends, clients, boss, co-workers, or people on the internet in general can easily access it. If so, you have to be careful in choosing the perfect file format for your purpose because document files differ from one another in many respects.
In this article, we will provide you with an overview of the most popular document files. That way, it should be easy for you to choose the perfect format to save, send or convert your documents in and to.
Popular Document File Extensions
DOC and DOCX
One of the most popular and common document formats is the native format of Microsoft Word. Documents written and created in Word are typically saved as either DOC or DOCX depending on the Microsoft Office version you are using.
DOC and DOCX files can contain text and rich formatting as well as tables, images, and other objects. This makes them a preferable file format for different purposes that require a flexible way of formatting a document. From invoices or contracts with specific fields, to reports and essays containing graphs and tables, DOC and DOCX files provide a great way to express thoughts, present findings, and provide information.
Both files are able to be edited further, either by the original author or by the receiver. Furthermore, many programs are able to open DOC and DOCX files depending on their version. However, in some programs the formatting may change or images and tables may be displayed differently.
Read more about the difference between DOC and DOCX.
ODT
ODT files are similar to DOC and DOCX files. Yet, while the latter ones are native to Microsoft Word, ODT files are distributed under the open standard license and are thus native to many different open source word processing programs like OpenOffice and Libre Office.
Documents with the ODT extension can contain rich formatting, OLE objects, tables, graphs and images as well. They are common among many people and can be used for many different purposes like contracts, essays, reports, letters, and more.
ODT files can be edited by the original author as well as any receiving member. The format is also supported by other, non-open source programs like Microsoft Word which makes them very versatile. However, formatting and the overall display can be shifted or otherwise differ from the original formatting when opened with software that did not create the document.
RTF
RTF is the file extension for Rich Text Format documents. It was developed by Microsoft as well, but can be created using almost every other word processing program like Microsoft's NotePad or OpenOffice Writer.
RTF files can contain basic text formatting. However, no images, videos or other files can be implemented in the document, only text. Thus, the file is applicable for all needs that do not include images but formatted text only, like letters, contracts, or invoices. Like all aforementioned document files, RTF files can be further edited.
The file format is highly compatible with almost every word processing software and thus not only wide-spread in the web and among users, but also easily distributed and shared.
TXT
The best known and most compatible document type is the TXT document. TXT files contain raw text and can be created with any if not all word processing programs.
TXT files do neither contain formatting nor images or other objects. They are basic documents, developed to store text only. This makes them perfect for data storage or quick and easy information exchange—especially across platforms.
These raw text files can be opened by almost all programs like Microsoft Word, Pages for Mac, LibreOffice LaTex, and more. Of course, TXT files can be further edited as well.
PDF
PDF files were developed by Adobe and differ greatly from the document files mentioned above in several aspects. Next to formatted text, PDFs can contain images, graphs, tables, and even 3D drawings. Sometimes, they consist of images and scanned pages only instead of an underlying text file. Mixtures of both are possible as well.
PDF formats are perfect for printing since they preserve the formatting of the file they were created out of. Similar to an image, the PDF contains a fixed layout and always looks the same, no matter which program, software or device is used to open it. Next to the cost-free Adobe Reader, many programs are able to open PDF files. There are apps for mobile devices, and most browsers support opening PDF files as well. Furthermore, most word processing programs are able to export documents in the PDF format.
Unless using a program that specifically allows the modification of PDF files, they are protected from further editing. Furthermore, PDF files can be secured using a password or even encrypted.
The common distribution as well as the fact that everyone will see a PDF in the same way make it a perfect file format for spreading, sending and sharing documents.
HTM and HTML
HTM and HTML are abbreviations most commonly associated with web addresses. However, documents can also be saved in this format. Most word processing programs are able to save formatted text, containing images, audio and other objects in the HTML or HTM format. They can be opened with any web browser and are handled like real or true websites, completely with embedded media and outgoing links.
PPT and PPTX
Contrary to the file formats mentioned above, PPT and PPTX are known as presentation files rather than documents. They are native to the Microsoft PowerPoint program and can include images as well as text, graphs, animations, tables, slide transitions and embedded videos and audio files. It is the most common file used for different kinds of presentations among smaller or bigger groups of people.
The slideshows created using PowerPoint can be opened by other, open source programs as well. However, slide transitions, animations, and the overall formatting as well as the overall display may differ form the original one when PPT or PPTX files are opened in programs like Libre Office.
Read more about the difference between PPT and PPTX.