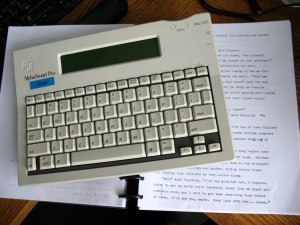 In our daily life as well as in our work life, we have to handle a lot of different file types and formats day after day. Depending on how versatile and computer-savvy you are, you will have to deal with audio, video, spreadsheet, and presentations files more frequently than others. And if you have a job that requires you to work with online or other technical issues, you will find yourself face-to-face with unknown and diverse file formats even more. For example: when you do transcriptions!
Transcribing as a Business
Simply put, transcription services offer the conversion of speech into written text. They are quite often used and necessary when  you held a speech, broadcast, or have any other recorded audio of a conversation or presentation, that you need in text form. Especially in the field of medicine, politics, in court, or for other business purposes, professional transcribers are often required. They are either sitting at a court meeting or event, or receive a recorded audio of the speech/consultation in question.
Transcription is a growing field for either professionally trained transcribers, or people that like to earn some extra money in their free time or after retirement. There are companies specialized in transcription, but many general assistance and administration companies also provide this service among others.
Before the introduction of tape and cassettes, the transcriber had to be present at the time of speaking, writing down what she or he heard, also using skills like abbreviating and shorthand. But since tapes, cassettes, CDs, VHS, DVDs, and – in recent years – audio files can be send to anyone around the globe, the job became a lot easier, and the time spend on transcribing a lot more flexible.
Transcribing Software vs. Manual Transcription
Of course, there are transcribing software and online solutions (via API) available. These programs may be quicker, easier accessible, and – depending on the pricing – cheaper than hiring someone for the transcription, but these programs are by no means error proof.
Having one or even more people do, check, and double-check a transcription made for you can be a bit more time-consuming and a tad more expensive, however you will get a result that is done thoroughly and tested multiple times, best by different ears. A software that always uses the same algorithm can not provide this double security.
Convert for easier Transcription
There are a few problems that can occur whether you are using a transcription program, or transcribe yourself or have someone do it for you.
Obscure Audio File Format
As mentioned above, nowadays it's way more common to not send CDs or cassettes, but audio files via mail or cloud storage. However, if you only needed a CD player in the past, you now have a vast diversity of audio files that could be send to you – and it may happen that you are unable to open some of them.
Using an online audio converter can help you to receive a format that Windows Media Player, Quicktime, or any other audio player on your computer can open the file. Convert it to MP3, AAC, WAV, AIFF, or another format you know.
Distorted Audio Files
What's also possible is that the file you receive can be distorted, contain a lot background noise, or that the speaker or speakers are generally hard to understand. Adjusting volume may not be enough in such cases, but some files can still be rescued – or at least be enhanced.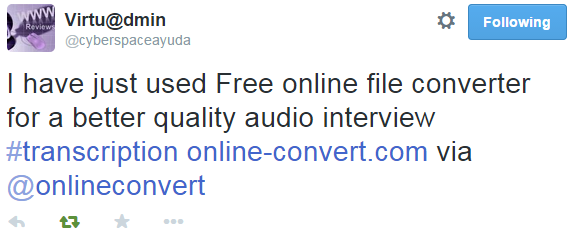 @cyberspaceayuda is one of our users that brought to our attention how versatile an online converter can be to simplify working with transcriptions as it is one of the many services they offer at Virtuadmin. By changing bitrate, sampling rate, or normalizing the audio stream, it is possible to enhance an audio file to an extend that makes the transcription easier.