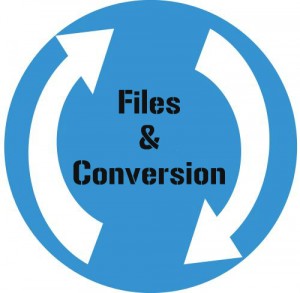 There are countless different kinds and types of files out there which is why file conversion made easy is so important. Whether they are audio, video, document, image or mobile files, the list is very long. In addition to so many kinds of files available, there are also a vast amount of formats.
The variation of audio formats alone are AAC, AIFF, FLAC, M4A, MP3, MP4. OGG, APUS, WAV and WMA. These are some of the most widely used and popular formats out there. The same goes for video, image, e-books and others. Dealing with all of these different file formats can be a problem for users.
File Conversion Problems
One of the challenges which many users face is being able to use certain kind of files. Depending on your computer or electronic device, the format of an audio, video or image file changes. There are certain formats which work very well with one kind of operating system. However, other formats don't work as well or at all. This can be applied to video formats or images editing programs or software you may have. In a day and age where millions spend long periods of time on social media, the consequences are huge. If you want to send a file to a friend or share it with someone, you have to consider a few things first. For one, just because it opens up on your system, phone or device, it doesn't mean it will work on theirs. Second, most social media sites have a file size limit on what you can send.
Check out How MP3 Files And Compression Works

Free File Conversion Tool
On the other hand, it could be you that has received a file in a format which your device or program doesn't recognize. Yet you should wait before you go ahead and delete the file. Luckily, with the Free online file converter available here on Online Convert, all those problems are gone. No matter whether you have a video, audio, image or any other kind of file, our tool can convert it for you. All you have to do is choose the type of file – video, audio, image, hash, e-book and so on – and then choose the format. After selecting the format to which you want to convert the current file, hit the upload button. Before long, your file will be converted for you. Best of all, it is all done quick, easy and for free.
In a world with so many different kind of file formats, Online Convert is here to make things easy for you.