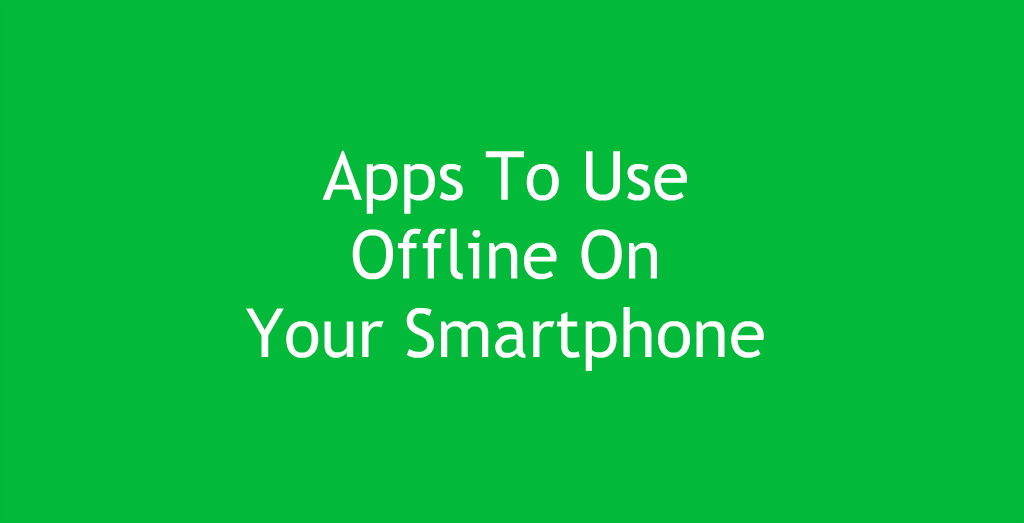 Smartphones are not just for making phones calls anymore. These days people use their cellular phones for just about everything else. One of those great things you can use your cell for is entertainment. Phones provide fun when you are taking a long trip somewhere, on your way to work or waiting somewhere. For people commuting to work each day, their smartphones are the best getaways. But in many cases, using your phone while online can mean wasting your cellular data. People who have unlimited amounts of phone data usage don't really worry about this. However, most do not and have to make sure they keep an eye on their limits.
Luckily, there are several apps you can use on your phone without being online or using your cellphone data. These 13 offline apps can help provide hours of entertainment for occasions when you need to kill time.
Feedly –
The Feedly app is already an awesome application to get tons of news from countless sources. Via the RSS Feedme reader, the app allows you to gain access to all the things you need to know. The latest news and events are right at your fingertips. But the best part about Feedly is that you can have all of your news pulled via Wi-Fi. Then, later on, you can go offline and read all of the content.
Need free internet? Then check out these 8 Tips and Tricks For Getting Free Wi-Fi Anywhere
Spotify –
For those that have Spotify's Premium subscriptions, they can download all of their favorite songs on either their Android or iPhone phones. You can then listen to them while offline at a later time. You can download up to 3,333 songs from Spotify. And you can use up to 3 different devices. All you need to do is connect to the internet at least once every 30 days. If you do so, you will have constant offline access to all your favorite tunes.
Amazon Kindle App –
For those that like reading books, the Amazon Kindle app is the best ebook reader available. What makes this app even more awesome is that you can continue using it  for hours without an internet connection. All you need to do is get a free book or buy one. Once you have the book, download it to your device and you are ready to go.
YouTube –
Believe it or not, YouTube has an offline feature. But the only problem is that it is only available in some countries such as Egypt, South Africa, India, Thailand, Pakistan and several more. For people in those countries, YouTube can let you use their services offline. Just hit the download button located next to the video you want to watch later on the YouTube app.
TripAdvisor –
If you want to find out about some travel information, then TripAdvisor has an offline function. They have City Guides that are dedicated and right on the app internally. You also have offline access to photos of over 300 cities, maps and reviews as well.
Netflix –
There are many Netflix Original Series and other content you can watch offline on either Android or iPhone devices. But there is a limit to what you can watch since all of the content on Netflix is not available for offline. Still, just find the 'Available for Download' section in the app and you can browse to see which content you want. Once you download it, you can watch it later on at your own leisure offline.
AccuWeather –
We all need to know about the weather at one time or another. The AccuWeather app is one of those that lets you get an accurate forecast of up to 15 days without being online. Of course things with the weather can change in an instant. But having this kind of info for a few hours may be all the time you need.
Pocket –
Many people kill time reading while they are commuting or waiting somewhere. The Pocket app lets you read tons of articles from the internet you may have not had time for. Once you have the Pocket app installed, you can download and save articles you may want to read later on. Once the time comes for being offline, then you can pull up all of them and enjoy reading them.
Monospace –
We all need to take some notes at one time or another. The Monospace note-taking-app is very useful for that and more. Best of all, you can use many of the great features on the app without being online. Functions such as italics, bold and text-formatting are all there for you to take advantage of.
Apple Music –
If you're an Apple paying music subscriber, then you can take advantage of their offline option. They allow you to download many songs and listen to them later on while offline. All you have to do is tap on the download icon located next to the song you want. Once you are done, you can listen to the songs without the use of internet access.
Google Drive –
Even though Google Drive is actually a cloud storage service, you can still use it offline. The Google Drive app lets you download documents or files to your smartphone or device. Once you have done so, you can then use them offline without a glitch. After you go online again, the documents or files will sync back into the cloud services.
Amazon Prime Video –
Having an Amazon Prime membership has its benefits. One of those is being able to have access to the long list of Amazon Prime Video. To make it even better, you can use this service with the offline option. Just tap on the download button next to the movie or show you want to watch later. You can even change the video quality settings to all the files as well.
Don't forget to read about these 8 Things You Should Do Before Selling Your Phone
Podcast Apps –
One of the great things that our smartphones let us do is listen to podcasts. This is by far one of the best time killing forms of entertainment available offline. All you have to do is find the right podcast app for you to use. Once you have one, then simply begin to download any of the podcasts you find fun or interesting. When gain access to the internet again, the new podcasts will be downloaded automatically.
---