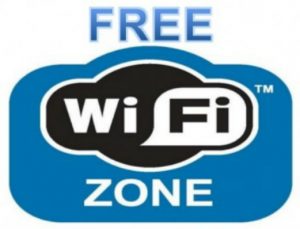 With so much to do on the internet these days, it is very easy for us to use up all of our mobile data really quickly. Some people without limits or data end up going over and racking up huge bills each month. But what can a person do when there is so much stuff to check out and do online? The best way to browse the web, avoid wasting your mobile data and getting a huge bill is using free Wi-Fi when you can.
These 8 tips and tricks for getting free Wi-Fi anywhere can help you do just that. Best of all, you can find out about some really cool tricks that you may not even been aware of. The truth is that with so many ways for people to have access to the internet now, finding ways to browse the web for free is essential. Wi-Fi is the answer for all of those people who have data limits or simply want to spend all day using the web without paying.
Trains & Buses
If you use public transportation, then chances are you can get free Wi-Fi as you ride to your destination. In most cities, buses and trains are now equipped with free Wi-Fi spots for customers to use. In cities like New York, the MTA is now looking to add even more underground WiFi stations for riders to enjoy. So get on the train or bus and search for that free Wi-Fi spot as you ride.
Don't miss reading these 8 Things You Should Do Before Selling Your Phone
Parks
A lot of parks are getting in on the act of offering free Wi-Fi to those that visit or use them. It is the best thing to happen since the slice bread for a lot of people. Being able to go to the park and relax while you surf the web for free is simply awesome. Check online to see which parks in your area have Wifi available.
Seek Out Hidden Networks
There are hundreds, if not thousands of hidden Wi-Fi networks out there. There are also several apps which allow you to find these hidden networks as well. Lounges in airports, electronic stores and a few other places all usually have hidden networks. It may take some searching, but if you do your homework, chances are you will find a few out there. However, when you do find one or two, keep them to yourself. If you start telling others about it, chances are the Wi-Fi owners will begin to notice and protect it.
Get It From Your Cable
Most cable providers now offer customers access to all of their Wi-Fi hotspots they have around the city. If you are a cable subscriber or use it for internet at home, then you can get free access from them as well. Take a look at their website to see where the hotspots are near you. Most of them have mobile apps which show you as well.
Join Loyalty Programs
There are hundreds of loyalty programs you can join for which in return for signing up, give you free Wi-Fi. Hotels and restaurants such as Kimpton, Marriott and many others, all have these loyalty programs. Of course you may get bombarded with lots of emails in return. But you can just put your spam filter to work if that happens and continue using the Wi-Fi.
Tether Your Smartphone
One of the most easiest ways to get internet access is by tethering your cellphone. If you have a phone with 3G or 4G capabilities, then you can use your computer to tether it. For Android users, there are several apps you can use, but you still need to root your phone. In the same manner, iPhone users will need to have their phones jailbroken to do so as well. Still, once you do it, you will be able to use this method just about anywhere in the world.
Get Coupon Codes
It may take some digging, but there are a few places which give you coupons to get Wi-Fi for free. Several companies give users vouchers they can use for hot spots in their areas. A few of them, partner with other businesses as way to offer these cool services.
Do Some MAC Spoofing
For those that have some computer knowledge, there is a great way to find and use free Wi-Fi. Most free Wi-Fi spots only give you a few hours limit. But if you can do some MAC address spoofing, it is easy to extend that time. There are people who have unlimited access to Wi-Fi services. If you can spoof their MAC address, then you are on your way to unlimited Wi-Fi.
You may also want to check out How To Use Your Cellular Phone As A Wi-Fi Hotspot
Use Free Wi-Fi With Caution
Although there are a lot of benefits to using free Wi-Fi spots, you also have to be aware of the dangers. Hackers tend to offer unrestricted Wi-Fi access to users as a way to lure them to using their services. However, once you log on to their Wi-Fi, they can gain access to your personal data. Try to avoid doing any financial or credit card transaction while you are using free Wi-Fi spots. Save these matters for when you are on your computer or on a trusted network. Keep this in mind and you will be able to enjoy the wonderful benefits of using free Wi-Fi every day!