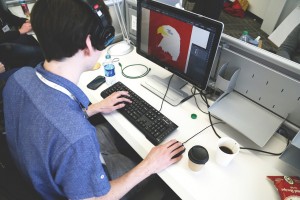 If you are an aspiring graphic designer and you want to leave your mark in the industry, then there are some tools that you need to have. We have discussed some useful tools for web and graphic designers already, mostly online or open source. These tools, however, are a must for every graphic designer as well. They are incredibly beneficial and it is important to have everything at your disposal as a graphic designer.
iMac/MacBook
Every graphic designer definitely needs to have a machine that is fast and powerful. This is because graphic designers need to work with heavy software tools and applications and if you are serious about making a name for yourself, then you should choose the best possible machine for yourself. The Apple Mac has got a formidable history when it comes to graphic designing and its excellent OS and the built-in support plugins ensure that you get the very best when it comes to designing.
Whether you opt for the iMac or the MacBook generally depends on your needs, and if you are on the move a lot then you should opt for the Macbook. Whilst it is ideal to get an iMac if you work in a studio or office, and you can even get both if you can afford it.
Adobe Creative Cloud
Every graphic designer needs their tools and applications to ensure that they are able to design properly. The Adobe Creative Cloud has got everything that a graphic designer requires, which includes the InDesign, Illustrator, and Photoshop as well. While you can't download the latest versions of these apps, but you won't need to once you get the Adobe Creative Cloud, which will allow you to gain easy access to download the latest creative tools by Adobe. It is every graphic designer's dream come true!
DSLR
Every graphic designer needs to have a good quality camera and that means getting yourself a DSLR. It is great for shooting your own shots and for documenting other ideas for your work as well. With the DSLR you can shoot your own backgrounds and make textures for your images, which will really take your work to the next level.
Moleskine
Brainstorming is part and parcel of graphic designing and if you are just beginning you can do yourself a massive favor by getting a Moleskine sketchbook. Every graphic designer in the business needs to come up with unique concepts and ideas and having a pen and paper by your side will allow you to quickly put down your ideas easily.
Subscription from Computer Arts
One of the leading magazines for graphic designers has been Computer Arts and it has got unique tips and essential guides for becoming a successful graphic designer. It has been around ever since the year 1995 and is jam-packed with advice, the latest industry news, and other valuable resources for graphic designers that ensure that they are able to stay on top of their game. If you want to make it in the field of graphic designing then get your hands on a subscription of Computer Arts today.
Free Online Conversions
Designing is only one part of the process and work of a graphic designer. The other is – especially if you are a member of a small group or your own boss – presentation. Your clients want to get the best value for their money, and there is no better way to convince them then presenting your design in not only an appealing but also an easily accessible way.
While it is important to store your designs in their native format for, e.g., Adobe InDesign, your clients aren't likely to be able to open such files. This is where a versatile file conversion service comes into play. The usage facilitates the handling of many different files and lets you create more common image, document, or presentation files for your clients to view.