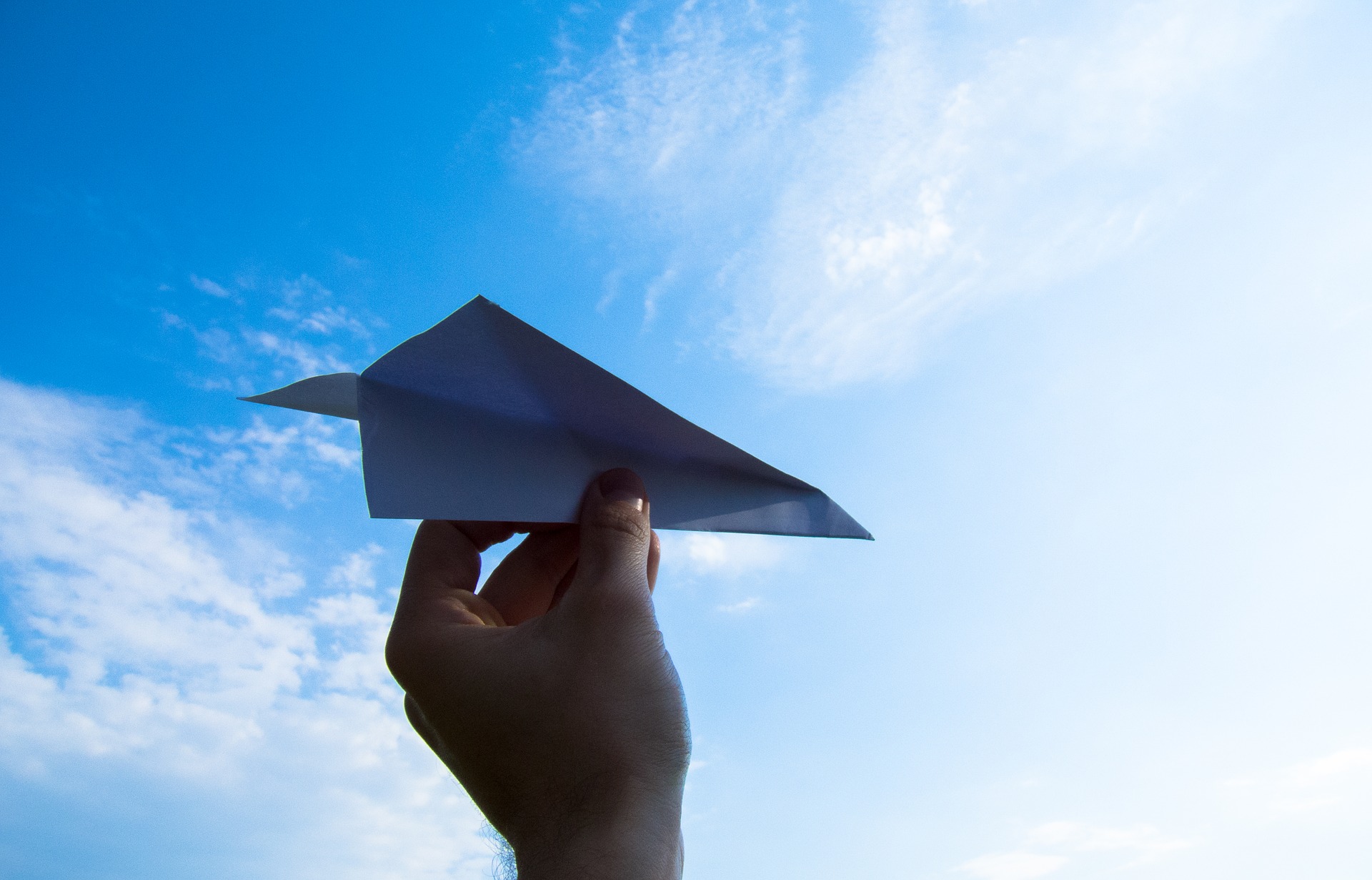 Mobile messaging has become a big part of our day-to-day conversation. With taking our conversations to the online realm, however, there come many privacy issues. This is one reason why many people feel uneasy to use WhatsApp and rather turn to other messaging apps. A popular one among them is Telegram.
Of course, you can use Telegram for text messages, but on top of that, you can communicate with stickers, send images and… of course you can send videos using the app! This is where we can help you with. Read on to find out how to make sure your video is fit to be sent using Telegram.
All you need: Convert Videos For Telegram
Share Your Videos Via Telegram
Not all videos and formats are suited for sending and sharing on the app, however. This is why we developed a nifty Telegram Video Converter that will help you to optimize your videos to share via Telegram.
What does this converter do? It is basically a video converter that takes over the dreadful part of manually changing certain parameters to meet Telegram's technical requirements. Thus, it is much faster and easier to use than regular video converters or even video editing programs. Below, we will first show how easy it is to use the converter and then explore the extra options you can use.
How To Prepare Your Video To Send On Telegram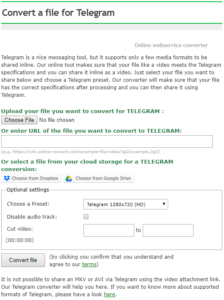 Several webservice converters were introduced to Online-Convert.com to make it easier to get videos ready to share on social media, upload to video sharing platforms and, of course, send via various messenger apps. Telegram is only one of them.
Check out how (easily!) it works!
Upload the file
You can upload a file from your hard drive, a cloud storage or use a link
If you want, use the optional settings
More on them below
Click on "Convert file"
And that's about it. Three, or rather two steps and you get your video optimize to share it with your friends on Telegram.
The Optional Settings Explained
If simply optimizing your video for Telegram is not enough, check out what else you can do with your video clips. You don't need to use them for your video to be ready for Telegram, but they may be worth checking out still.
Presets
What's practical about presets is that they change several settings at once. Check out the table below to see which preset changes what.
| | |
| --- | --- |
| Quality | Screen Resolution |
| Full HD | 1920×1080 |
| HD | 1280×720 |
| | 854×480 |
| | 640×360 |
Remove Audio Track
By default, of course, the audio track of your video remains untouched. By checking the box, however, you can mute your video forever by removing the audio.
Why would you want to do that? Maybe the audio is not really important and you want to spare your friends from blaring loud audio when watching your video in public because they forgot to mute their phone.
Cut The Video
If you just want to share a part of your video clip, the Telegram Converter has a solution for you as well. To cut off the end and/or start of a video, all you have to do is set the start and end time of the video in the respective fields. Use the format: HH:MM:SS
---
Other Articles You Might Be Interested In
Why use Telegram?