Online-Convert.com makes sure that you get the best service possible when it comes to online file conversion. Simple problems you are facing every day might be easily solved by converting the file that gives you a headache. Documents, images, videos, music files, archives, e-books? There is a solution for all.
This article will address issues that can be instantly solved by a very simple conversion from PDF to PNG. Check out the reasons for why you should consider such a conversion and how to do so in three simple steps.
Reasons To Convert PDF To PNG?
First, let's have a look at why you would want to turn your PDF documents into PNG images.
The reasons for why you might want to have a document in image format are as diverse as are the personal needs of people that want to save their PDFs as PNG. Thus, check out the inspirations and examples below.
Editing: While PDFs can be edited, of course, it is way easier to edit a PNG image. This can be done in many (free) image editing programs which often provide a larger variety of editing options than a PDF editor.
Compatibility: While many browsers can open PDFs and there are free viewers you can download, images are still way better supported by many programs, software, and devices.
Social Sharing: Social media is very text and image driven. Having a PDF would probably mean that you have to copy and paste the text inside. Instead, sharing an image is way easier.
Videos: For video editing, it is oftentimes a lot easier to use an image such as a PNG than a PDF document. Many video editing programs don't even support the import of documents.
Transparency: There are PDF documents with transparent backgrounds. However, most of the time they are displayed as white. PNG files have high support for transparency.
Convert PDF To PNG Tutorial
Now that you know some reasons why the PDF to PNG conversion might be interesting for you, let's have a look at how you can easily achieve that.
1. Open the PNG converter
2. Upload your file, either from your hard drive, Dropbox, GoogleDrive or using a link
3. Click on "Convert file"
You can also use additional settings to apply some basic image editing to the PNGs you want out of this conversion. It's optional though, so for a basic PDF to PNG conversion you can simply ignore them.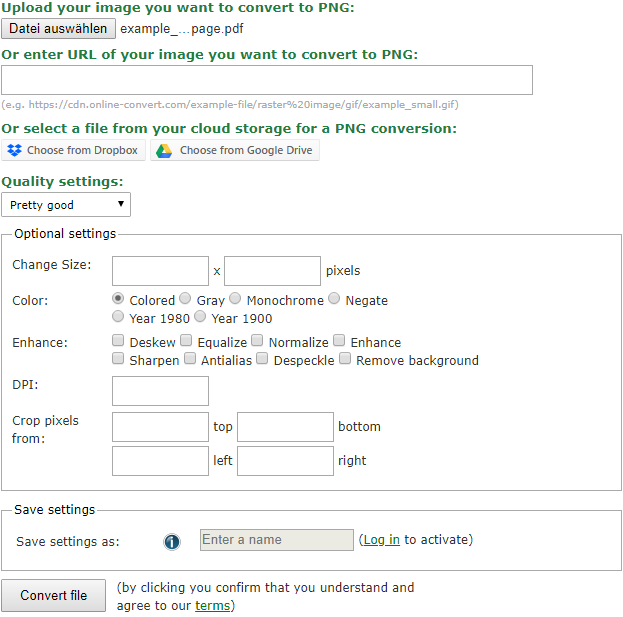 And that's it. After a short wait, the converted PNG image(s) will be ready for download.
PDFs with just one page will, depending on your browser, trigger the download of the single PNG image by themselves. If your PDF contains more pages, the PNGs will be displayed as the list below, in which you can download them individually or all of them in one ZIP archive.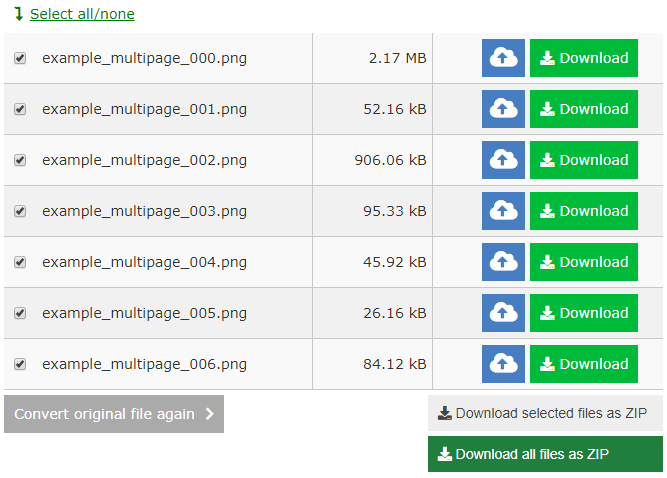 PNG is a very versatile image format that maintains quite good quality while also supporting transparency and wide support across the web. If you want to use another image format though, such as JPG or TIFF, check out Online Convert's other image converters.
---