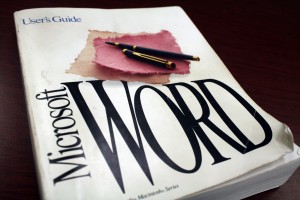 In a former blog post we have looked at all kinds of media files that can be opened by programs that come with Microsoft Windows like the Movie Player or Photo Viewer. Today, our focus is on document and spreadsheet files that are native to the Microsoft Office Suit or can at least be opened by these Windows programs.
So, even when you are using another Open Source Office Suit, people using Microsoft Word or Excel may be able to open the native files you send them.
For this, we will focus on the newest Microsoft Office Suit programs as well as WordPad and NotePad.
Word
Microsoft Word is, by far, the most well known word processing software there is today. The first files listed are all native to Microsoft Word 2013 or earlier versions:
DOC, DOM, DOCX
DOT, DOTM, DOTX
WPS (from Microsoft Works)
The following files can be opened in Word as well:
HTM, HTML
PDF
RTF
TXT
XML, XPS
This last file listed is native to other text programs but that can be opened in Word nevertheless. Yet, formatting and styles are often differently stored across the files, thus it may happen that the formatting looks different when opening such files in Word.
WordPad
Replacing Microsoft Write, WordPad is a less versatile word processing software that comes with the Windows installation package. Editing and applying basic formatting to texts is possible with this program as well.
RTF
TXT
DOCX (earlier versions could also open DOC)
ODT
NotePad
The most basic text editing program that is meant to edit, save, and make use of basic text without formatting is Microsoft's NotePad. It's especially neat and functional when creating webpages since the resulting files can be stored using various codes like Unicode or UTF-8.
Excel
Excel is a spreadsheet processing program that allows you not only to create tables and graphs, but also to conduct basic and even advanced calculations. Again, first listed are the native files that can be produced by using Microsoft Excel 2013 and earlier versions:
XLA, XLAM
XLS, XLSB, XLSM, XLSX
XLT, XLTM, XLTX
XLW
The following (spreadsheet) files can be opened by Excel as well:
This open source produced file type can be opened in Excel as well, yet the formatting may look different:
PowerPoint
Native file formats produced by this presentation software include:
POT, POTM, POTX
PPA, PPAM
PPS, PPSM, PPSX
PPT, PPTM, PPTX
Also, the following files, even including image and video files, can be opened in PowerPoint:
BMP, GIF, JPG, PNG, TIF, WMF
MP4, WMV
PDF
RTF
XML, XPS
The open source file used for storing presentations that can be opened by PowerPoint is:
Unfortunately, while the support of files produced by most open source programs is given, neither Word, Excel, and PowerPoint, nor WordPad or Notepad support opening native Mac files – at least not without having to install various plugins. In this case, it is advised to convert the files in question (e.g. KEY or PAGES) into a supported document format.