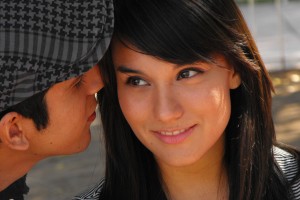 There are so many possibilities to convert across different file types – aka cross conversion – but what is it all good for? We looked at several types of cross conversions already, showing why you may need them, how useful they are, and how easy the results can be obtained.
After extracting text from pictures, ripping audio from a movie clip, and other useful conversions, we will look at the so-called TTS today; Text to Speech.
What's TTS good for?
There are several reasons for you to convert text to audio, actually. Plus, such conversions bear advantages for different groups of people like elders, students, business men, or dyslexics.
Listen to lecture notes, text books, etc.
Instead of printing out endless lecture notes and spending hours reading through text books, one can add more value to studying very easily. By turning text and documents to audio, another kind of learning input is given. Next to reading your material, you will be able to listen to it as well.
Plus, you can go through important notes anytime from anywhere by transferring the resulting MP3 file to your iPhone, computer, or other mobile device.
Proofreading
Proofreading is important for many texts, may it be applications, assignments, take-home exams, or even a thesis. By writing, one can find many spelling or grammar mistakes, yet what about the content? Finding holes and discrepancies can be a lot easier if you hear your own work read out to you.
Speech preparation
Have an important presentation or speech coming up? Then listen to what you are about to say. Inconsistencies, and halting expressions can be detected a lot faster. Plus, you'll get a rough overview of how long your speech or presentation will take.
Avoiding eyestrain
Reading tiny fonts; may it be in documents, emails, or on websites – can be very straining for the eyes. As is reading when you are dealing with stress or headaches. If you still need to know about the content of an email or text asap, letting it read out to you is a good solution.
Audio books
The TTS conversion is also an easy way to get an eBook or PDF turned into an audio book. Listen to it yourself or create some kind of radio play for your children that way.
Help those with reading problems
Especially people with reading problems can benefit from text turned into MP3 or another audio format. This is especially true for dyslexics, language learners, or blind and visually impaired people. Elders that do not want to read through long emails or children that aren't too versatile in reading yet, gain from a text read out loud as well.
How to convert text to audio
Creating an MP3 or WMA file from your texts and documents is fairly easy. You can convert many different document files like DOC, ODT, TXT, or PDF into any audio file format available as a target. For demonstration purposes, we chose an MP3 converter.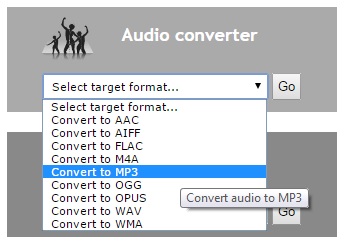 After choosing the fitting converter for your needs, all you have to do is browse your computer or hard drive for he document you want to convert. The source file we wanted to be converted to speech was a DOCX document with lecture notes.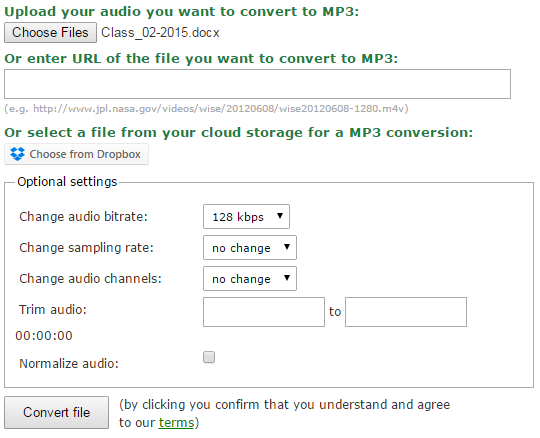 After clicking on convert file, the only thing you have to do is wait. Depending on how big your text file is, the upload, conversion, and download may take a little longer. In the end though, you'll have your text converted into an audio file that's ready to be listened to.