If you suddenly run up against the need to use video converters, it can be daunting. If you're already familiar with terms like codecs, containers, formats, MP4 and FLV, you're all set. However when most people see the message on their screen indicating their computer can't open a video file, they panic.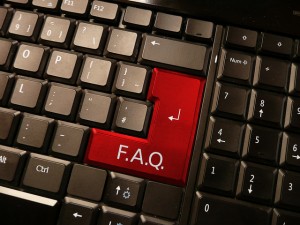 You don't need to panic. Finding and using video converters to change your video file into a different type of file is quick and easy, once you learn how.
Here are some of the common questions that arise when people are faced with the challenge of using a video converter.
FAQ's for Video Converters
Why Do You Need a Video File Converter?
The need to look for video converters usually comes from two different places.
You want to submit a video file online somewhere, but the site you're using only accepts certain types of video files.
You want to open a file on your computer, but you're getting a message that says your computer is unable to open the file.
In either case, your best option is to review the available video converters to simply convert the video to a different type of video file format.
What Does the Converter Do?
Using video converters simply changes the file extension for the video from one video extension to another. This changes the makeup of the file, but the actual video remains unchanged from a user or viewer perspective.
How Do You Do It?
Using video converters is typically very easy, when you find the right one to meet your needs. If you are using software, you likely have to install the software and learn how to use it. However, there are so many video converters online, that it's usually much easier to use one of those.
When you use online video converters, you typically just have to choose the type of file you need to convert your file to, browse on your computer to select the file and then tell the website where to send the converted file.
Every video you see is actually a group of several different files that are combined, and that sometimes causes confusion.
A container is what actually holds all of those different files. Some of the common container extensions are FLV, MOV, AVI and MP4.
A codec is one of the files within the container. The codec file contains software to manage the video file, specifically the size of the file. Most videos must be compressed in order to be useable and the software within the codec determines how this compression is handled.
How Do You Find Good Video Converters?
It is very easy to find good video converters. The first thing you should do is do an online search to find the available options. Then you need to know what kind of features are "must have's" for your project, and make sure the converter you choose has those features. It's also important to make sure the video converters you are considering have the ability to convert your file to the specific file type you need.