When using a modern camera, especially a DSLR camera, there are a few image sizes and qualities you can choose from. Most store images in quite good quality and resolution by using the JPG format. However, every good camera also has the option to store images in a so-called raw format which allows for even better quality, a very high solution, and no compression of the original shot.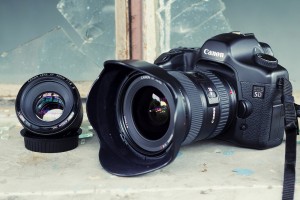 However, if you try to open such files in your computer's native image viewing program, it is highly likely that you get an error message. Let alone trying to open those raw image files on a mobile device. Hence why there is always the option to convert camera raw image files to JPG or any other picture format. This is especially handy if a friend sent you a raw image file.
If you want to work more professionally it's advised to take your photos using the raw format. Programs like Photoshop and other photo manipulating software are able to open the most common formats provided by modern cameras, giving you many options to edit, improve, and re-size your pictures for personal or professional use.
With that being said, let us give you some information about the most common camera raw image file formats.
Nikon – NEF
Digital photos taken with a Nikon camera – in fine and large settings – are stored on the SD card with the NEF file extension. Camera settings like lens, ISO, and color information are stored within the NEF file as well. Those so called "digital negative" files are either stored uncompressed or using lossless compression.
In contrast to JPG or TIFF images, NEF files retain 12- and 14-bit data which allows for a much bigger variety of colors being captured by the raw image format. Quick viewing of the images is possible as well since they save a JPG version (if selected) of the image on the SD card as well. Thumbnails are also created for a small preview of the shot.
Furthermore, edited and adjusted NEF's can be stored as raw files again, leaving the actual shot untouched while saving the changes in a separate file.
Canon – CR2 & CRW
Canon cameras save their raw image files as CR2 or CRW. They contain all information captured by the camera's sensor, including ISO, saturation, and other information. They are regarded as "digital negatives" as well, being stored without any loss of quality.
Much like NEF, those formats are recorded in 12- or 14-bit, resulting in better colors than other raster images. Files are saved using lossless compression.
CRW files may still be around and produced with older Canon camera models, however it has been replaced by the newer and more versatile and reliable CR2 extension.
Sony – ARW
ARW is the raw and uncompressed file extensions of photos taken using a Sony camera. They are created using the TIFF (Tagged Image File Format) specifications. All kinds of data captured by the camera's CCD is contained within the file as well; like ISO settings, contrast, and other.
Instead of installing Photoshop or another program like that, ARW files can also be opened in programs that have the sole purpose of displaying (not altering) Sony camera's raw image files. Unfortunately, ARW files can store different kinds of data which may cause problems with Sony related image viewing and editing software. Thus, it's highly advised to consult manuals and papers on the perfect settings for Sony cameras and ARW files to ensure that the settings do not collide with the programs offered by Sony.
Olympus – ORF
Developed by Olympus, ORF files are the raw image files for said company's digital cameras. Just like other camera raw files, information like hue, color, ISO, and others are contained in the file, using the camera sensor as a source.
Similar to ARW, ORF files are captured differently depending on the camera model and settings used, resulting in files with different formatting. Due to this, it may be possible, that some applications (even those of Olympus themselves) can not open, display, or allow you to alter ORF files.
Adobe's DNG
What all of the previously mentioned formats have in common is that they are produced using a camera of the respective manufacturer. The DNG format, however, was developed by Adobe, becoming a universal raw image format that can be used to save high quality digital photos.
DNG files contain various meta data and use the TIFF standard. Pictures that have initially not been stored in a raw format can thus be saved as so called "linear DNGs", which enables the user to handle changes made to the file in the same way as if they would have been applied to a raw image file. Programs that support raw DNGs always support the linear DNG format as well, yet it doesn't always work the other way round.