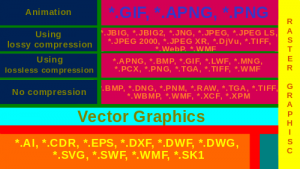 When it comes to image formats available on the Internet, there is no shortage of them.
But just why are there so many different types of image formats available on the Internet today? Although the majority of people mostly recognize and use GIF or JPEG files, they are not the only ones available. In fact, there are more than 12. But why are there so many in the first place?
Things Have Changed
Not long ago, when people wanted to print something on paper, there were only the typical choices to make. That was the size, quality and matte finish of the paper, among others. Those choices largely depended on the project and the amount of time and money you were willing to spend. These days though, those things have changed dramatically. Now, with technology advancing so much, our choices have changed and continue to do so. File compression and conversion, along with a few other factors, have contributed to those changes. People have more choices because they have greater access to the Internet. In addition, they also have more different choices and devices from where to gain access to the web. That, coupled with a few other factors, is what has led to there being such a vast amount of images formats available.
You may also want to read how to Decrease & Increase Your Image Size Online [Tutorial]
Patents, Technical And Other
Some of the image formats which have been created the past few years, have been due to patents, technical and a few other factors. Many scanners, printers and cameras manufacturers refused to use a competitor's format on their devices. In turn, they ended up creating their own kind of format. From the technical perspective side of it, those choices come down to the various issues. Factors such as compression, speed of processing the images and file size came into play. In addition, how you wanted to share or intended to use the images was also an issue.
All About The Space
Since many websites use certain image formats to save space and bandwidth, different types of files are used. The most widely used on sites are JPG (JPEG) or GIF images. These are done to save space. For someone who has only a few images to store or send, then it is not an issue. However, many sites have thousands, if not millions, of images stored and available for visitors. Imagine the amount of space needed if those formats were not available or used. These compressed images save users tons of space.
Change Image Formats Easily
Presently, there are about 12 different types of image formats. They are
JPG – JPEG
BMP
EPS
GIF
ICO
HDR/EXR
PNG
SVG
TGA
TIFF
WBMP
WebP
Free Image Format Conversion
But what happens when you have a certain type of image and you cannot open it with the program, software or device you own? The answer is simply to convert that file into the format you need. While there are programs and websites which do this for you for a price or by asking for something in return, Online Convert does not. Here at Online Convert, you can easily change the format of any image file you want. You can do the same for videos, audio, documents, eBooks and archives formats. Best of all, you can do so for free without downloading anything. Simply go here to our Online image converter tool and follow the simple steps.
Don't forget to check out these FAQ – What You Need To Know About Online Image Conversion
Having many different image formats can be confusing and may cause a problem sometimes. However, choices are better in the long because they let you select from several different options. Our site salutes the right to make those choices and helps you do them for free.