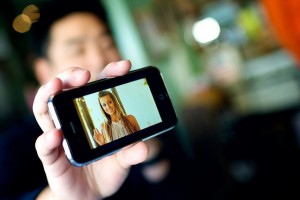 In the past, a phone was something you used to call someone and talk to them. However, the use of a phone may have changed more than anything else due to the technological revolution of the last decade. "Yesterday", they were a phone, "today" they are our whole lives. That is part of the reason you need to keep a good video to iPhone converter handy.
Today, our iPhones hold all of our contacts, calendars, to-do lists, favorite books and pictures. Most of you even use your iPhone to browse your favorite websites online or do research. We even use iPhones to watch videos, but unlike some of those other activities, you may need a video to iPhone converter in order to make that happen.
The biggest reason you might need a video to iPhone converter is because of the flexibility and portability of an iPhone. Unlike your computer, an iPhone can, and does, go with you everywhere. After all, it's a phone and you need it with you all the time so people can get in touch with you when they need you.
Because of that portability, it makes it super easy to watch your favorite videos anywhere. This could be videos you need for work or something you want to have handy in case you stumble upon a new client. You could also have some of your personal favorite videos that you want to keep with you 24/7. Many times, these types of videos are ones that came from older phones or from a video recorder that show clips of your friends and family. Long trips are also the perfect time to watch your favorite movies.
Regardless of the reason, you will probably need to use  video to iPhone converter before it will work for you.
Why Do You Need a Video to iPhone Converter
The problem with videos is that there are dozens of different types of video formats that a video can be done in. An iPhone only supports 3 of these file types: H.264, MPEG-4 and Motion JPEG. If the video you want to watch or save is on a different format, you will need to use a video to iPhone converter in order to do it.
How to Use a Video to iPhone Converter
It's super easy to use a video to iPhone converter. There are online converters available for images, documents, and audio, but you need one that can specifically handle video.
When you find the online converter you're going to use, you just have to follow the instructions on the website. In most cases, you will just have to browse to the video you want to convert. This is done in the same way that you use to find Word or Excel files you want to open.
Once you select the file, you just need to tell the tool that you want the selected video converted to one of the formats supported by your iPhone. It really is that simple!
Find a Converter That Handle Many Options
It makes sense when you're looking for a good online converter to use one that can handle multiple kinds of items. That way when you need to convert a different type of media at some point in the future, you will already have a converter that you're familiar with to use!