Using the Microsoft Office suite is an additional investment for many, which may not be necessary. Although this commercial software offers many great features, it is useful to know that there are free and great desktop alternatives out there. We compared the best two options: LibreOffice and OpenOffice. Now, only one question remains – in the LibreOffice vs OpenOffice duel, who is the winner?
Why choose alternative office software suits?
These open-source programs are actually the two main options when we want to find a replacement for using the programs contained in the MS Office package.
Of course, there is always the possibility of using Google Docs or Google Sheets online. What are the advantages? They do not have to be downloaded to a computer, all documents are stored directly on the cloud, they can be easily shared with others and the user does not have to worry about their backup at all. While these are very good arguments for using them, it is important to know that such free variants, as expected, come with limited features.
Do you write documents, make spreadsheets or presentations daily? Then you probably need to have advanced features enabled to edit the content. In this case, the desktop version of these programs is the way to go. When considering alternative options, Apache OpenOffice and LibreOffice are the best ones.
LibreOffice is a fork of OpenOffice, which can be seen in the shared design, functionalities, descriptions, and the usage of the open file extensions like .odt (OpenDocument Text Document), .ods (OpenDocument Spreadsheet), or .odp (OpenDocument Presentation).
Both programs can be downloaded from the official website, but deciding which one to download can turn out to be a bit complicated. At first glance, these office suites do not look much different. Are they the same or are there still some differences that can affect our choice?
LibreOffice vs OpenOffice: Features
Both LibreOffice and OpenOffice are free programs and they are available for Windows, Linux, and macOS operating systems. The OpenOffice website provides links to programs related to other systems and other forms of distribution. Within this section, one can also find the so-called AndrOpen Office package designed for Android operating systems.
User interfaces within the programs that are an alternative to Word, Excel, or Powerpoint are easily recognizable to everyone. LibreOffice and OpenOffice versions have a lot in common with Office programs. The choice of icons is a bit more detailed with LibreOffice and it comes with a nicer design. OpenOffice has gone more in the direction of simplicity and minimalism because the menus and icons are slightly smaller.
Working in both programs has a number of the same functions as Office programs. However, note that it takes some time to get used to the different terminology or positions of individual tools.
OpenOffice Writer has a menu on the right side of the screen known as the "Sidebar Deck" and contains tools that are also available within the ribbon. In OpenOffice, this menu is open by default, and in LibreOffice, it is necessary to open it inside the "View" menu by clicking on "Sidebar".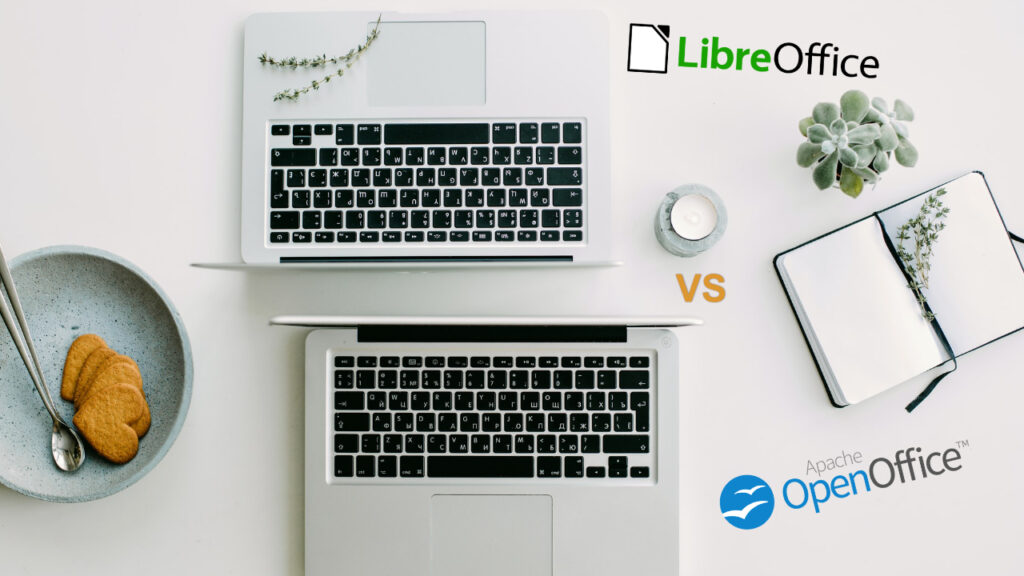 Set of tools
OpenOffice and LibreOffice also offer the same set of tools: Writer, Calc, Impress, Draw, Base, and Math. This package of six programs is used for editing text documents, spreadsheets, presentations, drawings, formulas, and databases. LibreOffice has additionally included a "Charts" tool. It is used to create charts and graphs, with the possibility to import them to other documents.
In OpenOffice, you can install only Writer or Calc – there is no need to install the entire suite. LibreOffice does not offer this option. You will need to download and install the whole suite.
Language support
Both suites support multiple languages, but OpenOffice is more flexible in this regard. It offers users the ability to download additional language patches from the web. If you choose LibreOffice, you will need to pick one language from the start and continue to use it.
Updates and new releases
Updates are a very important aspect when observing the difference between OpenOffice and LibreOffice. It can be noted that updates are performed more frequently with LibreOffice. Therefore, the possibility of user experience with bugs is somewhat reduced compared to OpenOffice. With its regular updates, LibreOffice introduces new features into its programs more successfully and quickly.
Templates
Are you making a lot of presentations? Then LibreOffice may also be a better fit. It offers more slide templates, and the selection of pre-installed options is far better compared to OpenOffice's. User-made designs can be downloaded for both software suites.
LibreOffice vs OpenOffice: Supported file formats
Supported file formats will probably be the deciding factor for many users. Compatibility with file formats is another advantage of LibreOffice.
LibreOffice offers more modern formats such as ODF, Unified Office Format, Word 2007-365, Word 97-2003, and Rich Text. It also offers the ability to export documents in PDF, EPUB, and XHTML formats. OpenOffice includes ODF, Microsoft Word 07/2000/XP, and Rich Text. Documents can be exported to PDF and XHTML formats.
The key difference between the two programs is that OpenOffice cannot save documents in DOCX and XLSX formats. OpenOffice and LibreOffice can open and edit documents in DOCX and XLSX formats, but only LibreOffice can save them. Some may not see much difference between the programs since they both open Microsoft Word documents in OpenDocument Text (the ".odt" extension in the file name) by default. ODT is a format similar to the DOCX format Word uses.
If you are going to share documents with MS Office users, LibreOffice might be the better choice.
Online Document Converter
By using an online document converter, you can easily convert your files from ODT to different file formats (PDF, DOCX, XLSX, and many more) in high quality. It also allows you to easily convert your documents into the ODT format.
LibreOffice vs OpenOffice: Conclusion
As you can see, LibreOffice and OpenOffice share many similarities. However, in some segments, their differences can be more pronounced. LibreOffice has proven to be a product with slightly more features than OpenOffice.
Ultimately, both programs are a worthy replacement for the Office suite and their biggest advantage is that they are completely free. The exclusivity of using programs from the Office package is conditioned by the money spent for which you really get a lot. Or, you can give a chance to these free alternatives.