Today we can record 4K videos with our Android phones. However, the highest quality comes with a price. It is often necessary to reduce the size of a video so we can share it with someone or upload it online. The best option to achieve this is to compress it. The compression process will shrink the video while simultaneously trying to maintain the original quality. If you are wondering how to compress video on Android, keep on reading. We have a few solutions for compressing your large video files!
What exactly is a "large video file"?
It depends on the capability of the service you are using. In Gmail, for example, any file over 25MB is considered large and automatically sent as a Google drive link. However, in most cases, a video file over 2GB is considered to be large.
Use Free Apps to Compress Videos on Android Devices
You can easily compress videos on your Android phone by using a video compressor app. Here are two of the most popular apps that you can use.
Compress Video on Android with Video Compressor – Converter
Video Compressor is an excellent app for reducing video size on your Android device. There are over 1M downloads of this app with a user rating of 4.6 stars. Although it only requires 23MB of storage space, it offers you a handful of features to resize, reformat and reduce the file size. Install the Video Compressor app from the Google Play Store.
Compress Video on Android with Videos & Movies Compressor
Videos & Movies Compressor is another well-known video compressor app with over 100K downloads. It takes only 29MB of storage space and uses high-end compression technology. Use it to compress videos to a fraction of their size without losing quality. How to shrink video on Android? Install the app from the Google Play Store. Select a video from your gallery, choose the size, and start the compression! Videos & Movies Compressor App supports all video sizes and formats.
How to Compress Video on Android Without Downloading an App
If you do not want to download a video compression app, using file compression software might be the best option for you. The free file compressor, Compress2Go, actually provides the most effective file compression service available online.
In addition to the excellent video compressor, the landing page lets you choose from various compression options. You can select the format that your files are compressed into, the size, the level of compression, and how the quality changes as a result. In other words, using Compress2Go, you always have complete control over the compression process.
Note: The website is free for casual users. The maximum size of single or multiple files that can be processed is 100 MB and you can process up to 10 files within the same task. If you opt for a small fee and choose a Premium Plan, you can batch process up to 200 files (the maximum file size per task is up to 4 GB).
How to Compress a Video on Android to Email
ZIP files are usually used to compress videos for email attachments. This method enables you to share multiple videos at once. But is it the best available method? Using an online compressor and converting to a suitable file format like MP4 is a much better option.
On average, an email's maximum attachment file size ranges from 10MB to 25MB, depending on the email provider. When using an online video compressor, make sure to adjust the size to 20MB or lower.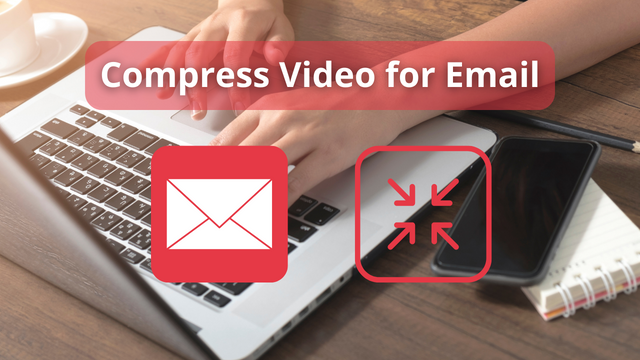 The good news is that you may already have access to the built-in setting to compress video for the email if you opt to use an app for reducing the video size on your Android.
If you do not want to use the suggested video compression methods, you can always share a video link to email a video that is too large. Upload a video to the cloud storage service, right-click on the file and get the share link to paste into your email.
How to Send a Large Video Without Compressing It
Compressing a file makes it much easier to share, but it may tamper with the video quality. If you do not want to take any risk and want to send a video without losing its quality, you can try to:
Use apps with a large data storage allowance. Cloud-based instant messaging service Telegram allows you to share files up to 1.5 GB in size.
Uploading to the cloud (e.g. Google Drive, DropBox, OneDrive). This is a great method for storing and sharing large video files. Simply upload your video to your cloud storage service, and use the link to share your file. With DropBox, you can even send a link that expires after a certain period!
Upload your video to a video hosting site like Vimeo. This is one of the easiest ways to share large video files without compromising quality.
Use Google Photos to share a link to a large video file. The videos need to be synced with the cloud.
Samsung Galaxy users who do not want to use cloud storage space, have the option to send a temporary video link.
In Conclusion
Whether you have set your mind on using an online file compressor such as Compress2Go, one of the free apps, or any other available option, you can compress video on Android devices effortlessly.
There is no need to use a computer to compress a video to a much smaller size. Use your smartphone or tablet instead. Now you can easily send your videos to friends and upload them to all the social media sites of your choosing.