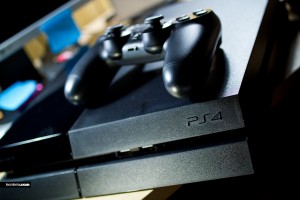 As we have stated in our last week's post about files supported by the Xbox One, we do not want to engage in the ongoing battle between console gamers. Whether you have a Xbox One or a PlayStation 4, we want to present to you the amount of information that you need. After covering the Xbox topic already, today we will have a look at games, discs, and file formats supported by the new generation of Sony's PlayStation gaming consoles. Thus, we will have a look at the PS4 and PlayStation Vita, but also at the still beloved and often used PlayStation Portable (PSP).
PlayStation 4
Lets have a look at the big gaming console first. With regard to discs, the PS4 seems to be pretty limited when it comes to Backwards Compatibility. However, using the Gaikai Cloud streaming capability, games from various PlayStation generations can be played on the PS4 via emulation. However, the old hard discs and downloaded games from the PS1, PS2, and PS3 can not be played on the PS4.
Supported games and discs include:
Blu-ray discs (also in 3D)
DVDs (also in 3D)
PlayStation 4 discs
PlayStation 4 downloads
used PlayStation 4 games
When it comes to streaming services, the newest PlayStation generation supports the following services:
Amazon Instant Video
Crackle
Crunchyroll
Epix
Hulu Plus
IGN App
MLB.tv
Music Unlimited
NBA Game Time
Netflix
NFL Sunday
NHL
Redbox Instant
Video Unlimited
Vudu
YouTube
YuppTV
A feature of the PlayStation 4 is the PlayStation 4 Media Player. The player supports various audio, image, and video formats:
Audio
Image
Video
It is obvious that the list is not as exhaustive as the list of file formats supported by the Xbox One. However, if you want to listen to audio files like WMA, WAV, or AIFF, you can always use a reliable audio file converter to make them playable on your PS4. Same goes for video files with a MOV extension, for example. Convert them to a supported video file using a video converter.
PlayStation Vita & PlayStation Portable
The PS Vita is the newest handheld console from Sony, succeeding the PSP. Since those two are portable gaming consoles, it is not uncommon to also use them as mobile video and music playing devices. The following video, audio, and image files can be transferred to the PS Vita and PSP to be watches and played "on the go":
PS Vita

Audio

Image

BMP
GIF
JPEG
MPO
PNG
TIFF

Video

PSP

Audio

Image

Video