Now that is is quite clear that ebooks are here to stay, people are buying them in record numbers. But because there are so many different kind of formats that ebooks come in, they often present a problem for people. Being able to use them in a particular gadget or device, can prove difficult (and costly) for some. The reason for this is because the many different types of formats ebooks are available in. The formats are PDF, ePub, HTML and LIT just to name a few. As if that wasn't bad enough, many sites charge people for programs or software that converts ebooks. However, with Online Convert's free online ebook converter, you don't have to do neither. It is no longer necessary for you to purchase any software or program to convert your ebook. Our ebook online converter for free, makes it all possible.
Ebooks are here to stay
When ebooks first came on the scene, like all new things, many people were skeptical. Some were even hostile to them complaining about how they would end up ruining the publishing industry altogether. Years later though, the opposite has happened. Ebooks are flourishing and making things better for many people in the publishing industry; especially authors. Now, it is much easier for authors who may have never been able to get their work published, to do so with an ebook. Furthermore, ebooks are great for the environment too. Because ebooks are here to stay (until something new or better comes along,) they are very popular. If you own a Kindle or some other kind of ebook reader though, converting them can be a problem. Luckily, the Online Ebook Converter makes it all simple, easy and free for you!
Click here to learn How To Write an eBook
Convert Your Ebook In A Few Simple Steps
Depending on the file format you want to convert your ebook to, the amount of time it may take, vary. Still, it is very easy and quick to do. First, go to our Online Ebook Converter page.
Step 1 –
Simply choose the format you want to convert your ebook into.
Step 2 –
Click on the "Choose file" (see image 1) or enter the url of the file you want to convert.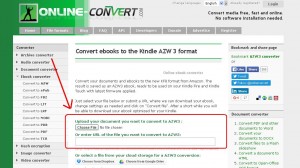 Note that you can also select your file from your cloud storage or Google Drive or Dropbox.
Step 3 –
Select your ebook reader ie. Kindle, Kindle Fire, etc.
Step 4 –
You will have additional options to change the on the ebook such as the title, author's name and so on.
Step 5 –
Once all of that is done, simply hit "Convert file" and wait for your ebook to be converted.
Keep in mind that the amount of time it may take largely depends on the size of the ebook, your internet upload speed and format.
Still, in no time you will get a message informing you that your converted file is ready for download.
Don't miss reading How Ebooks Are Better for the Book Publishing Industry
Online Convert makes it really easy and simple to convert all of your files. Whether it's an ebook, photo or video, we do it all for you. Best of all, you don't need to download any software or pay. Isn't the internet and Online Convert great?