Pictures and photos are a great way to visualize the content of your articles. But sometimes, that is just not enough! And sometimes, sharing your vacation pictures on Facebook using the album feature just isn't enough either. If you have your pictures in a digitized form, why not try something else? Make a Photo Collage!
Collages are a beautiful and visually appealing way to group pictures from one event or taken in the same style, and present them in a stunning manner. Such collages can be created using photo books or your trusted photo editing software. However, there are great alternatives on the web as well, that do not require any download and installation.
Today, we want to present to you one of these photo collage makers: FotoJet.com
Make Your Own Photo Collage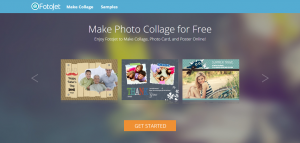 FotoJet is a very versatile online photo collage maker with different templates, styles, and occasions to choose from.
Don't worry, even though it is an online service, FotoJet states that the pictures you upload to use are neither public, nor are you giving away any rights to FotoJet or any third party.
Lets have a look how you can create your own collage, card, poster, or even social media post.
Choose a Layout
The first thing to do after entering the collage maker is to choose the layout most appealing to you. According to FotoJet, you can choose from one of 320+ designs and layouts. You can browse them by occasion, style, popularity. You can even create a Facebook banner or a picture fitting for a social media post.
When in doubt, hovering over the layout will reveal how many photos you can use. After choosing one, a double click or hitting the "Choose" button will lead you to the next step.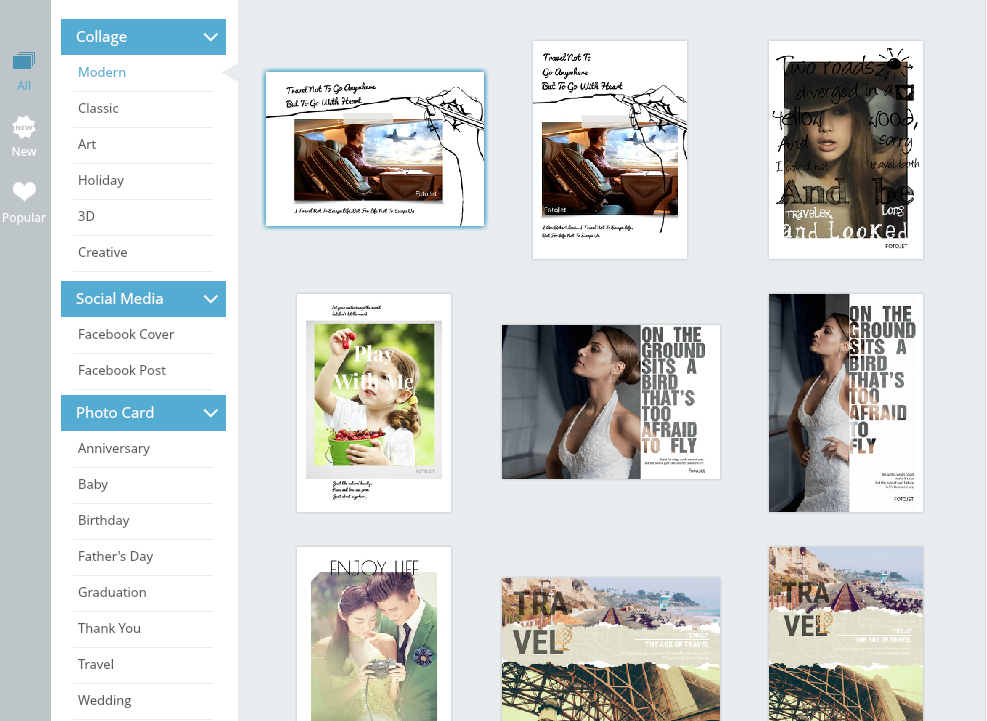 For this review, we have chosen a wedding themed photo card that allows us to include two pictures.
Editing your Collage
After choosing the layout, you can add the photos you want to use. They can be locates somewhere on your computer or hard drive, or you can use pictures form your Facebook account. This, of course, requires allowing access to the web application.
The photos can easily be added to the collage or photo card via drag and drop (or using the auto fill option). Once you added your pictures, you are provided with some basic image editing options as well. Zoom or rotate the pictures, add a filter, or change saturation, hue, contrast, and the like until the pictures either match the layout you chose, or your very own taste.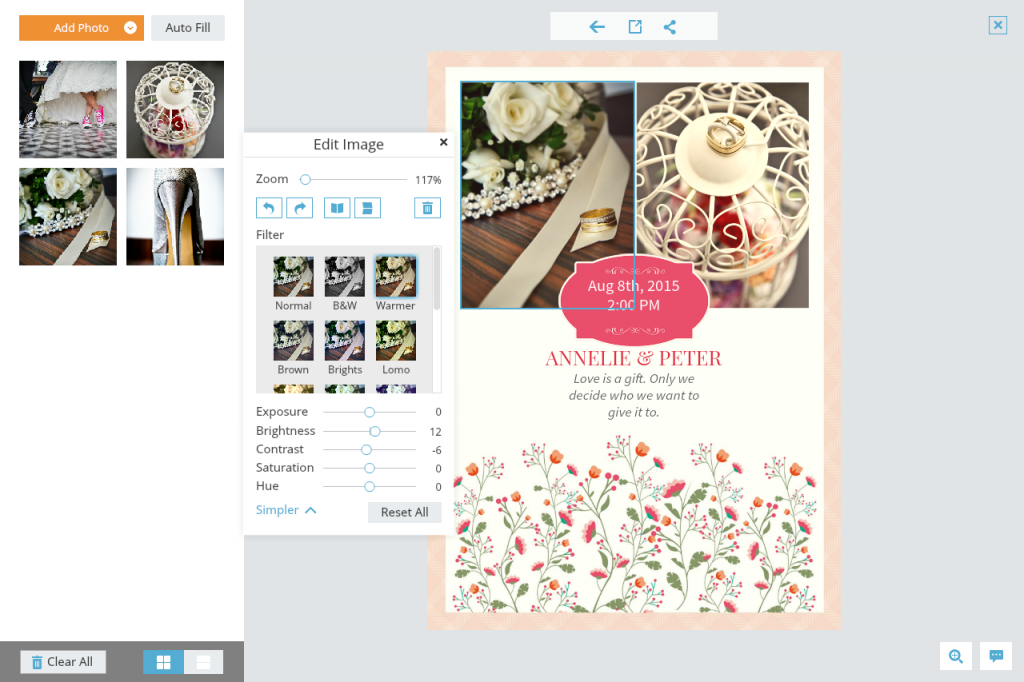 Depending on the layout you chose, the different text layers can be edited as well. Several fonts – ranging from hand-written to serifs – are provided, but you can also use the fonts installed on your computer. Changes can be applied with regard to text alignment, style (bold, italic, etc.), size, and color.
The only downside to this is that you are unable to change or re-arrange the icons or patterns used in the layout, as well as the text areas.
Share and Save your Collage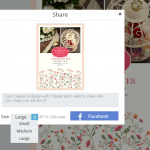 Once you perfected your collage or photo card, you can either save it on your computer, or share it on Facebook.
When sharing your design on Facebook, you can enter a custom text and choose the size of your picture. Connect to Facebook and post your wedding invitation, thank you card, or photo collage on your wall.
Saving your collage on your computer provides you with a few extra options. In addition to setting the name for your design, you can choose between different quality and sizes, as well as the image file format you want to use. However, the only options given here are JPG and PNG. You can easily convert your finished collage to another image file format like TIFF or TGA though.
Unfortunately, saving your collage to any cloud storage or publishing it on social media pages like Pinterest, Twitter, or Google+ is not supported.
And that was it, that's how simple it can be to create your own photo collage online. After you're done, you can go back and create a new collage, Facebook cover image, or invitation – whatever you wish.
Collage Features of other Image Editing Programs
You may already know the following web services from our article on the best free image editing programs. While they all focus on image editing more than collage making, they still offer said feature. However, in a more rudimentary way than the one mentioned above. Nevertheless, we wanted to quickly show them as well.


Creating a collage using PicMonkey allows you to choose from a few pre-defined layouts (without any design), or to arrange the pictures you uploaded from your computer to your liking. After setting the options for spacing, rounded corners of your images, and the background, you can further edit the image as a whole.
Editing single pictures in the collage as well as certain layouts are features available to premium users.

The BeFunky online image editor also provides the possibility to create a collage, Facebook cover, or Pinterest image using pictures from your computer, Facebook, or your BeFunky account if you have one. You can choose from different layouts (excluding designs) and edit the background as well as some other additional settings. After saving, you can edit the whole collage or card in the BeFunky Photo Editor as well.
Certain layouts and editing options are so-called BeFunky plus features though and not available in the free version.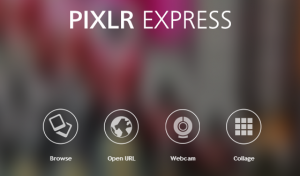 The Pixlr Express Web Application also provides a collage feature. You can upload images from your computer and choose one of the more rudimentary layouts. What sets Pixlr apart from the other two collage features mentioned above is that you can edit each picture individually as well as the collage as a whole.
Unfortunately, the layouts provided aren't as "advanced" as the other and lack any design as well.
---
All images used were taken by NGDPhotoworks
Our finished Photo Card created using FotoJet: