In your car, at work, during the commute, at home – where do you like to listen to music? Ever since the first Walkman was released in 1979, we could take our music with us everywhere we go. Over time, this became easier and nowadays, we don't have to bring cassette tapes and CDs with us. Some audio files on your phone are well enough.
But which files are you carrying around with you? If you have music from iTunes, it might be difficult to play it on any device that doesn't have iTunes or belongs to the Apple product palette. But we're here to help you with this: convert M4A to MP3!
Convert M4A To MP3
Before we go into how to turn your M4a files into MP3, let's have a look at what an M4A audio file even is.
What's M4A?
If you use iTunes, it is very likely that you have come across M4A files before. These audio files were created by Apple, using the MPEG-4 Part 14 standard. If this sounds familiar, it's the same standard used for the widely supported and common MP4 video format. However, M4A files only contain audio and, sometimes, image data, but never video. Furthermore, M4A files are available in lossless and lossy compression.
This could also be interesting for you: The Differences Between Lossless And Lossy Compression
Since M4A was primarily developed for Mac computers and other Apple products, they might cause issues when you try to use them on a Windows computer or Android phone. Most of the times, iTunes would be needed to play them. However, converting them into MP3 files will allow you to listen to music, podcasts and whatever you might have in the M4A format.
Note: MP3 files are lossy audio files, thus converting an M4A with lossless compression to
      MP3 will result in some loss of quality
How To Convert An M4A To MP3?
So, how to convert to MP3 then? Easy!
1. Go to the online MP3 converter
2. Upload your M4A audio file from your hard drive, phone or a cloud service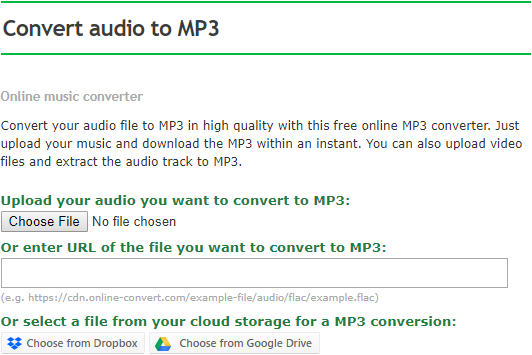 3. Click on "Convert file"

4. Wait for our servers to turn your M4A file into an MP3
---