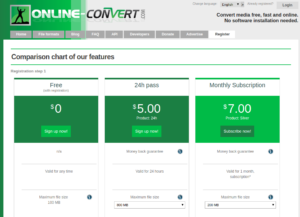 The conversion services of online-convert.com are free to use for everyone with a reliable internet connection. You don't even need to sign up to convert your files into more common or compatible file types.
For those that want to do a little more with their files or have to convert files bigger than 100 MB, online-convert.com provides eleven plans that hold something for everyone.
Today, we want to look at them in some more detail. Of course, you can have a look at the quick overview here as well.
Edit: Since April 2018, more premium plans were introduced. Of course, this article was updated accordingly.
All You Need To Know About The Online-Convert.com Premium Plans
The eleven premium plans can be split into three different categories:
Free Plan
24 Hour Passes
Monthly Subscriptions
The Free Plan
The free plan is, as the name suggests, cost-free for the user. It allows you to convert files with a size up to 100 MB. Of course, registering for the free plan provides you with more features than using our service without being logged in.
These features include:
E-mail notification when a conversion is finished
Sending the download link to a converted file via e-mail
Send the converted file as an attachment via e-mail
A user dashboard with conversion overviews and links to all conversions of the past 24 hours
4 concurrent conversions in separate tabs
The 24 Hour Passes
There are four 24-hour passes available. As the name already suggests, they are valid for 24 hours after purchase. This means that in these 24 hours you can use our service to the full extent of the plan, no matter how many files you are converting.
Of course, the 24-hour passes have the same features as the free plan. Of course, they have additional features as well:
A 100% money back guarantee if you are not satisfied with our service
No advertisement on the pages
High priority conversion speed
8 concurrent conversions in separate tabs
The features above apply to all 24 hour passes. Naturally, they differ from one another as well. Those features are listed below:
| | | | | |
| --- | --- | --- | --- | --- |
| | 24h pass | 24h pass (large) | 24h pass (xlarge) | 24h pass (xxlarge) |
| Costs | $5 / € 4.80 | $10 / € 9.60 | $18 / € 16 | $30 / € 27 |
| File Size | Up to 800 MB | Up to 2 GB | Up to 4 GB | Up to 8 GB |
The Monthly Subscriptions
The last six premium plans are monthly subscriptions. This means that they are valid for one month from the purchase on (e.g. from June 26, 2016 to July 26, 2016). These subscriptions are renewed automatically. This means the amount of money is deducted from your account one the plan runs out, extending it for another month. Of course, this subscription can be cancelled any time!
The subscriptions provide the same features as the 24h passes, as well as additional features:
Highest priority conversion speed
10 concurrent conversions in separate tabs
While the features above apply to all subscriptions, they differ from one another as well:
Silver
Gold
Platinum
Platinum
Large
Platinum
XLarge
Platinum
XXLarge
Costs
$7 / € 6
$16 / € 15
$49 / € 45
$95 / € 90
$180 / € 170
$340 / € 320
File Size
Up to 200 MB
Up to 400 MB
Up to 1 GB
Up to 2 GB
Up to 4 GB
Up to 8 GB
When Should I Use Which Plan?
Now, knowing about all the features of the premium plans, comes the choice. Which plan is the best for my purpose? We help you to decide on the right one.
Free Plan – This plan is for all that want to convert smaller files ( <100 MB ) on a regular basis. Or for those that want to give our service a test run before purchasing one of the paid premium plans.
24 Hour Passes – These plans are for everyone who wants to convert a larger file or a few larger files. It's perfect for one-time-users and casual users alike. These plans are a nice, occasional upgrade when your file is too big for the free plan.
Monthly Subscriptions – The automatically renewed subscriptions are perfect for regular users that have larger files they need to convert. Instead of buying a new 24h pass every other day, you don't have to worry about renewal.
Sign up here!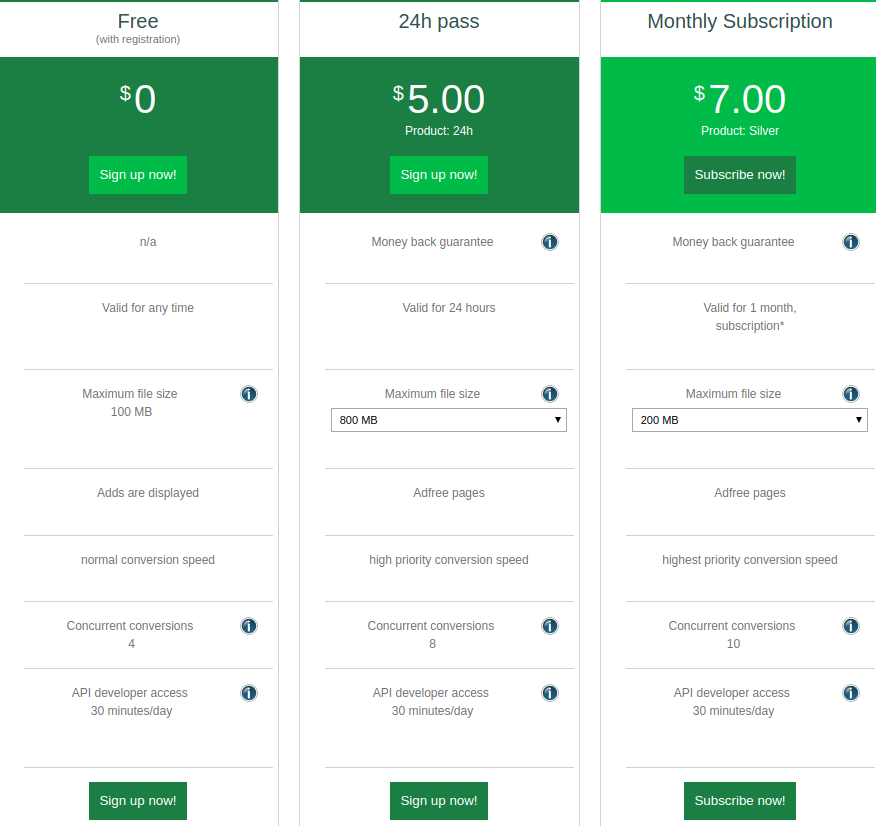 ---