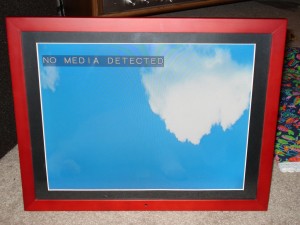 At one point over the last year, almost everyone of us has gotten a digital photo frame – either as a give or some spontaneous impulse purchase. The hopes were high, that these futuristic pieces of photo display would modernize our homes, giving them a futuristic and up to date touch.
By now, however, many may regret this purchase or getting this gift. If you actually use the digital picture frame instead of just having it lying around in it's original box, you are even paying constant money for it. Quite a large amount of power is needed by these devices, which is especially hard since you don't look at the picture or photo slide show all the time when it's on, the frame being powered and displaying pictures for nothing most of the time.
But stop! Before you get annoyed over the several dollars you spent on this device for – seemingly – nothing, let's see what you can do with your picture frame to turn it into a useful gadget again!
Digital Door Sign
This may be interesting for people that work from home, in a doctors office, or somewhere else where people are usually not too sure whether they should and could enter. A digital sign with different photos that show the purpose of your business and either a "we're open" or "we're closed" graphic can encourage people to enter or let them know when it's okay to do so, as well as inform them what your store, office, or else actually is about.
If you are versatile with electronics you can even tweak the frame in a way so you can control it from your computer. Means, you can display a "please come in" while you are able to have visitors, a "please come back later" if you are busy or on a break, and display information for your clients and curious folk if you leave the office for the day.
Secondary Computer Display
This is surely for the more advanced tinkerer among us. SpritesMods has posted a quick introduction how to transform your spare digital picture frame into a second computer monitor. It may not be as big in dimensions, but it's surely a nice and versatile way to "recycle" an otherwise unused device.
Audio-visual Party Booster
One way to actually put the frame to it's original usage without having it sit on an end table or drawer and sucking away on electricity, is to only use it for special occasions. Sharing vacation photos could be one, but a more interesting and fun one is to use it as an audio-visual device for your parties. If you have been "blessed" to own a newer version of the digital photo frame, it may be able to not only display pictures, but also videos and music tracks. Playing some party or lounge tracks while displaying an interesting slide show, or music videos can add to the atmosphere of your party!
Wifi "sniffing" Frame for Public usage
A bright head from Vancouver had the idea to use the fact that people often use the free wifi provided at different public locations like cafés and shopping centers to breathe new life into a dusty old digital picture frame. By scanning the wifi used in the certain area, the picture frame randomly displays pictures that are downloaded or looked at using this wifi connection.
Is it an intrusion of privacy? Surely, but if it's known, this could add greatly to the entertainment of the viewers, seeing pictures of news sites mixed up with family vacation photos or the profile pictures of dating sites.
Fancy Digital Clock
This project requires some proficiency as well as perfect timing. A German news site for technology managed to imitate the elegant looks of the Clocktwo. By timing graphics that highlight the specific words and combinations, the picture frame can function as a fancy clock not everyone has at home for sure. It can be personalized with regards to colors, but also when it comes to the language. Why not let this clock tell you the time in your dialect, a foreign language, or even Klingon?
---
However you choose to tweak and tinker your unused digital picture frame though, make sure that you the correct files to be displayed. Not every picture frame supports the same image or video files. Luckily, you can convert them all to fit your – or rather your photo frame project's – needs!